By Lilli Cox | Dir. Communications & Community Investments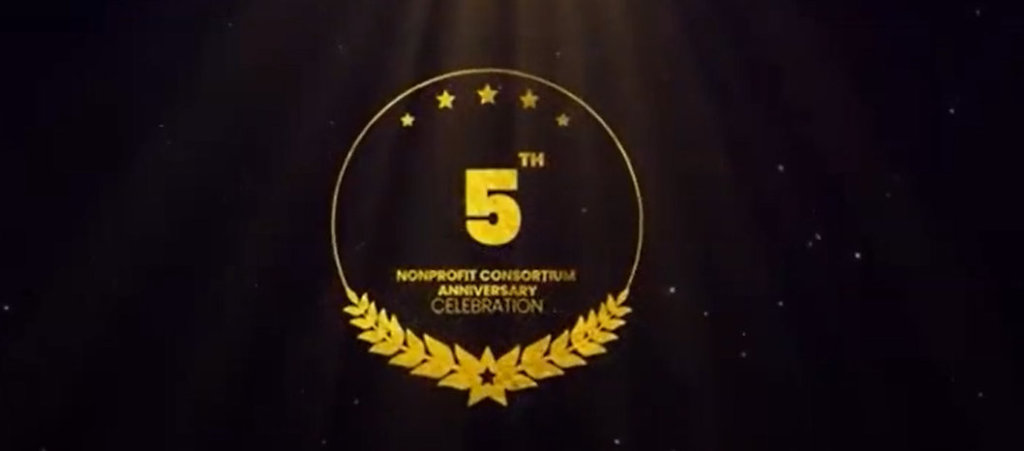 We did it! This September, St. Croix Foundation's Nonprofit Consortium celebrated five years of collective service, impact, and leadership in the U.S. Virgin Islands! Despite a protracted recovery from the 2017 hurricanes, compounded by the COVID-19 pandemic, since our first table conversations with 50+ local nonprofits back in 2016, the Consortium has evolved into one of the Foundation's most important investments and a vital Community Asset. Through intentional collaboration around missions, programming, advocacy, and fundraising, the members of the Consortium have built dynamic relationships, enduring national partnerships, and organizational and cross-sector capacity to serve and give voice to the People most vulnerable and hardest hit by ongoing crises.
As populations the world over continue to face unprecedented challenges, and as we locally close out another Hurricane Season while continuing to serve on the frontlines of COVID, we see the evidence of what collaboration (rooted in Community) can truly accomplish.
And so, from all of us at St. Croix Foundation and on behalf of the members of the Nonprofit Consortium, we would like to extend our deepest appreciation to GlobalGiving. Because of your early, pioneering spirit and trust-based philanthropy, the Nonprofit Consortium has now engaged 50+ organizations, of which 30 are official members. Combined, the Consortium has had a service reach of over 10,000 people and created 10+ new national funding partnerships that are even now supporting new systems of resilience. As the Consortium prepares for the next 5 years and beyond, we look back with gratitude on the investment that has been made in the strengthening of our Community.
Highlighting 5 Years of Ingenuity in the Civic Sector
On September 16th, St. Croix Foundation's Nonprofit Consortium hosted our virtual 5th Anniversary Community Presentation to showcase the investments, impact, and collaborative service of our Nonprofit Partners. The presentation brought together 75+ attendees and speakers--- and of course, all 30 members of the Nonprofit Consortium. Partners such as Susan Taylor Batten of the Association of Black Foundation Executives and Donna Callejon from GlobalGiving spoke about the lessons our Civic Sector, unified in such a unique format, had to share with the entire field of Philanthropy.
The presentation highlighted the Foundation's strategic work to raise the collective profile and impact of our Civic Sector partners--- and to get the U.S. Virgin Islands onto the philanthropic funding map. Guest speakers and members spoke about fostering new partnerships that collected critical data on residents and nonprofit capacity to rebuild after the hurricanes, created safety nets for unmet needs, and connected nonprofits to resources that helped them advocate for their organizations and the people they serve. Presenters spoke of a growing network of national private funders and the technical competencies around collaboration, community organizing, social justice, and systems thinking that the Nonprofit Consortium helped build. From the words of Consortium members themselves, we can get a glimpse of the impact:
St. Croix Foundation has been instrumental in helping us to expand our dental services. ~ Frederiksted Health Center
We have, in our first six months of service, served 25 homeless individuals and 1,500 meals at our location; we've moved 9 people to permanent housing, we've placed 6 people in full-time employment, 2 people in part-time employment, and 2 people in job training. All it took was a nudge from a local foundation to help us open. ~Liberty Place.
In the past 5 years, the Nonprofit Consortium has been put to the test. From two Category 5 Hurricanes in 2017 to COVID-19 and the racial justice movements of last summer, it has met the challenge, pivoted, grown, and is now a model of unified Civic Leadership and People Power.
Watch our Community Impact Presentation here:https://www.facebook.com/stcroix.fnd.1/videos/602247214481269
Reimaging a Sustainable St. Croix Rooted in Community Voice"
In our last update, we reported on our Engage VI Environmental Virtual Town Halls, a three-part series that took place over the summer to address environmental hazards spurred by the reopening of Limetree Bay Refinery and Terminals. As a geographically and politically isolated territory of the U.S., environmental and health issues are compounded for the People of St. Croix, and our objective was simple but profound: ensure Community Voice take center stage and create space for open, honest and transparent dialogue between regulators, stakeholders, and residents.
In the final Town Hall on July 29th, St. Croix Foundation and Nonprofit Consortium Members from the Environmental Sector - St. Croix Environmental Association (SEA), Crucian Heritage And Nature Tourism (CHANT), & the Virgin Islands Good Food Coalition (VIGFC) – opened the floor to reimagine the future.
Following the first and second Town Halls on emergency response and the environmental impacts of heavy industry and agriculture, the theme for the third town hall in the series was aptly entitled Reimagining A Sustainable Future: Balancing Economic Promise & Environmental Stewardship. With panelists from the Economic Development Authority, U.V.I. Research and Technology Park joined by the Partnership for Southern Equity, the discussion centered around exploring a future independent of heavy industry that represents a progressive and justice-focused landscape while balancing economic promise and environmental justice.
Over the course of the entire series, guest panelists included high ranking executives from the U.S. Environmental Protection Agency, the Centers for Disease Control, V.I.T.E.M.A., VI Dept. of Planning and Natural Resources, VI Dept. of Health, VI Dept. of Agriculture, the 34th Legislature of the Virgin Islands, VI Economic Development Authority, U.V.I. Research and Technology Park, and the Partnership for Southern Equity. In total, over 100 people attended the third Town Hall, and many attendees have signed up to engage around working groups that could potentially actualize some of the themes discussed in the final town hall series.
View our third virtual Town Hall here:https://www.youtube.com/watch?v=nq2oOzNeR24
The Foundation and the Environmental Sector Receive Hive Fund Award
We are also happy to report another milestone! In the last quarter, the Foundation and members of the Environmental Sector – C.H.A.N.T., S.E.A., and V.I.G.F.C. – were awarded a three-year $225,000 Grant by the Hive Fund in recognition of the Environmental Sector's collaborative efforts and vision as outlined in a joint case for support. The award's purpose is to empower the Sector, which "advocates for and mobilizes around a community vision rooted in environmental justice, placing a historically marginalized community in charge of decision-making around energy supply, environment, health, workforce, and community development." The grant represents one of the key goals set forth five years ago when the Consortium was launched- increase funding for small nonprofits through coalesced, collaborative funding requests. It is one of the first major funding wins a Sector of our Consortium!
In alignment with the HIVE Fund's priority of "shaping new clean and equitable economies," funding will be used to build capacity around community organizing and movement building and general operating support. Through the competencies and collaborations nurtured in the Consortium, the Environmental Sector has been active in responding to issues of environmental justice and equity specifically as it pertains to the Limetree Bay Oil Refinery. The sector intends to capitalize on the work completed over the summer and continue empowering Community to hold policymakers accountable through efforts supported by the in-development 'working groups'. The Foundation thanks the Hive Fund and its civic partners for their commitment to funding Black-led and Black serving environmental justice causes!
Thank you, GlobalGiving!
From the Foundation's inception 31 years ago, nonprofits have been at the center of everything we do. But, over the past 5 years, we have harnessed extraordinary wisdom about our Community through our Nonprofit Consortium. Today, we are fostering and cultivating the most inspirational, intentional and dynamic culture of collaboration in the U.S. Virgin Islands. GlobalGiving has been a thought partner, an advocate, and a trust-based funder – and we can confidently say that it's really just the beginning!