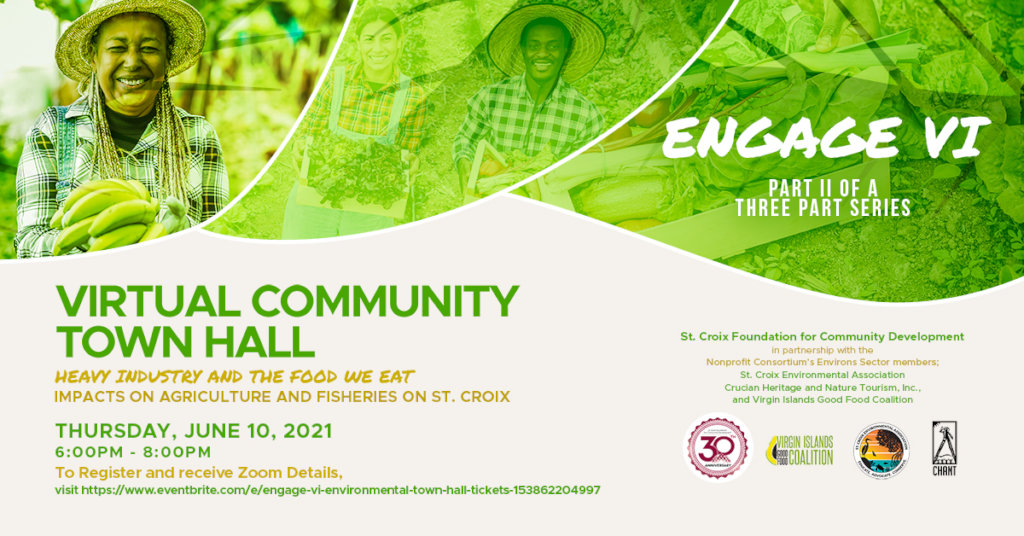 February 27 – June 25, 2021
In our last quarterly report, we told you about St. Croix Foundation's work through the Nonprofit Consortium to create pathways toward greater engagement in the civic sector. In the several months since, and just as the 2021 Hurricane Season began and the world's attention on climate focuses, the Nonprofit Consortium's values of equity, collaboration, and community have never been more critical.
As we approach the Nonprofit Consortium's 5th Anniversary this August 2021, St. Croix Foundation's pledge to hold space for community action, to keep sacred the civic sector, and to empower local nonprofits has been put to the test and the importance of collective voice proven. In this last quarter alone, the Nonprofit Consortium has convened 19 times, with all four sectors represented: arts and culture, health and human welfare, youth and education, and the natural and built environs. In all, 20+ organizations sat at the table to continue vital case development while conducting community organization and advocacy around environmental justice.
The stakes have never been higher for our People. With no federal voting power, the voices of our civic organizations offer a voice and vision that encompasses sustainable, equitable systems--- of food, energy, education, and economics. To our family at GlobalGiving, we extend our deepest appreciation for sharing our vision!
Nonprofit Consortium Hosts Town Halls Around Environmental Justice
While many might not be able to pick St. Croix out on a world map, the U.S. Virgin Islands certainly has national relevance. In addition to being the only predominantly black jurisdiction (under the U.S. Flag) without any federal voting rights, this 84 square mile island was once home to the largest oil refinery in the world, based on throughput. It also has the distinction of enduring one of the largest (and quietest) oil spills in American history, to the tune of 43 million gallons that slowly leaked into the island's largest freshwater aquifer. Because of the U.S. Virgin Islands' vulnerability relative to climate change, striking a balance between environmental justice and sustainable development was a top priority to the Nonprofit Consortium from its inception. In fact, we began exploring new models of sustainability and excavating our past exploitive environmental injustices at our Environmental Forum in 2019.
In February of 2021, the 50-year-old refinery, which had shuttered in 2012, reopened under new ownership and within the first two months of operation, two chemical exigences occurred that rained oil onto people's homes, cars, and into their cisterns (rain catchment systems located under most homes which serve as the primary water source for island residents). Having witnessed residents being left breathless for months from highly noxious gases wafting through downwind neighborhoods after the restart, St. Croix Foundation and members of the Nonprofit Consortium stepped forward. With little to no acknowledgment from the private and public sector and in the face of peoples' pleas for help, we recognized that philanthropy had a moral imperative to lead courageously.
Empowering Community with Data and Resources
On Thursday, May 13th at 6pm St. Croix Foundation and Nonprofit Consortium Members from the Environmental Sectors - St. Croix Environmental Association, Crucian Heritage And Nature Tourism CHANT, & Virgin Islands Good Food Coalition - hosted its first Engage VI Environmental Virtual Town Hall to discuss recent environmental and health impacts from Limetree Bay Refinery.
Invitations were extended to Limetree Bay Terminals, LLC, US Environmental Protection Agency, the Virgin Islands Department of Planning and Natural Resources, the Virgin Islands Department of Health, the Virgin Islands Territorial Emergency Management Agency, and the Legislature to provide information on EPA regulations, and individual agency scope and responsibility relative to health and safety. While refinery representatives were not present, legal experts and both local and federal agency heads confirmed and spoke at the Town Hall. The chat was full of questions about the scope of damages and their impact on individual and environmental health. In total, the NPC's First Town Hall in this three-part series hosted over 300 participants in the live session, 860 views of the Town Hall recording, and nearly 200 engagements, amplifications, and reactions.
The following day, the EPA announced that the refinery would close for 60 days, citing an imminent health threat, invoking powers under the Clean Air Act which had only exercised eleven times before.
As shared in prior reports to our GlobalGiving family, one of the Nonprofit Consortium's outcomes has been the development of an official website, EngageVI.org., which now houses vital community resources, including emergency contacts for community health reporting.
A live recording of the first Virtual Town Hall can be found here: https://www.youtube.com/watch?v=6u52T08p8FU
Making Space for Marginalized Voices
One month later, on June 10, St. Croix Environmental Association, C.H.A.N.T., the Virgin Islands Good Food Coalition and St. Croix Foundation hosted the second Virtual Town Hall, entitled, "Heavy Industry and the Food We Eat: Impacts on Agriculture and Fishers on St. Croix."
This special Town Hall included speakers Dr. David Bond, of Bennington College & Mr. Olasee Davis, from the University of the Virgin Islands who provided a history of heavy industry on St. Croix and (ask Jonathan if he can summarize this in a compelling way with NPC at the center).
Once again, pre-prepared questions were addressed to the Department of Agriculture and the 80+ attendees asked various questions, including:
Why was the island of St. Croix, as agricultural land, chosen to be a place to create such heavy environmental polluting and destructive industries?
How can we qualify for Superfund status to achieve levels of remediation?
I just purchased well water, with the comment generated today should I be concerned about possible hidden health concerns from possible contamination, is well contamination St. Croix wide?
With nearly 1000 views and over 113 engagements, the convening was well-received:
"Thank you all for organizing and bringing us together."
"Thank you to all the presenters and to those who organized this forum to provide information. I am looking forward to hearing of a solution to this health issue."
Creating a Sustainable Vision
The third and final session of the three-part Engage VI Environmental Town Hall series is scheduled for July 15, 2021. The discussion will center around articulating a community vision for a prosperous and sustainable future given the external environments, community values, health, all of the priorities represented by the Nonprofit Consortium's four sectors. Making this convening that much more crucial was the announcement on June 21, 2021 that due to financial difficulties, the refinery may close operations permanently in September 2021. This development has been at the center of our dialogue around reimagining a future independent of heavy industry. We have also considered how dramatically this scenario mirrors the economic fallout of the initial closure of the refinery in 2012. What this demands of our community and, our sector, is a progressive and justice-focused reimaging that balances economic promise and environmental stewardship. As a result, the prospective theme of the final session is Reimagining A Sustainable Future: Balancing Economic Promise & Environmental Stewardship.
Holding the Vision
The work described here didn't begin in response to the oil refinery nor Hurricanes Maria and Irma or even Covid-19. It began as a result of a deep understanding of what resilience in isolated communities can look like. Framed by the realities of political status, climate change, economics, geography, and rooted deeply in cultural heritage, the Nonprofit Consortium is coalescing civic power, empowering the disenfranchised, and giving Voice to the vulnerable. Our GlobalGiving family has made it all possible. THANK YOU!