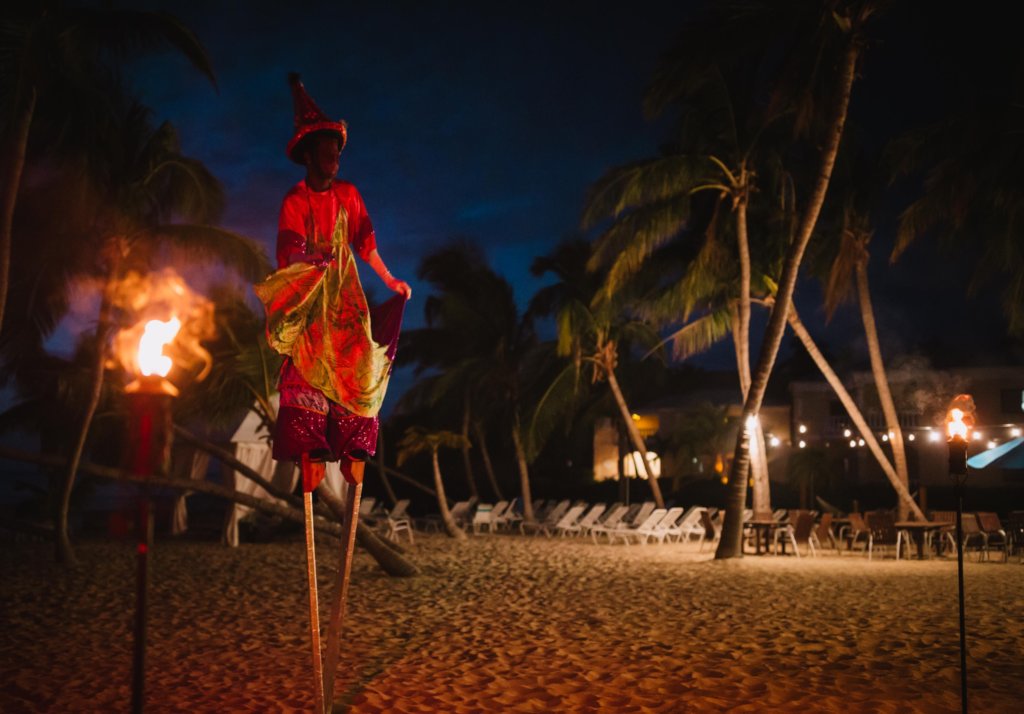 In 2016, one year before Hurricanes Irma and Maria, the Nonprofit Consortium was conceived to strategically build capacity within St. Croix's Civic Sector in response to economic and political shifts that were decimating an already small donor pool while social needs exploded. Due to its territorial status, the U.S. Virgin Islands (USVI) have a stifled voice, no vote at the federal level, and sits in a blind spot for national funders. St. Croix Foundation knew that to keep vital resources flowing to our most vulnerable residents, we had to strengthen our Territory's nonprofit sector.
Our Nonprofit Consortium was officially launched through a series of table conversations amongst over 50 local nonprofits in the fall of 2016- nearly one year to the date prior to the 2017 storms. Today, the Consortium is a membership collective of roughly 30 civic entities serving St. Croix, USVI that has been nurturing and enhancing meaningful, community-based collaboration with the overarching goal of supporting greater social impact investments to benefit the people of the Virgin Islands. Over the span of almost 5 years and through rich programming, nonprofits in the Consortium have participated in three Art of Hosting trainings; 5 philanthropic retreats and forums; and innumerable workshops and board development exercises. Altogether, the organizations have built collaborations that have increased funding opportunities and allowed programmatic work to move forward with greater reach. We simply could not have done it without GlobalGiving!
Over the last several years, you've been with us on the journey – and thanks to you, our GlobalGiving family, the Nonprofit Consortium continues to grow and evolve. In a disruption to the paradigm, the Consortium rallied not just for a funding opportunity but to develop a space for nonprofits to share their visions, their missions, and their stories. It provides access for conversations that unveiled new collaborations, new networks, new systems, and yes, funding! You've read in our reports about the staff and board development, technical grantwriting, and Art of Hosting training that is, today, facilitating strategic conversations, maximizing collective impact, and nurturing a culture of collaboration and alliance building. In this report, we will discuss the structure that is making the Consortium poised for even greater collaborative work, how nonprofits continued to excel even under COVID conditions, and how we are making the case for even greater investment in 2021.
Institutionalizing Structure for the Nonprofit Consortium
The Foundation's ultimate goal is to help nonprofit organizations and initiatives on St. Croix grow successful at uplifting social equity, embracing civic leadership, and collaborating around high-impact programs and systems-building all the while stabilizing operations. To that end, in the last quarter, the Nonprofit Consortium has been busy formalizing the structure of the Nonprofit Consortium to strengthen its capacity to serve nonprofits.
Just this past January, the Nonprofit Consortium Advisory Committee finalized an updated Memorandum of Understanding which will govern member organizations through February 2022!
Representing all four sectors (arts, culture, and Crucian heritage; health and human services; education and youth development; and the natural and built environs), new members are subject to review by the Advisory Committee, which meets quarterly and must submit a letter of interest and must have attended two open non-sector NPC meetings. General meetings happen 6x per year and sector meetings occur as needed dependent upon case-writing and other needs. Any organization may join dependent upon being a registered state nonprofit in the US Virgin Islands.
As part of the Consortium's strategy to evolve membership for holistic and innovative perspective, Veronica Hemmingway of Coastal Communities Foundation of South Carolina was invited and accepted a role on the Advisory Committee. The Nonprofit Consortium reached out to Veronica based on her work collaborating with nonprofits in South Carolina, the lessons that can be learned and shared across communities regardless of their proximity and, ways in which they have protected and preserved what remains of their indigenous culture. Veronica has seen the Consortium grow as she was present for the formative first meetings of the consortium in 2016 and participated in the 2020 Philanthropy Retreat and Forum.
Case Building for the Arts: Healing with the Humanities
In the absence of in-person convenings due to Covid-19, the Consortium is using this virtual opportunity to focus on compelling case-writing for national and international foundation support.
Over the course of the past quarter, our members have been busy! Our grassroots and formal nonprofits have convened 6 times, including advisory meetings, sector meetings, and as an entire body. While the Advisory Committee continues to guide the evolution of the structure of the Nonprofit Consortium, the Environs Sector has begun to design its case for funding that will support a holistic discovery process around imagining a U.S. Virgin Islands in the absence of heavy industry.
We are also excited to share that the Arts, Culture, and Crucian Heritage Sector is also in the midst of developing a cohesive case for support and reparations. In testimony to the Nonprofit Consortium's positioning statement, and unlike any previous endeavor undertaken in the USVI, the case for support focuses specifically on racial equity and the healing from a history of colonialism and enslavement. By aligning the sectors' most important needs with community collaboration the Consortium will help to sustain one of the largest arts communities in the Caribbean region.
Building Capacity… in Motion!
As a cohesive, cross-sector coalition that shares a unified position and vision of St. Croix, in November of 2020, St. Croix Foundation opened a grant opportunity through our CARE Fund to members of the Nonprofit Consortium. Funded by United PhilanthropyForum's Momentum Fund, the Foundation awarded $65,000 in mini-grants to 13 members of the Consortium.
Awards were provided to applicants that were on the frontlines of the Covid-19 Pandemic and working to continue or expand services. Priorities included: (1) Nonprofit operating support (Open Doors), (2) Programming support for frontline responders, (3) Data collection and reporting, and (4) Direct programming to build resilience and new systems.
One recipient, Music in Motion Dance Academy, a fiscal sponsored project of the Foundation and a Nonprofit Consortium member, was awarded a $5,000 Open Door Mini Grant to allow the organization to move the dance studio's equipment (sets, costumes, etc.) from a storage unit into a permanent location saving Music in Motion overhead costs of $3,300 in storage fees per year and providing capacity to store more equipment and have access to the contents as students needed. As an organization that serves low-income youth of color, Music in Motion is more than a dance company: it saves lives. A January blog on Unstoppable Yes You sheds light on the healing that the arts provide and is evidence of the need for passionate nonprofits to establish a resilience that is personal, cultural, and relevant. With exacerbated global crises and local uncertainty, the need for organizations like Music in Motion to receive the support they need to serve our community is even greater.
Today, the stark reality for our community is that in the face of unprecedented economic collapse, back-to-back hurricanes, and now Covid-19, it is our local nonprofits who are being called upon to shoulder greater responsibilities. With the support of our GlobalGiving family, through the Nonprofit Consortium we will continue to provide holistic support – from technical assistance to continuing to nurture a spirit of collaboration - to ensure deeper impact and financial and operational sustainability.
To our GlobalGiving family we say THANK YOU for all you do to make this work possible!