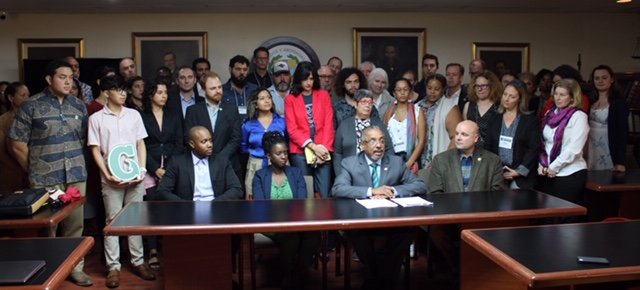 Embracing Regional, National, and Global Communities for Long-Term Resilience!
Since launching our Nonprofit Consortium (a collective of over 30 local nonprofits) in September 2016, exactly one year prior to the 2017 hurricanes, St. Croix Foundation has sustained its founders' pledge to support the Territory's civic sector as an inextricable component of our core organizational programming. Over the past three years, all of us at the Foundation have been so inspired to witness the Consortium grow into a powerful coalition of civic organizations that is building dynamic collaborations and birthing a beautiful Vision for the future of our Islands in the aftermath of the hurricanes. It's because of supporters like you that we have been able to continue this work, which is a natural expansion on our 30 years as a fiscal sponsor of 250 nonprofit organizations and grassroots efforts.
Also, because of the deepening of our support for nonprofits, we have great hope and optimism that the successful projects we've spearheaded have set a firm foundation for greater capacity, for service, and for advocacy around a collective vision for the Virgin Islands. Today's report reflects work over the past quarter that will create ripple effects of progress within our nonprofits and the residents they serve for years to come.
ST. CROIX FOUNDATION HOSTS 4TH ANNUAL FORUM FOR NATIONAL FOUNDATIONS
As a vehicle for engaging national funders and exposing them to the unique realities of the U.S. Caribbean, this past February, St. Croix Foundation for Community Development was pleased to host its 4th Annual Philanthropy Retreat on the island of St. Croix.
The retreat entitled The Power of People and Place: Status Matters, convened and connected over 20 local nonprofits and 15 national and international Senior Philanthropy Executives and Board Members from Annie E. Casey Foundation, the Council on Foundations, the Southeastern Council of Foundations, the Association of Black Foundation Executives, LASCO Chin Foundation of Jamaica, Coastal Community Foundation of South Carolina, and Grantmakers for Southern Progress.
Over the course of several days, St. Croix Foundation led our local nonprofit partners and foundation guests in a focused conversation around political status, social equity, community resilience, and nonprofit capacity building. The Consortium offered guests an unfiltered opportunity to learn about the inherent challenges and assets of the Virgin Islands and included an island tour with visits to the Juan F. Luis Hospital (St. Croix's only Community Hospital). Limetree Bay Terminals and Refinery, the Caribbean Center for Boys and Girls (CCBG), Marley Housing Project, Frederiksted Health Care, and Sejah Farms of the Virgin Islands.
Each destination served to emphasize the cross-sector collaboration of Consortium members that enables funding and networking to leverage every asset for multiple benefits. Resiliency efforts such as energy independence for youth centers at the CCBG and economic development opportunities for farmers focused on food security were showcased for executives. The tour and attendant conversations incorporated data points about the realities of living in an unincorporated U.S. Colony that is often not recognized as a funding priority by most national philanthropic entities. Several of those special social and environmental conditions surrounding the hurricane include the reopening of a 50-year-old shuttered refinery, the condemning of our only community hospital, and the loss of 6 of 13 public schools, not to mention soaring housing costs and resident displacement due to the influx of recovery contractors and imported refinery workers. All of these challenges continue to underscore the necessity of strong nonprofits, civic leadership, and philanthropic investments.
After 3 days with the Nonprofit Consortium and the Foundation, our national partners committed themselves to serve as a voice for the Virgin Islands, to articulate the value of the Virgin Islands as a priority to national funders and as a potential test-bed for innovative models. While !the challenges of isolation are well known to the Territory – whether it be political, economic, geographic, or racial - by focusing on assets that already exist in our community, we are building a strong civic base that is both proactive and responsive. And with global partners, we are more than locally strong. We are resilient.
Using Data to Shine a Light on St. Croix's Assets & Focus Collective Resources
At the Retreat, the Consortium also presented findings from the first phase of its asset mapping initiative of St. Croix's nonprofit sector, namely:
Of nonprofits surveyed, 24% of respondents reported that they impact 20% of the population.
Meanwhile, an overall majority, or 58% of nonprofits, had part-time or full-time staff of no more than 2 or fewer employees.
However, despite these troubling statistics, not one organization described its overall organizational health as "in crisis."
At this phase, the Consortium's initial conclusions are that nonprofits are a critical component of the welfare of community, particularly in the absence of healthy governmental systems after a hurricane. As such, nonprofit capacity building and data collection must be a continued focus. With an expanding community of collaborators, the Nonprofit Consortium continues to take focused steps to raise awareness around the need to build a culture of data collection that is timely, relevant, and shared.
Background Note: In 2019, 22 organizations completed our Impact Survey for Nonprofits which was disseminated to 60 nonprofits. Representing all four sectors of our Consortium, our overarching objective has been to inventory the impact of the work being led by nonprofits, in addition to assessing their needs and inhibitors to effectively serve some of our most vulnerable residents. The survey zeroed in on the status and impact of nonprofits by seeking to understand the level of organizational stability at the executive level, funding sources, the number of community members served, and more.
BUILDING NETWORKS AROUND CLIMATE CHANGE & RESILIENCY
St. Croix Foundation's President, Deanna James, presented at the Environmental Grantmakers Association's Winter Briefing in San Juan this past week. Speaking to the vulnerabilities of the Caribbean and more specifically the USVI as an unincorporated US Territory, Deanna provided an update on the status of the Territory's recovery and St. Croix Foundation's investment in our 'social infrastructure' (i.e. nonprofits) as a critical component of the USVI's present and future resilience.
Our presentation at the EGA conference and on other national stages is keeping the Virgin Islands firmly on the recovery agenda of national philanthropy, while also advancing a bold conversation around equity, energy justice, climate resilience, and civic collaboration!
CLIMATE CHANGE DECLARATION
Just this past week, our President also attended the second Climate Strong Islands Dialogue in Puerto Rico. St. Croix Foundation joined nonprofits, foundations, universities, and private sector stakeholders to discuss access to clean, reliable, and cost-effective energy, food security, and the value of U.S. island communities working together to respond to accelerating climate change.
On Wednesday, February 26th, along with over 70 organizations across the nation (from Guam to the outer banks of Maine) the Foundation signed the Climate Strong Islands Declaration highlighting the particular needs and incredible potential of islands to collectively find solutions to the Climate Change Crisis.
The Declaration emerged from nearly two years of discussions about the struggles and chronic underinvestment that many U.S. islands have endured over the past fifty years. Correcting this historic inequity is a matter of basic fairness, as the world's islands have produced only 1 percent of the emissions that are heating the planet but are often already bearing the brunt of the consequences.
Our Community
We are grateful to former and current Board Members of the Foundation, who understood the critical nature of the Consortium early on. Because of them, the Foundation was able to convene nonprofit partners immediately after the storms in deeper, more strategic ways than ever before. And, together, we leveraged our collective resources to meet the needs of the most vulnerable and underserved residents at a time when both the local and federal government responses were insufficient.
Three years later, through the Consortium, we are collectively gaining real insight around the strengths and challenges of operating nonprofits under challenging social, political and economic conditions. But most of all, the Consortium is fostering and cultivating the most inspirational, intentional, and dynamic culture of civic engagement and collaboration in the U.S. Virgin Islands. And today, we are fulling our pledge to expand from our shores, embracing regional, national, and global communities to harness the expertise, passion, and resources necessary for real resilience.
We are deeply appreciative to GlobalGiving for being one of the first funders after the hurricane to recognize and value the critical role of nonprofits. And, because of our growing national and international exposure, and our philanthropic approach, our Nonprofit Consortium is today becoming a national (and regional) model for community building and community resilience.