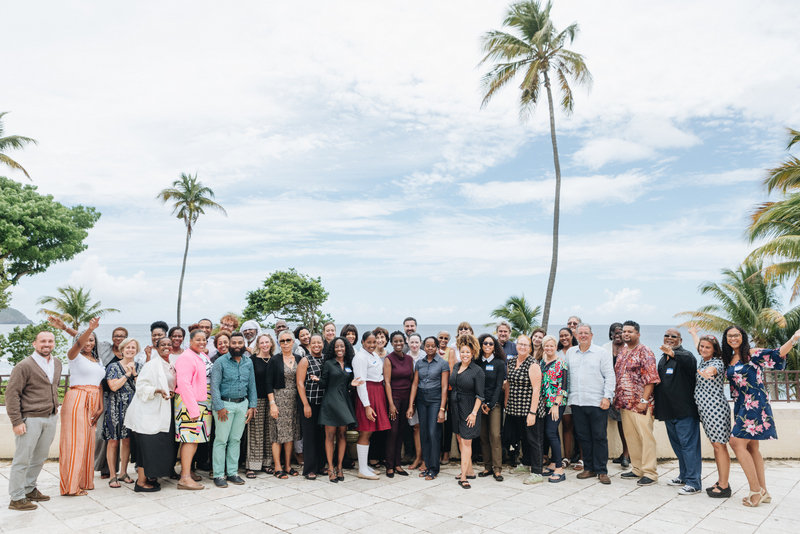 Like so many residents in the Caribbean, all of us at St. Croix Foundation took a deep breath and sighed with relief on November 30 as we marked the end of another hurricane season. Luckily for the Virgin Islands, we came out of this season relatively unscathed! That was not the case for our neighbors in the Bahamas. And so, while we are hypersensitive about the threats afoot in this new normal of stronger, more destructive weather systems, we believe it presents an unprecedented opportunity for our Territory to transform so many of our broken systems that are on the brink.
In fact, it wasn't the 2017 hurricanes that informed St. Croix Foundation's decision to expand our work beyond grantmaking and fiscal sponsorship to include nonprofit coalition building. It was actually back in 2014 that we first began convening nonprofits on St. Croix in response to the closure of a 50-year-old oil refinery, which left the Island reeling from expanded social needs and dwindling resources to support those needs. Recognizing that nonprofits must be strong for Communities to be healthy, we officially launched our Nonprofit Consortium in 2016 with the Vision of both streamlining and amassing our civic sector's collective efforts.
One year later, when Hurricanes Maria and Irma hit, we realized that this single strategy was perhaps one of the key levers to building resilience and ensuring our community is healthy and safe through any future economic, natural, or political 'storms.'
Today, we extend our heartfelt gratitude and appreciation to GlobalGiving and our cadre of partners, including the nearly 100 nonprofits who sit at the table with us regularly and who have advanced their own organizational work as well as spearheaded advocacy work through the Consortium. Together we are shaping a stronger foundation upon which to grow this work as a collective community. The work completed in the last quarter serves as a testament to the deep relationship building our nonprofits have nurtured over the past three years and will significantly influence our work ahead.
The Environmental Sector Holds Town Hall Meeting on Oil Refinery
As we've reported in the past, our Nonprofit Consortium is working to build organizational capacity for members and participants in order for them to fulfill their mission and provide direct services to our community as expanded needs require.
The Consortium also works on a Sector-wide basis as well, linking the collective efforts of mission-aligned organizations in the following sectors: youth and education; health and wellbeing; arts and culture; and the natural and built environs. On a whole, the Consortium intersects all four sectors, seeking to build a broad-based and cohesive vision while providing a convening space for nonprofits to collaborate and expand operational capacity through targeted direct services, information sharing, and collective advocacy.
This past May, the Environmental Sector of our Nonprofit Consortium held its first Environmental Forum to provide data to key stakeholders on the risks of climate change in the USVI, including the risks associated with climate change and heavy industry in small island communities.
Then, on November 5th the Nonprofit Consortium held its first informal Community Information Town Hall Session to hear updates on the reopening of the Limetree Bay Terminals & Refinery which was once one of the largest oil refineries in the Western Hemisphere. The Town Hall was standing room only, with over 100 people in attendance.
As a trusted Neutral Community Convener, St. Croix Foundation and the Consortium's Environmental Sector hopes this Town Hall will be the first of many Community Conversations, led by Community for Community. The gathering served as an information session through which residents had the opportunity to learn about environmental hazards, public safety standards and reporting protocols relative to monitoring and emergency response. Panel members included several policymakers as well as the Commissioner and Staff of the Department of Planning and Natural Resources and the Virgin Islands Territorial Emergency Management Agency Director; who addressed questions about the refinery restart.
This informal discussion was ultimately intended to establish an open dialogue between policymakers, regulators and the Community to cultivate a relationship of trust and transparency. But most importantly, it was intended to empower Community Stakeholders to lead important conversations that impact their neighborhoods, their well-being, and their economic interests- all essential components of Healthy Communities.
EngageVI.org
Our November convening was really about empowering people in the Virgin Islands to build real competencies around civic engagement in order to nurture the Community we all envision for ourselves and our families. The Foundation, as a follow up to the Town Hall, created a website at www.ENGAGEVI.org that is intended to be the very first iteration of what we hope will become a forum for information sharing, for environmental consciousness ad for all issues that significantly impact the health, welfare, environment, and future of this Territory.
Using Data to Shine a Light on St. Croix's Asset & Focus Resources
In our last report, we provided updates on the work of the Consortium to begin an asset mapping initiative of our nonprofit sector. Our overarching objective has been to inventory the impact of the work being led by nonprofits, in addition to assessing their needs and inhibitors to effectively fulfilling their missions and capacity to serve some of our most vulnerable residents. In September, we launched A 2019 Impact Survey for Nonprofits which was disseminated to over 30 nonprofits. Twenty-two Organizations, representing all four sectors of our Consortium, responded. The survey zeroed in on the status and impact of nonprofits by seeking to understand the level of organizational stability at the executive level, funding sources, the number of community members served, and more. Sample questions included the following:
Does your organization have an executive succession plan?
In 2017 (prior Hurricanes Irma and Maria), how much did your organization raise philanthropically to support your programming in St. Croix?
What is the most difficult constituency to capture data around?
What data would your organization like to collect?
Today, the Consortium is compiling the data collected as we prepare to enter into the next phase of our data collection project in February 2020. At that time, we will prepare an Executive Summary with the goal of presenting findings (relative to each NPC Sector) to National Foundation Executive Partners who will be joining us on St. Croix for St. Croix Foundation's Fourth Annual Philanthropy Retreat.
Data, Advocacy, Social Transformation: The Power of Civic Organizations
Our Consortium has taught St. Croix Foundation a lot. We have learned that, in our community, a significant number of our social service organizations (particularly those on the frontlines) are fulfilling the role of municipal government.
In reality, many nonprofits are stabilizing forces in our community just as they are in many communities. They hold Vision steady; they advocate for public policy; they save lives; and they drive social change. Ultimately, nonprofits play a central role in not just the ECOLOGY of our community, but in the ECONOMY of our community. As such, SCF is committed to supporting our nonprofits holistically as a critical component of our Territory's resilience, and we hope you will continue to stay the course with us as we deepen our work!