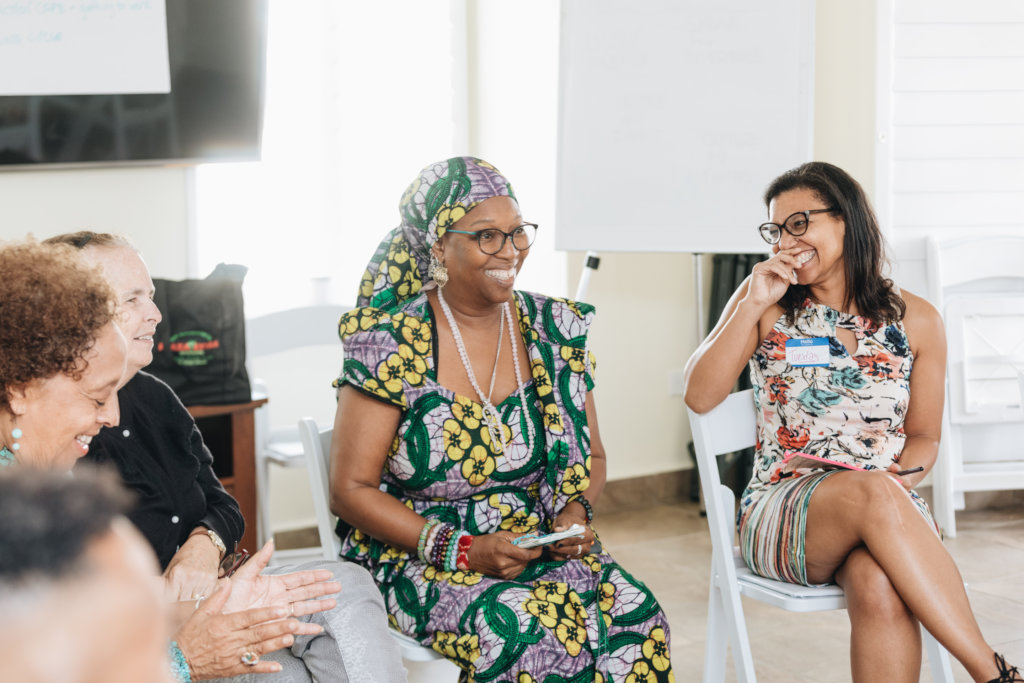 The Atlantic Hurricane "Season" is from June 1st to November 30th of every year with peak activity occurring in September. This year, as with every year, countless people throughout the Caribbean and the eastern coast of the United States are watching satellite images, tracking storms, and preparing their homes for six months of the year – all the while hoping and praying. While Hurricane Dorian did minimal damage on St. Croix, its impact on our sister islands, St. Thomas and St. John, was felt more directly. As we collectively grieved for the catastrophic damage Dorian wreaked on the Bahamas, St. Croix Foundation for Community Development is profoundly cognizant that the process of recovery in the face of Category 5 hurricanes is a long and arduous one. As island nations around the world are being forced to annually deal with the global impacts of climate change, the Foundation is committed to leading a progressive and focused resiliency agenda for the people of St. Croix and the entire Virgin Islands.
With St. Croix's only hospital still condemned two years after Category 5 Hurricanes Maria and Irma and with almost half of our public schools closed, we are still living with the long-term impacts of the disaster. We also know recovery is no quick exercise. Once the emergency relief ends, the process of rebuilding the social consciousness and systems begins – and it can take decades. During and after hurricanes it is communities, it is neighbors, it is the social infrastructure of a place that must come together, collaboratively, to foster front-line survival and long-term recovery. We witnessed it every day. And that's why the Foundation is dedicated to continuing to build on the momentum we have achieved by nurturing greater capacity in our nonprofits through our Nonprofit Consortium.
With over 25 official members and another 20 active participants, our NPC represents every sector in our civil society– from arts and cultural heritage to health human welfare – and, during this past quarter has been building off previous strategies to leverage our momentum for greater impact. The NPC continues to empower and equip nonprofits with the tools to hone in on specific actions around strengthening our resiliency and embedding it into a holistic, equitable and sustainable Vision.
We're mindful, every single day, that we could not do this without our GlobalGiving partners, and in honor of communities just like ours who are struggling, we want you to know that we build with intention to help create a community-based model of resiliency.
Skill-Building that Empowers Leaders to Advocate and Serve
In June, St. Croix Foundation invited world-renowned systems change strategist, Tuesday Ryan-Hart back to St. Croix for her second visit with our Nonprofit Consortium and community members.
Last summer, Ms. Ryan-Hart introduced local nonprofits to a new concept of community engagement, entitled "The Art of Hosting" (AoH), to initiate conversations and training around high impact collaborations and leadership development. This summer, building off her first visit, Ms. Ryan-Hart provided more individualized trainings around collaboration and shared work to nurture further capacity around the spirit of collaboration to address systemic issues. Today, the Foundation is acutely sensitized to the fact that Systemic Change in our Civic Sector (and all sectors of our community) must happen in order for our entire Territory to not only survive but to thrive. As such, the Foundation has committed to drilling down deeper.
Ms. Ryan-Hart along with fellow AoH practitioner, Kelly McGowan, took a deeper dive into the concepts surrounding the Art of Hosting and provided fully immersive trainings in the practice. In total, over 40 nonprofit partners attended the two-day workshop in which diverse community stakeholders explored and unpacked barriers to effective collaborations to include acknowledging perceptions of where and how Power sits in a room; mutual agreements around shared work and shared values; how stakeholders host themselves as Individual Leaders vs. Organizational Leaders in collaborative spaces; and how to find balance between Chaos and Order in complex systems.
Ms. Ryan-Hart's engagement represents the deepening of our commitment to a progressive and sustainable approach to capacity building in our civic sector. Thanks to our GlobalGiving family, and some very special corporate and individual friends of the Foundation, the Nonprofit Consortium will continue to provide vital services to our community while also moving the needle on entrenched social issues.
The Nonprofit Consortium Connects for Data and Advocacy
In August, the Nonprofit Consortium hosted a week of sector meetings for St. Croix nonprofits to explore the following:
Organizational Sustainability, including how the Nonprofit Consortium (as a body) can contribute to the mission and vision of each individual organization; and how the NPC can help organizations meet the fiscal and organizational needs of nonprofits given system-wide dysfunction.
Community Organizing, including strengthening consensus on place-based priorities and determining the necessary steps for diverse nonprofits to come together around work to leverage resources for greater impact.
Consortium Building, identifying strategies and specific implementation steps to move collective work forward and establishing evaluation methods.
After four days of work with 20 organizations sitting at the table, the NPC determined that data collection is one of the most critical variables in ensuring organizational sustainability, the ability to be effective community organizers and to build capacity within the Consortium itself. The Consortium established major milestones and metrics to be observed and formally committed to a six-month deep dive into the data behind their work. Beginning with a planning phase in September and a 3-month period during which relevant sector-related data will be collected, the NPC has a projected date of February 2020 to begin reporting to the community and global stakeholders.
Making the Case for St. Croix on Capitol Hill
While the Consortium builds capacity, St. Croix Foundation continues to take every opportunity to educate the nation on the true conditions people in the Virgin Islands are still facing.
Our president, Deanna James along with the Foundation's Local Disaster Recovery Manager, Kemit Lewis, traveled to the capitol this past August to build networks and support for the Foundation's ongoing efforts to direct more federal and philanthropic resources to the Territory and more specifically to our local nonprofits on St. Croix.
Our Delegates were able to describe the St. Croix story, which dates back much farther than the two Cat. 5 storms that hit the island in 2017 - from the reality of being a territory with no voting rights to the lingering impact of Hurricane Hugo and the economic recession resulting from a failed oil refinery.
As the Foundation and the Nonprofit Consortium work to move the needs forward on true resilience over the long-term, ensuring that the reality of St. Croix's needs and assets are fully understood is paramount—and the Foundation is committed to giving voice to Virgin Islanders and strengthening our nonprofits.
The Voice of the Civic Sector
We thank our GlobalGiving partners near and far for their commitment to St. Croix and the Virgin Islands. Not only has your partnership provided financial and networking resources for us to show the power of philanthropy when partners of all sizes collaborate – it has given us an opportunity to have a voice far beyond our shores. That empowerment leads St. Croix Foundation to pay it forward, and we will soon be announcing and sharing a very special Movement Building Activity that our Nonprofit Consortium will be voicing this fall.
We've only just begun…