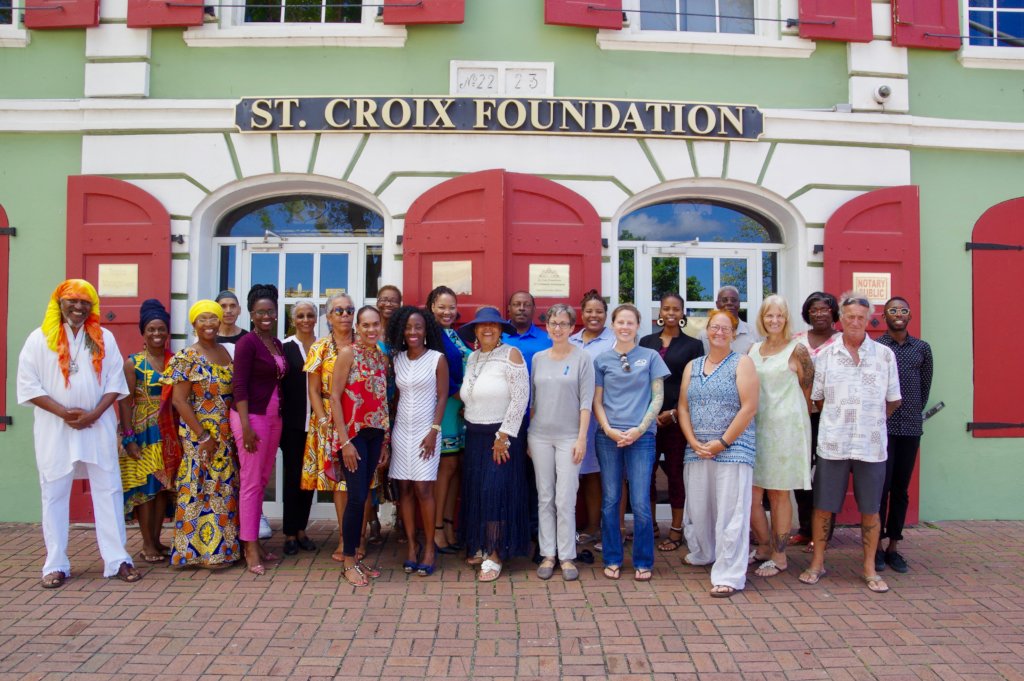 Before Hurricanes Irma and Maria struck the U.S. Caribbean, St. Croix Foundation couldn't have known how critical our Nonprofit Consortium would become over the next several years. But as a nimble and innovative place-based community foundation committed to equity, resilience, and collaboration (even before the storms), we knew how important social infrastructure was for the overall health and welfare of a place. We had also seen the powerful impact of strong nonprofits. Initially conceptualized in response to the growing economic crisis on St. Croix, in September 2016 the Foundation launched our Nonprofit Consortium and for a year prior to the hurricanes had been steadily building unity and trust among over 35 organizations. When two Category 5 Hurricanes hit St. Croix in September 2017, nonprofits who'd been working together for a year launched into action, sharing resources - from information about conditions on the ground to labor, equipment, and office space - to get urgent recovery needs filled.
As another hurricane season stretches before us, for the Virgin Islands (and many communities just like ours) the stakes are high. With many residents still living under tarped roofs; with our only community hospital scheduled for a complete rebuild despite still being in limited service; and with the actual rebuilding of physical infrastructure just beginning, support from our global philanthropic community is now more important than ever before. For our community at this time, our social infrastructure is in fact equally (if not more) important as the capacity of local nonprofits (like our community health clinic) to serve and fill gaping service voids can literally mean the difference between life and death for our residents.
The Foundation's June report is quite special to us because not only have we begun to formalize the building blocks of the Nonprofit Consortium, but we are pleased to report that the work, which has never stopped, is now honing in on targeted activities for a holistic community-based recovery. But first, we would like to pause and dedicate this special report to the many donors – corporate, individual, global and local - who have made the work of the Consortium possible, including our friends at GlobalGiving. Thank you, because from collaborative partnerships and words of encouragement to financial support, you have been a part of the work.
Formalizing the Nonprofit Consortium (NPC)
Today St. Croix Foundation is incredibly pleased to report that in April, 22 partners in our Nonprofit Consortium signed Memorandums of Understanding, becoming official members and pledging their commitment to work on building a system of nonprofit collaboration. The Memorandums of Understanding outlined roles and responsibilities of each member for the next year.
The first 'official' members of our NPC represent four sectors: Culture & the Arts, Youth & Education, the Natural & Built Environs, and Health & Human Welfare, and range from grassroots movements to formal 501(c)3 organizations. All members are firmly committed to the Foundation's vision of a robust civic sector on St. Croix and throughout the territory. Over the course of the next year, the NPC's goal is to expand formal membership to include the entire nonprofit sector on the island and in turn, grow to be an active coalition Territory-wide. Led by an Advisory Committee, comprising a broad cross-section of community stakeholders, consortium members will be provided targeted capacity-building support and from time-to-time convenings will be opened to a wider segment of the local nonprofit community.
The Foundation's overarching goal is to leverage existing assets in our community into real social infrastructure in order to nurture a more sustainable and resilient recovery. The following organizations and civic projects are now official members of our Nonprofit Consortium and represent a holistic framework for the priorities of the Consortium, its expansion, and ultimately, its impact!
Christiansted Community Alliance
Caribbean Center for Boys and Girls
Caribbean Museum Center for the Arts
Crucian Heritage and Nature Tourism, Inc.
Clean Sweep Frederiksted
Diane Hampton Breast Cancer Project
Fish with a Vet
FYR is LIT
Liberty Place
Lutheran Social Services of the Virgin Islands
Music In Motion School of Higher Dance Education
Per Ankh
St. Croix Animal Welfare Center
St. Croix Environmental Association
St. Croix Long Term Recovery Group
St. Croix Montessori
Virgin Islands Caribbean Cultural Center
Virgin Islands Domestic Violence and Sexual Assault Council
Virgin Islands Good Food Coalition
Virgin Islands Partners for Healthy Communities
Women's Coalition of St. Croix
Yvonne A. Galiber Foundation
NPC Sustainable Development Goal Priorities
Today members of the Consortium and nonprofits are participating in a survey to target the top three priority areas for collaboration (shared resources, accountability, and tactics for addressing challenges) for multi-layered impact. Results will inform the work of the Nonprofit Consortium as it continues to build governing structures. The NPC's Sustainable Development Survey – in alignment with the United Nations' own Sustainable Development Goals - will begin to develop consensus around the priorities for the NPC's own collaborative work. To date, the NPC has developed the following seven focus areas from which the Nonprofit Consortium will identify its priorities:
Zero Hunger- The development of strategies for food sovereignty and a focus on the eradication of hunger and poverty is central to resiliency and sustainability.
Clean Water & Sanitation- Clean, accessible water for all is an essential part of the world we want to live in.
Affordable & Clean Energy- Reliable and equitable access to sustainable energy are central to nearly every major challenge and opportunity.
Sustainable Cities and Communities- Resilient communities provide opportunities for all, with access to basic services such as energy, housing, education, medical care, and transportation.
Climate Action- Climate change is a global challenge that affects everyone, everywhere.
Life Below Water- Careful management of this essential global resource is a key feature of a sustainable future.
Life on Land- The ability to sustainably manage forests, combat desertification, halt and reverse land degradation, and halt biodiversity loss is critical to all life.
These priorities will serve to frame the Consortium's programming and will help to lead the Territory in the first broad-based conversation about sustainability.
Environmental Forum
As the Foundation prepared this report, our Nonprofit Consortium was hard at work wrapping up its first Environmental Resiliency Forum. Like a growing number of island states throughout the region that are establishing audacious goals around climate resiliency and energy carbon neutrality, the NPC is developing its own comprehensive environmental vision for St. Croix.
St. Croix is indeed facing a set of unique challenges, including the restart of one of the world's largest oil refineries directly after the hurricanes. As such, the Nonprofit Consortium hosted an Environmental Forum this May 31st entitled The USVI Environmental Landscape and Activating Community Around Sustainability and Climate Change. The forum was specifically designed to disseminate information, provide a platform for unheard voices, engage national philanthropic partners around environmental justice and advocacy, and build a shared vision for the future.
In attendance were over 30 local nonprofit leaders with expert scholar, David Bond, who presented on the history and context of major environmental impacts such as the building of the HESS Oil Refinery and the Alumina Plant. Attorney Jack Dema also presented data he compiled as legal counsel for the Virgin Islands Government to contest the environmental impacts of the Refinery.
Outcomes from the forum include the development of a community-based Environmental Vision for the Territory. Video from the forum is also being circulated to provide a broader cross-section of our community with a deeper understanding of the real impacts of heavy industry on St. Croix's environmental landscape.
We hope you'll take a moment and contact us at 340.773.9898 for footage and interviews from the Environmental Resiliency Forum.
AMERICORPS VISTA
An important objective for the Foundation for the past year has been completing the process of applying for a 15-member VISTA Team to assist eight organizations (including St. Croix Foundation) on St. Croix who have been active participants in our Nonprofit Consortium. With the majority of our nonprofits reporting an increased demand for their services while they grapple with few resources – including staffing – an AmeriCorps VISTA Team on St. Croix will be a major step toward enhancing the capabilities of our nonprofits. In the spring of this year, St. Croix Foundation asked for a VISTA Supervisor to meet with all the organization who will be participating in VISTA Project. The VISTA State Director spoke about the program and compliance and a work session for developing the VISTA assignment descriptions for each position was conducted.
Representing approximately 400 staff hours to date in coordination of nonprofit candidates and the development of a comprehensive application that includes detailed scopes of work and objectives for each organization, this project will be led by St. Croix Foundation, which will also serve as VISTA Team Lead for seven organizations:
Caribbean Centers for Boys & Girls of the Virgin Islands
Clean Sweep Frederiksted
St. Croix Long-Term Recovery Group
St. Croix Montessori
Virgin Islands Good Food Coalition
St. Croix Landmarks Society
Virgin Islands Historic Preservation Commission
The Foundation is pleased to report that we have completed the final submission of the application and, if reviews are favorable, our partnering nonprofits will be able to staff up and build infrastructure around programming and operations beginning in August of this year. This will be the first AmeriCorps VISTA Team to work on St. Croix in over 20 years.
Upcoming Activities
As always, we like to keep you updated on what we've got planned next, and the Foundation is currently working on our next convening already. We have invited Tuesday Ryan-Hart back to St. Croix for her second visit with our Nonprofit Consortium and community members, from June 19th-21st, Tuesday will be conducting more individualized trainings with nonprofits around collaboration and shared work.
Building off her first visit, during which she introduced our community to the concepts of Art of Hosting as a progressive pathway to sustained social change and collective impact, we are excited to nurture further capacity around the spirit of collaboration to address systemic issues.
Momentum for the Nonprofit Consortium
Over the course of the past year and a half, the GlobalGiving community has been integral to the Nonprofit Consortium's momentum and impact. This work continues to be recognized as a progressive model for community resiliency and sustainable development. While more focus is typically directed at Physical Infrastructure in the aftermath of major disasters, what our Nonprofit Consortium has taught us is that, in reality, fortifying Social Infrastructure is oftentimes the most direct and rooted pathway to supporting vulnerable and marginalized populations. The Foundation is assured that our Consortium is a scalable model that can be replicated in other communities, especially since we have been asked to share our work and best practices with other island states in the region. The Consortium is also presenting us with a viable mechanism for building a broader network of social support systems nationally and throughout the Caribbean.
We are grateful for all of our Partners at GlobalGiving for sharing our vision. Thank you for believing with us that communities have the innate capacity to nurture and sustain resiliency from the inside out. We are just getting started and your partnership is simply invaluable to so many.