Project Report

| Mar 12, 2019
Traversing the Long Road to Recovery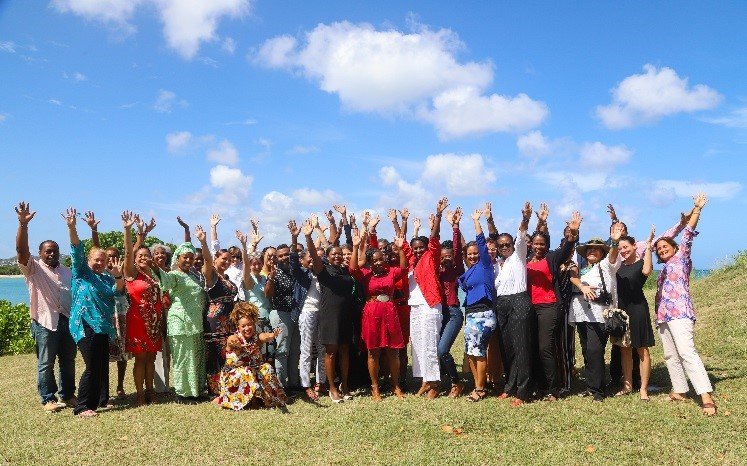 December 2018 – February 2019
Nonprofit Consortium Convening
In December 2018, St. Croix Foundation gathered its Nonprofit Consortium member organizations to continue to design and discuss steps for formalization and to establish criteria for membership in order to legitimize the Consortium as an entity. Themes discussed included the datapoints for measuring success, how do we ready ourselves, specifically as individual organizations of a whole, for benchmark goals such as accreditation and creating an advocacy-based agenda for each Consortium Sector (Health & Human Services, Youth & Education, the Environs, and Arts & Culture). Out of this meeting, it was decided that the Nonprofit Consortium needed to move toward a more structured level of organization and, that a formal Memorandum of Understanding should be developed in order to strengthen the coalition. After the establishment of an advisory committee (consisting of member organization board members and external stakeholders) and several revisions of a draft MOU, the Consortium members agreed to a formal signing-day for the final memorandum of understanding in mid-March 2019.
Philanthropy Retreat
As previously discussed in early impact reports, a primary objective of the Nonprofit Consortium and the St. Croix Foundation for Community Development is to increase and maintain the national and international profile of philanthropy within the US Caribbean among national and international funders and their networks. With the aim of deepening philanthropic engagement, In February, the Foundation through our Nonprofit Consortium hosted its 3rd Annual Philanthropy Retreat. The invitation-only convening connected national and international senior philanthropy executives with board and staff of the Foundation and its Nonprofit Consortium partners. This year's convening featured Executives from Annie E. Casey Foundation, the Council on Foundations, the Southeastern Council of Foundations, the Association of Black Foundation Executives, TIDES Foundation, GlobalGiving, and Partnership for Southern Equity.
As a vehicle for supporting St. Croix Foundation's Nonprofit Consortium, which is an almost 3-year-old association of approximately 35 St. Croix nonprofits, the retreat afforded national funders insight into the inherent challenges and assets of St. Croix's social and economic landscape.
The theme of this year's convening was Civic Excellence: Demonstrating Impact in Rural & Isolated Communities. Over the course of 3 days, nonprofits and Foundation Executives convened around issues focused on diaspora philanthropy, social equity and nonprofit capacity building. The weekend also included an island tour with coordinated site visits, as well as a visit to the St. Croix Food and Agricultural Festival- the largest agricultural fair in the Caribbean. During the Retreat, Foundation Executives also gained first-hand insight into the passion and perseverance of St. Croix's nonprofits which, despite being underfunded, and contending with major facility damages as a result of Hurricane Maria, continue to provide critical services to the most vulnerable residents. As the Foundation deepens our support for St. Croix's Nonprofit Sector, we are challenging Consortium partners to build new safety networks and social infrastructure that inoculates at-risk residents from the threats of historically dysfunctional and broken governmental systems.
To date, through our Nonprofit Consortium, the Foundation has hosted over 15 Foundation Executives at past Retreats. As a result of each convening, despite the lack of national media attention on the impact of the 2017 storms on the island of St. Croix, the Foundation is building a growing cadre of philanthropic champions on the mainland who know St. Croix, who have intimate insight into St. Croix's nonprofit landscape and who recognize the potential of our civic leaders to meet the immediate needs of the most vulnerable residents in our community while also building a global model for community resiliency in isolated and developing communities.
Environmental Convening
The Foundation's Nonprofit Consortium has begun the planning process for an environmental forum scheduled for this summer. The purpose of the convening will be to bring awareness to St. Croix's environmental sector of nonprofits and to direct focus on the environmental threats and opportunities for building real environmental resiliency for island communities like ours. Our Consortium partners seek to engage both national funders as well as environmental justice experts to provide guidance on how to nurture a culture of advocacy, sustainability and stewardship for the island's precious natural resources.