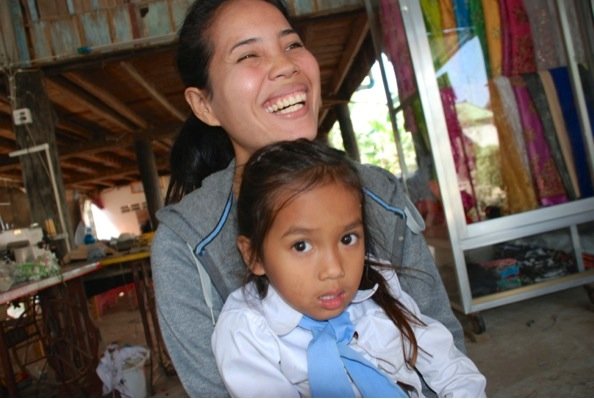 Lotus Outreach views the relationship between us and the women we have the privilege to support as a partnership with them for a better, more just world. In this update we are honored to present the tenacious and graceful Vannah. The inspiring story of 31-year-old Vannah demonstrates the underlying potential of the 45% of Cambodian women that have been denied education. Vannah is part of an entire generation that had no access to education due to the Khmer Rouge's shutdown of the public school system and execution of 90% of the country's teachers in the late 1970s. Growing up in the wake of genocide, civil war and foreign occupation, Vannah and her siblings were forced by poverty and political turmoil to spend their childhoods laboring rather than studying.
While many NFE participants are able to better their lives tangibly as a result of the classes, Vannah has used the skills she acquired to improve the livelihood of an entire village. She entered the NFE program in 2011 while working at a brothel in Phnom Penh and swiftly rose to the top of her class. Despite the hardships she endured, the determined Vannah used her spare time constructively and encouraged other girls to also take skill training. In addition to her daily lessons in basic literacy, numeracy and business management, she enrolled in our sewing and tailoring course, which proved to be the foundation for her career as a prolific businesswoman. "When I started NFE, I couldn't sew a straight line," shares Vannah. "It was the skills I learned during NFE that have made me the successful tailor that I am today."
In just a few years, Vannah has managed to invest in 30 weaving looms and four sewing machines, effectively employing 100 local villagers who support as many as 500 people. Her weaving and tailoring workshops are able to maintain a local tradition of silk making, a process that transforms raw materials into vibrantly patterned, hi-quality silk fabrics. Ingenuity and careful business planning have allowed her to employ the bulk of her extended family, and she reflected on how the family no longer has to experience hunger each day. "Every day we used to worry how we would survive. Now I feel very happy knowing we'll be okay." Vannah, a single mom of a 6 year-old girl, is now able to earn $200 a month – two times the per capita income in Cambodia – and hopes to buy her first home in the near future. Vannah is also starting up a small retail operation, and recently purchased second-hand blue jeans, which she plans to re-sell with a good margin of profit.
"Our visit with Vannah marked the most interesting and satisfying visit I can remember in many years and hundreds of visits with Cambodian families," shares Glenn Fawcett, Lotus Outreach's Director of Field Operations. "Vannah is a warm-hearted and generous boss who pays her employees well and inspires those around her to find the best in themselves. We are so happy to see such a kind and talented person in the midst of great success."
Thank you so much for your support of the Non-Formal Education project! Your generosity is the backbone of this project and the platform for incredible transformation like the one we witnessed with Vannah.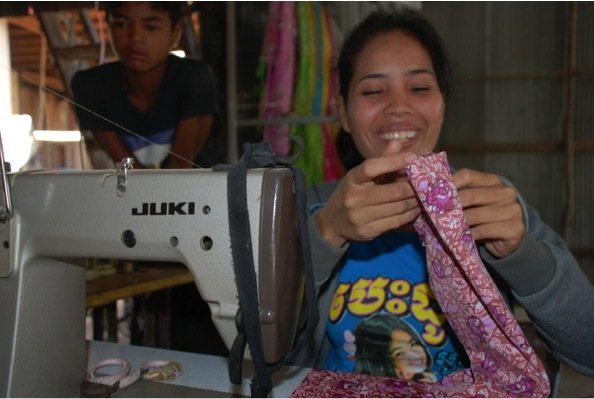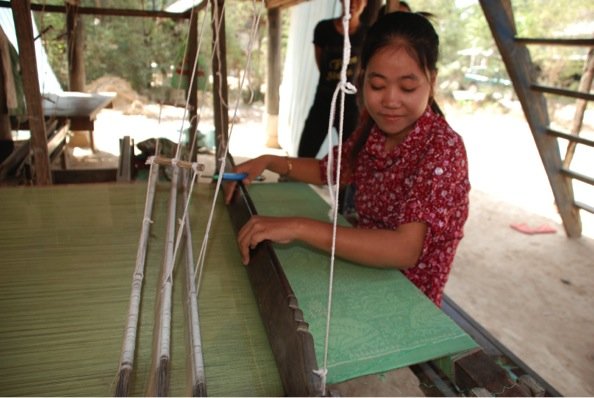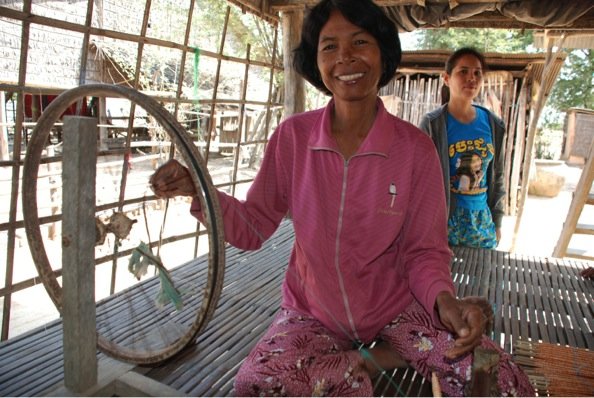 Links: