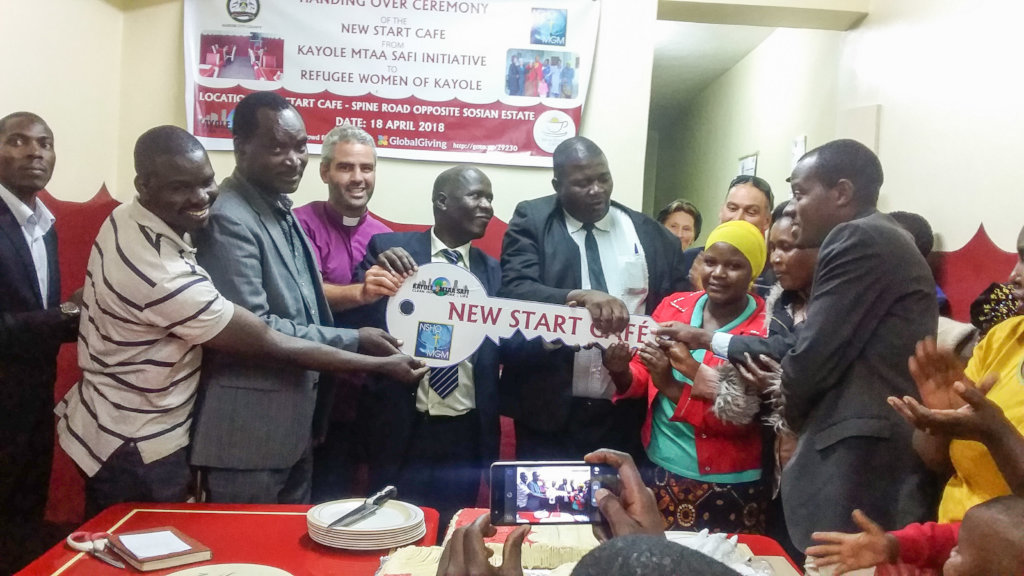 Having set up and run-in the cafe over the last couple of months, we felt it was time to hand-over the cafe to the refugee women with the support of the refugee community here in Kayole and surrounds.
Of course, starting such a business is never easy, and we had our teething problems. But all-in-all, the cafe seems to be a moderate success. But It's more than a successful business venture too- it marks the turning point in not a few refugee families. Anita, a 24 year old single mother of three, was beside herself talking about the opportunities this cafe can bring families like hers. "We have never been helped in this way before. No-one has thought about us like this. This will change our lives and our children's lives."
Bishop John is a Kenyan pastor who for over 8 years has been tirelessly looking after refugees from East African nations. He helps them physically and uplifts them spiritually. When John and his team agreed to take on board the oversight of the cafe project, we knew we were leaving it in good hands. His extensive experience, his good standing among the community make him and his team an excellent choice for the oversight and direction of the project.
So, we had a little party. Cakes were eaten and sodas were downed. Big dudes in high places were there and the little people were too - all rubbing shoulders and having a good time in celebration of a successful project and a bright future for all involved. (The local chief, MP and County Rep were present).
Then there were the goodbyes. But not the GameOver. Having now been running for over a month without us looking over their shoulder, the cafe is still going strong. Good memories and discounted dinners are now ours for the taking anytime we want!
AND THIS IS ALL THANKS TO THE GENEROUS DONATION YOU GAVE. No matter how small or large it was moneywise, it was BIG to us. You could have given it somewhere else to an equaly needy group, but you stood by us and our needs. Thank you.
This project also made another impact in our little organisation. It allowed us to use the GlobalGiving platform for other projects. That was no small feat in itself. There are very, very few crowdfunding platforms that allow a small grass-roots community organisation in a developing world with no office in a first-world to run a crowdfunding exercise for us. Nor with the professionalism and support that puts GlobalGiving ahead of the rest of the platforms.
You were a part of this milestone and without each one of you contributing, we wouldn't have succeeded - that's no exaggeration - we only crossed the finish line with one donor more than we needed and that one was almost too late! It just goes to show how much a little bit of help from many people can do.
Thanks again for sticking by us.
I invite you to check out one of our other projects currently running. We are supporting young men and women in reaching their dreams of a higher education. In Kayole, this is a pipe-dream to most youth. Now it is becoming a reality.
Follow this link to see what it's all about http://goto.gg/32510