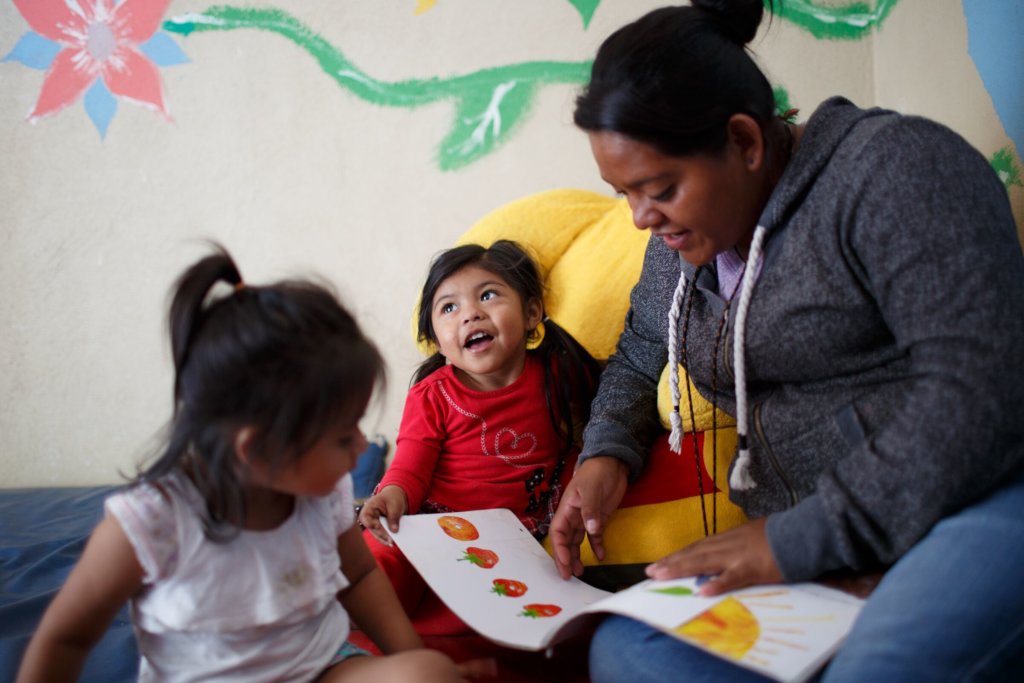 Leslie was doing 100 squats like the rest of the exercise class, but she was more tired than most. Throughout the whole class, Leslie was carrying some extra weight - literally. She was exercising while carrying her baby. When Creamos' exercise program started, women often could not attend class, or had to periodically stop to check on their children in a carriage. As Creamos grew, it became evident that the lack of childcare options for women in our target community was inhibiting women from participating in daily activities and securing employment. Creamos believes that no woman should be discriminated against, or excluded from any area of our programming, for having a child to care for.
Soon after this realization, Creamos acted swiftly and appointed one of the program participants as Creamos' first Child Caregiver. The program started with a few toys, a small playpen and three children. Four years later, Creamos' Child Caregiving Program has contracted three babysitters and serves approximately 40 children a month. Our caregivers vary in experience and skill set, but they have all created their own interpretation of their role to highlight their individual strengths. The Creamos Caregiving team is a group of women who do not get their products highlighted, nor do they get to interact with visitors who sing their praises. However, they are the team who make it possible for so many women to participate in the range of programs and services Creamos has to offer.
We'd like to take the time to feature and honor this dream team.
Meet Seño Kathi
Kathi has been involved with Creamos indirectly for the past ten years. Her mother Jeannette, was one of the first participants of the organization. From the age of two, Kathi has been attending Safe Passage, and in 2016, Kathi graduated from high school. Upon graduation, Kathi was preparing to attend university, and was looking for a job. She was encouraged to apply for the Child Caregiver position and was contracted immediately after her interview. Kathi is reserved, while having a calming and endearing presence. From the first day Kathi was hired, she has never been late nor missed a day, and is a mature and responsible communicator. There have been certain circumstances in which Kathi has had to come in last minute or perform a task outsider her job description. Kathi always goes above and beyond to be as helpful as she can. Since 2018, Kathi has taken English classes offered in the community. In the beginning of this year, Kathi took it upon herself to start an English club with the older group of children within Creamos' babysitting program. This initiative embodies what makes Kathi so special. She is humble, never seeks praise, and will always take action when she deems it is for the benefit of those around her. In July 2019, Kathi began attending an intensive 6-month English Course provided by Guatemala's municipality. She currently works in the morning, and attends class at night. Kathi aspires to use her English to help others in her community and work in a call center.
Meet Seño Heidy
Heidy's story is one of irony. In 2018, Heidy was having behavioral issues in school. Her family was concerned, as she was at risk of getting kicked out of school for her conduct and poor grades. During her summer vacation, Heidy's mother, Mirna, who is a founding member of Creamos, asked if as a punishment, Heidy could volunteer in our child caregiver program. Heidy was interviewed, and Creamos decided to grant her a trial period for a month. After the first week, Heidy's whole demeanor had changed. She came into work with a huge smile, was friendly with everyone, punctual and slowly brought toys from home for the children. When she would arrive, children would run across the building into her arms screaming "Seño Heidy!!!" Mothers in the community began to hear about Heidy's way with children, and hired Heidy to babysit for them on the weekends. After a month, Heidy approached her mother and stated that she finally knew her career path; she would like to be a Kindergarten teacher. After her summer vacation, Creamos hired Heidy to work as a part time child caregiver under the condition that she continue to study. Presently, Heidy is now paying for her own schooling, and her grades are in the 80th and 90th percentile. What began as a punishment has now become a career path for Heidy. She works under the guidance of Seño Vivi and promises to evolve into an innovative and passionate educator.
Meet Seño Vivi
Creamos met Seño Vivi through one of our community partners. She is our most seasoned and experienced child caregiver who has worked at larger educational institutions in our community such as Safe Passage and Planting Seeds International. Vivi grew up a few blocks from the Creamos office, and expresses a deep desire to give back to her community. Although Vivi's time with Creamos has been brief, she has already enhanced the overall structure of the program. She creates weekly age-appropriate lesson plans for children of all academic levels. She has implemented movie and discussion days, and incorporates an educational component in all activities. Vivi provides supervision for Seño Heidy. Vivi's experience and her kind manner allows mothers to feel fully confident that they are leaving their children in a safe and productive environment.
These are the three women whose work enables 48 women to participate in Creamos' income-generating and emotional support activities. Thank you Child Caregiving Squad!