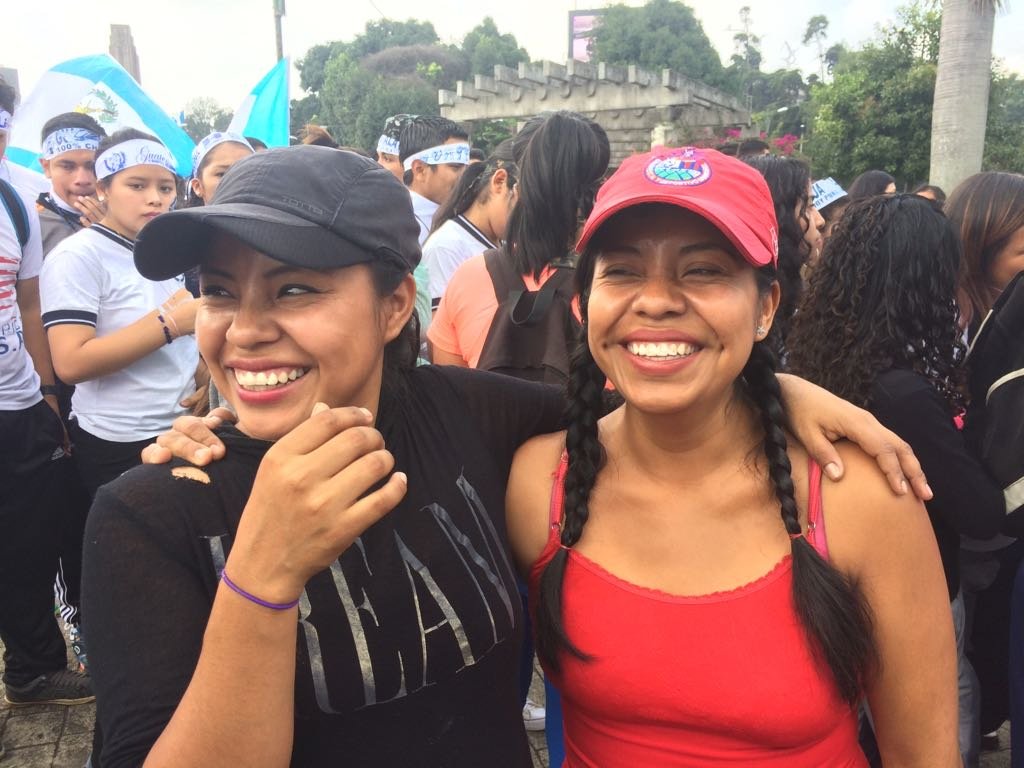 It was our first day back, and we heard a faint tap on the door. We looked behind us and saw it was Eva, waiting to wish us a happy new year with her huge smile. After our three-week vacation, her enthusiasm permeated the room. Eva was first introduced to Creamos through her sister, Liby. The two siblings had been close since they were younger, so naturally, when Liby began exercising with Creamos, her immediate reaction was, "I have to bring my sister." Since that time, they both have said on separate occasions, that they have never felt closer than they do now. They exercise together, they work together, and they motivate and support each other unconditionally. This year, they have big plans, both personally and professionally.
Given the instability in which our most of our affiliates live, we always begin the year with intention and new strategies to counterbalance this unpredictable environment. We do this so woman like Liby and Eva can have a safe and empowering place to not only earn a living but be provided opportunities to learn and grow. In this upcoming year, we hope to piggyback off the successes we had in 2017, while also implementing new strategies and projects from what we learned during the tougher moments of 2017. At the end of last year, we conducted community surveys with our Creamos members to see what they would like to see for this year. Most of the new projects and changes for 2018 have been derived from the women themselves.
Healthy Relationship Support Group: Creamos has graduated three cycles of our healthy relationship support group for our highest risk cases of intimate partner violence. After the conclusion of each group, we ask for feedback and all groups stated they desired a second group, focusing on how one's child rearing is influenced by violence in the home. This past year, we worked to adapt and create a curriculum that focuses on the intersection between parenting and intimate partner violence. We are eager to begin this group and hear the feedback from our participants!
Sewing: It is hard to conceptualize all our sewing program has been through in the last year – from a fire burning down our workshop, to receiving overwhelming encouragement and generosity from our Creamos supporters, to welcoming a new teacher and getting our program up and running. We can say, with the utmost confidence, that our program is stronger than it has ever been. Although our women just learned how to sew in July, they have already completed five orders ranging from market bags, to napkins, to conference bags and a variety of home decor. As the sewing ability of our women continues to grow, we plan on diversifying our products. This year, we are excited to begin apparel and more complex accessories. We strongly believe that by offering this genre of products, we can dramatically increase the income of our sewing participants while adding approximately 10 more women in the company.
Financial Literacy: Last year, we saw remarkable changes in our affiliates through the growth of our financial literacy program. We continued to offer our six-week evidence based curriculum, graduating in total, 45 women. Furthermore, we added a matched savings program, where women had the opportunity to save a small amount every week, and then receive a bonus at the end based on the frequency of their savings. Out of the 35 participants in the savings program over 90% saved with Creamos.
In this upcoming year, we plan to begin facilitating the six-week program with the children of Safe Passage, our parent organization. In addition, we will continue our matched savings program however, instead of 21 week cycles, we will implement an annual matched savings program. Women will be required to save a small amount throughout the entire year thereby increasing their frequency and amount of savings and enhancing their savings habits. It is important to note, the year-long savings program was another idea that was brought forth by the women themselves.
Screen printing: The idea of implementing screen printing has been a dream of Creamos for quite some time. This year, we plan on introducing the skill and concept to our participants, but moving forward in a mindful way. We plan to facilitate quarterly workshops where women will be taught the basics of screen-printing. Through these workshops, our women will be able to make unique products that we will sell through local brands. Our women will be able to earn a higher percentage on these products, which is supplementary income to the money they earn through wholesale orders. Although we are enthusiastic to add this component to the sewing program, we also need to ensure women have sufficient time to cultivate their sewing ability. This year will be chapter one of our screen printing endeavor and we want to make sure it is implemented with thought and precision.
Liby and Eva are two of the 135 women Creamos has supported last year. As the newest members of our sewing program, the two have also began to strategize how they will begin to prepare for their university exams – a dream they both thought was not going to come true a year ago. We are hopeful that with our new additions to Creamos, we can see more women like Liby and Eva have the opportunities to grow, as well as create more opportunities for their future.