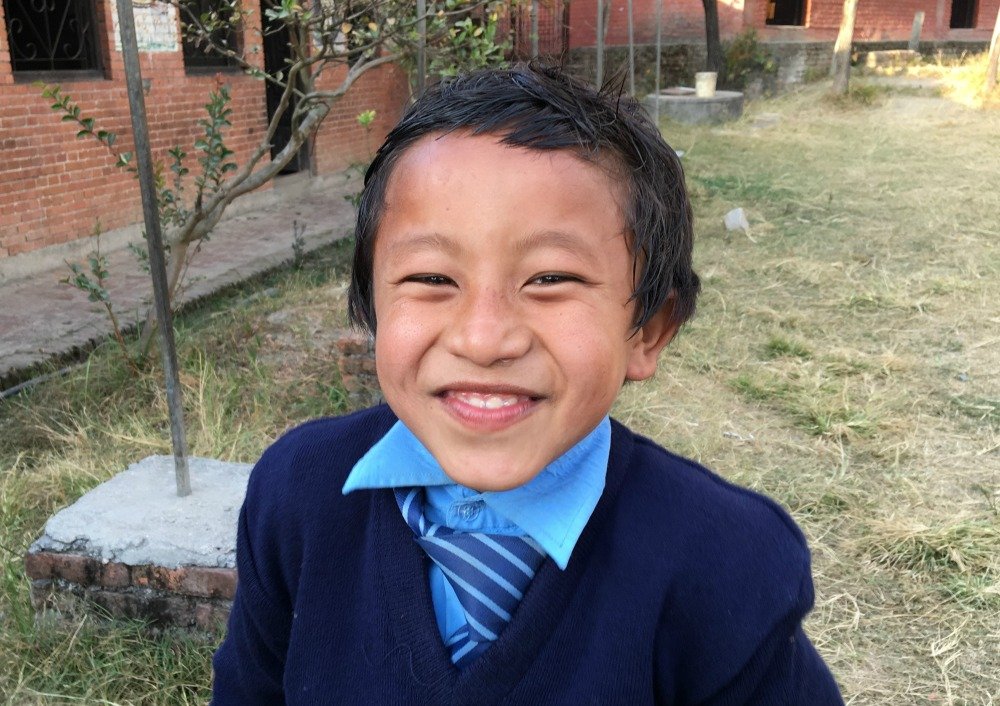 Sixth Update from Nepal
By Iain Guest - Project Leader
This is the sixth time we have reported on our Nepal appeal, launched through Global Giving in June 2015 following the devastating earthquake. Our goal is to support three of our Nepali partners – Care Women Nepal, CONCERN and NEFAD - who work with village women in eastern Nepal, children from the brick factories, and wives of those who disappeared during the Maoist insurgency (1996-2006). Many of these stakeholders were affected by the earthquake.
Eighteen months have passed since we launched this appeal and there is much to report. First, our donors continue to give. Thank you! To date, the appeal has attracted $12,349 from 142 donors. We have also raised another $30,000 for the program through other channels.
Second, the earthquake continues to drive Nepalis into poverty. For example, of the 51 children rescued from brick kilns by this program, ten came from families that lost homes in the earthquake. This left them with no option but to seek work in bricks. Sadly, much of the reconstruction aid that went to Nepal last year remains unspent because of red tape. This makes our community-based approach – and your targeted donations – that much more important.
Third, our entire team at The Advocacy Project has been intensively involved in this program. We have deployed six outstanding graduate volunteers (Peace Fellows) to the partners and visited the districts of Bardiya, Ramechhap, Dhankuta, Bhaktapur and Lalitpur in person to meet with stakeholders. This has also been a two-way partnership. From our side, AP has contributed funds and technical support. But we have taken our lead from the partners, who have provided us with extraordinary access to their work and our stakeholders. We have learned so much in the process.
Finally, there is the programmatic side. This report rounds off 18 months of hard work, and we can confirm that your donations have been spent in an exemplary fashion. But it does not stop here. Our three partners now face the challenge of sustaining and building on what they have achieved with your help. This is now well under way. We will maintain this appeal on Global Giving to anchor our future work in Nepal and look forward to reporting back to you. Your affection for Nepal and its people will keep us motivated and focussed!
a) Partner #1 – Care Women Nepal (CWN), combating uterine prolapse

CWN screens village women for uterine prolapse in the isolated eastern district of Dhankuta, and your donations have allowed CWN to screen over 3,000 women since 2015. In 2016, we funded two camps and screened 1,960 villagers, at a cost of $9,235.90. CWN's team of volunteers (which included government specialists) identified 40 women with early prolapse and provided them with ring pessaries. Another 55 women were found to have third degree prolapse and placed on a waiting list for surgery. We funded four surgeries.
We asked our Peace Fellow, Morgan, to observe this process closely and you will get a good flavor of her conclusions through her blogs and photos. These show that any concerns about surgery are outweighed by the impact of prolapse. One beneficiary, Dhanmaya, 52, pictured in the photo below, lived with prolapse for 22 years and opted for surgery after giving birth painfully to five children (at her husband's insistence). Morgan's photo shows her recovering with a relative, whose presence was made possible by Care Women Nepal. CWN does what it can to make the surgery less frightening.
Later, Morgan also met with the indomitable surgeon, who even invited her to photgraph an extracted uterus. This is not for the squeamish, but shows Morgan's commitment to her subjet. She was the only undergaduate recruited for our fellowship program in 2016 and showed poise throughout.
CWN's health camps perform an indispensable role by making government services accessible to isolated villagers, but they could have more of an impact if they were more integrated into village life and the government system. The same can be said of the prolapse surgeries, which have to be performed at government district hospitals. The problem is that Dhankuta's only trained gynecologist was transferred in 2016, whch meant that CWN's surgeries had to be squeezed into a busy schedule in another district. This is why we were only able to finance four surgeries.
Care Women Nepal needs to work without interruption throughout the year if it is to provide systematic support to the government medical services and this will require a full-time program officer to take the load off Indira, CWN's tireless director. This is one of our three goals for 2017. The other two are to fund another health camp and support at least 15 surgeries. The cost should not exceed $12,000, and we already have over $7,000 in the CWN account.
Supporting material: Morgan's blogs and photos.
b) Partner #2 – CONCERN, combating child labor in the brick kilns

This program has allowed CONCERN to place 51 children in school since 2015. They include ten year-old Haris, pictured above. All of the children would have worked in a brick factory, in violation of the law and at grave risk to their health, if they not gone to school.
AP has helped to raise almost $13,000 for this important program through Global Giving. The Global Fund for Children contributed $5,000. Lauren, who served at CONCERN as a Peace Fellow in 2016, raised another $2,875 through her own mircroproject.
We are grateful to CONCERN for its wholehearted collaboraton. In August 2015, an AP team visited the remote district of Ramechhap, which exports families to the brick factories, and saw first-hand how poverty forces families to work in bricks. By placing their children in school, CONCERN gives parents a reason to say no to bricks and remain in their village. The AP team also met with the dedicated staff at the Panchakanya village school, where 13 children are enrolled.
In 2016, we worked at both ends of the brick traffic. Our Peace Fellow Lauren also visited Ramechhap and profiled the 13 young students for our website. She then went down into the Kathmandu valley, to the districts of Lalitpur and Bhaktapur, where the rest of the students are enrolled. You can read her profiles here.
Iain from AP, followed Lauren in November after the brick-making season had started and visited three factories. We recommend his video footage, which shows children at work. The biggest problem is that the entire family is paid by the number of bricks produced, so everyone is expected to contribute. Children play an important role because their small fingers can get between the rows and flip bricks.
CONCERN's school program project is certainly making a difference. Iain visited two of the collaborating schools, Faidoka and Suryodaya, and met with 15 children. Twelve had stopped work completely and several were getting excellent grades, but the three remaining children have been less lucky. Sanu, 11, works for two houra a day before going to school. Budhi Ram, who is pictured below, also works before school. This undoubtedly affects their academic work, but will be hard to stop completely because they live with their families in a factory.
This suggests that there is more to ending child labor than school, important though school may be. As a result, CONCERN and AP will take a more comprehensive approach in 2017. We hope to place the 51 children in school again, but if funding permits we will also organize extra tuition for the students who live in the factories to help with their homework. CONCERN will also work with seven progressive factory owners to improve living conditions in their factories. Iain met with one owner who has built a dormitory for his workers, installed water and put up a day-care center for infants - all at CONCERN's urging. We think such owners may be even more receptive because the brick industry is under growing pressure from environmentalists.
Supporting material: a) Iain's video of children at work in the brick factories; b) Lauren's photos and blogs; c) Profiles of the 51 children now at school; d) a recent news bulletin by AP.
c) Partner #3 - the National Network of Families of Disappeared and Missing Nepal (NEFAD)
Working through CONCERN, AP has invested $5,093.20 in wives of those who disappeared between 1996 and 2006. Of this, $500 came from our Peace Fellow Megan who worked at NEFAD in 2016 and launched her own microproject on Global Giving.
Most of the disappearances in Nepal occurred in the western district of Bardiya, and this is where we have focused our efforts. NEFAD and AP agreed at the outset that we would train around 40 wives to tell their story through embroidery – something that would be both therapeutic and develop a useful skill. This work began in 2015 with a small number of wives, but NEFAD was unable to reach Bardiya because of serious flooding, so we had to make up for lost time in 2016. Megan visited Bardiya in June and organized embroidery training for 35 women under the watchful eye of Sarita, a skilled seamstress who herself lost a father to the disappearances. The women produced powerful squares, some of which were exhibited in Kathmandu on August 30 – International Day of the Disappeared.
Iain from AP visited Bardiya in December, collected the 35 finished squares, and profiled the 35 artists. They included Gita, who commemorated her disappeared brother through a powerful image, as shown below in the photo. (Gita's profile will be shown with the others on the AP web site). The Bardiya artists also produced a second batch of squares featuring tigers, which are native to Bardiya.
AP has brought the squares back to the US and will work with quilting gulds to assemble the squares into quilts. The memorial quilts will eventually return to Nepal, where they will help the campaign for transitional justice. The Tiger qults will hopefully be sold – with any profit going back to the artists. These women certainly need money after losing the breadwinner in the family, but it is important that any income-generation project be sustained. Nor should we forget their main goal - to find out what hapened to their loved ones.
This points to our two goals for 2017. First, sell embroidery for the wives. Second, make sure that the voices of these brave women are heard at a time when transitional justice in Nepal hangs in the balance. We argued this case in a recent opinion piece in the Kathmandu Post, whch started a discussion, and will continue to support the wives through NEFAD in 2017.
All of this points to an exciting year ahead for our partners in Nepal, for AP and for our 2017 Peace Fellows. We hope you will remain engaged!
Our warmest thanks and best wishes for the New Year.
Supporting material: a) Megan's blogs and photos; b) AP's Oped in the Kathmandu Post.