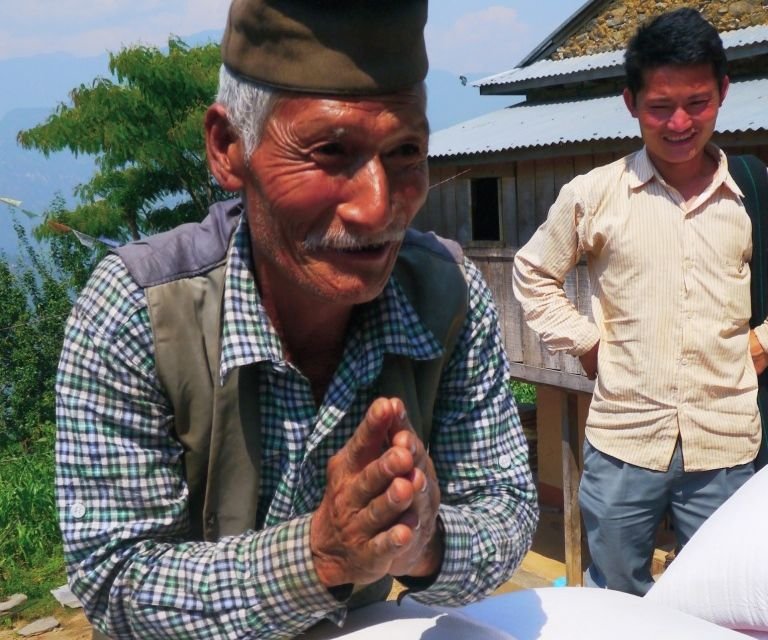 Last week Nepal marked the anniversary of a devastating earthquake that claimed almost 9,000 lives and destroyed or damaged over 800,000 homes. So, for this project report we wanted to reflect on both the last year, and also on what remains to be done.
We arrived in Nepal just ten days after the first earthquake and, with your support, we quickly set about providing relief.
In the districts of Nuwakot and Sindhupalchok we started by distributing 6.4 tonnes of food aid to survivors. Water-borne diseases, such as cholera, were also a concern so we provided water tanks and filters for over 1,200 people in the Lamoshangu temporary settlement, and at the Shree Bal Shiksha school in Sindhupalchok.
With so many left homeless providing shelter was crucial, especially with the monsoon rains due just a few months after the earthquakes. So, we also provided shelter materials and household items to protect over 2,100 people from the worst of the weather.
To ensure that children didn't spend too long out of education we constructed nine Transitional Learning Centres in badly affected areas, and also provided school supplies and furniture.
But while all this work was vital, it was focused on meeting short term needs. We knew that if Nepal were to truly recover from the earthquakes we also needed to commit to long-term reconstruction once the monsoon season had ended.
So, last September we put plans in place to begin the permanent reconstruction of schools in Sindhupalchok district. Sadly, events were to unfold that were to scupper these plans just as they began to take shape.
Just as the rains began to end a border blockade with India led to a national fuel shortage. So, the purchase and transport of materials to rural areas became unviable. Out of necessity we turned our attention to projects in the Kathmandu valley where we repaired four permanent classrooms at the Shree Bhim Adarsha School in Bhaktapur.
This project was successful but we remained conscious of the unmet long-term needs in more rural areas. We were keen to press on, but the fuel crisis wasn't the only thing delaying rebuilding.
The government agency resposible for the overall rebuilding process, the National Reconstruction Authority (NRA), wasn't up and running until December 2015, around eight months after the disaster. Once finally established it announced that further reconstruction projects couldn't start until it published new guidelines. And those guidelines took even more time to complete.
So, while over a year has passed since the earthquake, long-term reconstruction has barely got started. Delays caused by the monsoon, the fuel crisis and the establishment of the NRA means that many survivors are still desparately struggling to recover.
We know this may come as a bit of a shock to you. After any disaster its easy to assume that rebuilding will move quickly after the initial surge of donations. However, as Nepal shows things are often much more complicated.
And for Nepali earthquake survivors this is where the current danger lies. Disasters always fade from people's memory over time, and delays in reconstruction can also lead to donor frustration. As a consequence many survivors, through no fault of their own, risk being left behind as the world's attention moves on.
Your fantastic generosity has already allowed us help over 6,300 people in Nepal, but so many more still need help, particularly in the long-term.
So, today, we're asking to you to please consider taking advantage of a very special opportunity to help re-energize the recovery of earthquake survivors in Nepal.
Right now GlobalGiving is matching donations to this project by 100%. By taking advantage, and doubling your donation today, you'll help ensure that no-one gets left behind.
As always, if you ever have any questions about our work and how we use your donations, then please don't hesitate to email Andy@IDVolunteers.org. I would be delighted to hear from you.
Note that donations up to $1,000 are currently being matched via GlobalGiving.org, and up to £1,000 via GlobalGiving.co.uk.
For more updates about our work please like us on Facebook or follow IDVExec on Twitter. You can also email Andy is you would like to be added to our direct mailing list.