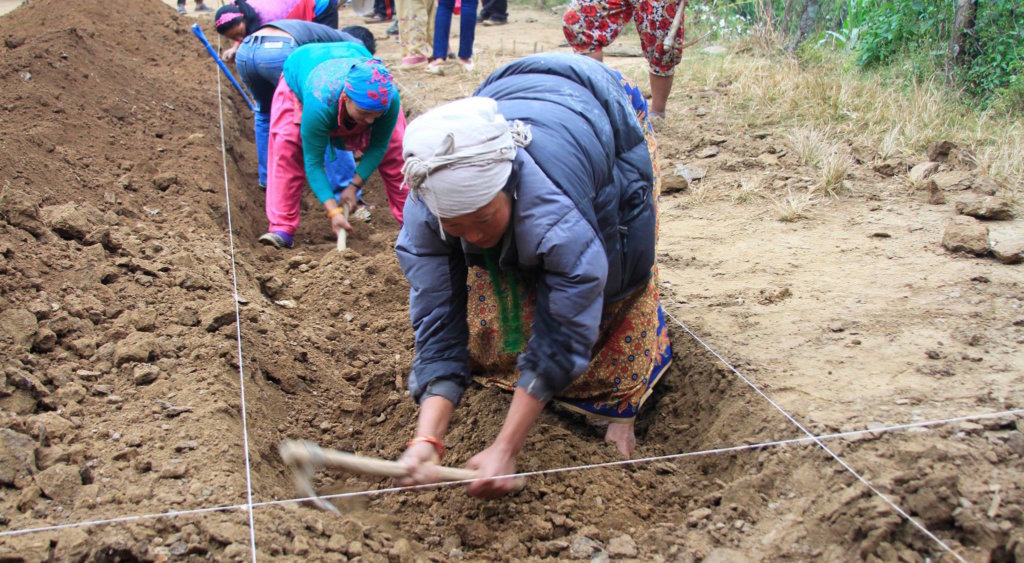 The significant earthquake on April 25, 2015, in Nepal resulted in tragic consequences including 9000 people losing their lives and the destruction of historical and modern infrastructure. dZi Foundation has been working in some of the most remote villages of Eastern Nepal since 1998. With 25 Nepali staff on the ground, dZi has been effectively delivering a wide variety of impactful, community-led initiatives that address a deep and wide array of community needs and concerns.
In the aftermath of the earthquake, our staff traveled to our project areas and held dozens of community meetings to assess damage and to discuss what community priorities were. We were pleased to find out that what our partner communities wanted was essentially more of the same programming we have been delivering, rather than a change in focus. This reaffirmed that from a community perspective our model is working and is more important to implement now than ever before.
As the result of increased fundraising shortly after the April earthquake, dZi decided to commit to a significant project budget increase for the current fiscal year. Programs include schools, drinking water and irrigation systems, sanitary toilets, bridges, agriculture and income generation initiatives, and lots of trainings for community capacity building. Building schools has been a core component of our Deep Development model for many years now, but as a result of community input, we have committed to increasing our budget for schools in particular for this year and the next two years. We are building 9 schools as I write this, with plans for 22 more over the next two years.
We have hired a full time Nepali engineer who has done an amazing job engineering earthquake safe schools using largely local materials. He travels between villages and not only oversees projects but trains community members how to build in new ways to ensure dZi schools remain standing after future earthquakes.
Working in Nepal continues to be challenging on many fronts. While the embargo/blockade at the India border has finally been lifted, the flow of fuel and materials is not yet back to 'normal'. dZi staff and community members are redoubling their efforts to finish the 9 schools we have started before the annual Monsoon season begins, and we are already planning for the 2017 project year which will be at least as busy as this year!
You can follow us on Facebook to see regularly updated reports from the field. Thank you for your support of our programs and the people of Nepal!