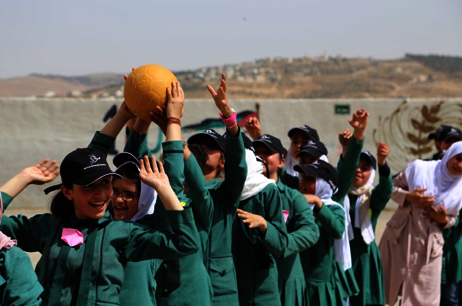 Dear supporters of Generations For Peace,
Our team cannot be grateful enough for your donations to the My Sport Story project, for your support of youth around the world, and for your support of our programs that harness the energy of sport-based games and power of team dynamics to change behaviors and relationships among youth living through conflict and violence.
Generations For Peace believes sport has the power to shape and even transform young people's lives, and contribute to development and peace. At Generations For Peace, sport is used to promote understanding and unity among young people living through some of the world's most intractable conflicts.
Just one sport-session could instill lifelong skills for peacebuilding in youth, whether that be learning how to work together, or overcoming a challenge within the rules of a game. GFP's Sport For Peace activities are proven to increase capacities to manage conflict non-violently. Each aspect of our sport-based activities fosters skills that translate directly into peacebuilding in the real world. To date, we have positively impacted more than 524,000 children, youth and adults in 50 countries.
Through this brief campaign, you have helped us raise $450, which is already helping us ensure youth can take part in #SportForPeace, regardless of the conflict that surrounds them.
From the bottom of our hearts, and on behalf of our 11,000+ volunteers around the globe, we thank you for your support.
If you want to learn more about Generations For Peace's programming, please check out our website. Also follow us on social media, to stay updated on our latest programming around the world.
With gratitude,
The Generations For Peace Team
Links: