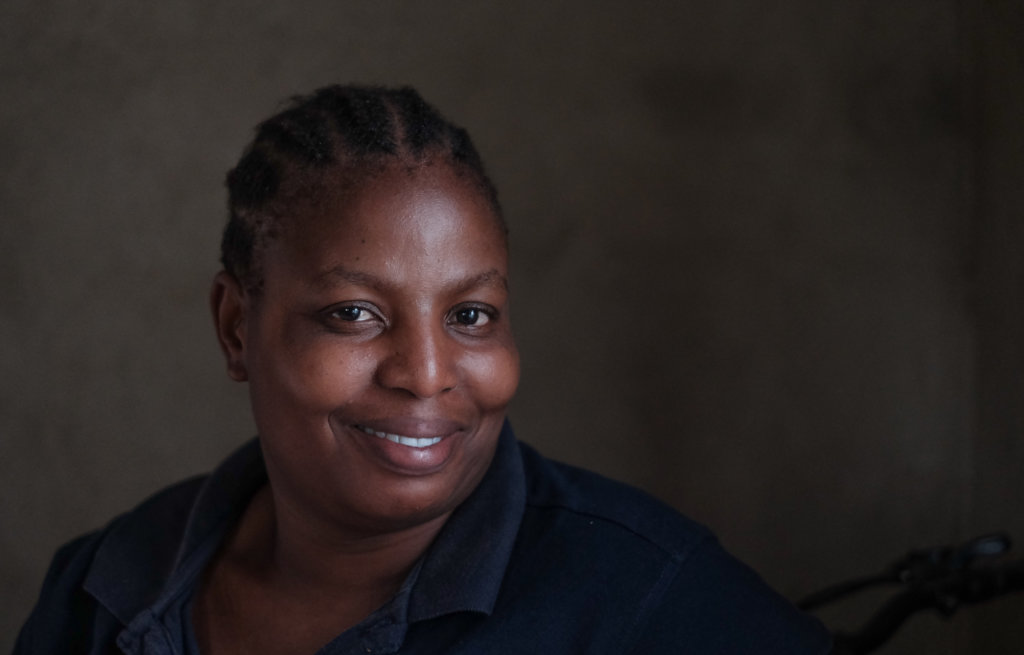 In the past few updates I had let you know we would be starting interviews with community members to document their life journey's and the experiences they have had with us (you, me and My Arms Wide Open) to date. These interviews will give you insight into the experience on the ground and how your contributions and donations have helped the community grow and overcome challenges. Some have been very successful; some need more work and so we adapt to create the changes needed.
Changing circumstances for women and children
Each of the My Arms Wide Open and Bergnek Community Projects initiatives revolves around a common theme; changing circumstances for women and children. It's about enabling women and children to change the circumstances they were born into. Their circumstances don't define them, that's just what they were born into and these women are already proving to be so much more. Practically, it's not about categorizing them as their circumstances but helping to change the circumstances where they are, to enable them to create the positive changes they deserve.
Some of the things the women and people of Bergnek are doing to change circumstances for women and children include their community based business, GirlStuffPeriod.org and their Pads against Bullying initiative. Both programs support girls getting back into school, by providing them with menstrual supplies they don't have or can't afford. My World in a Garden helps to keep girls in school by providing the food they need, supporting the Pads Against Bullying program. These programs create the environment where they don't have to leave the classroom to find food; The health clinic will provide support for girls, expectant mothers, children and other community members. One Brick at a Time is designed to help create employment, focused on women.
A message from Keabetswe (Keith)
My Circumstances do not define me
My name is Keabetswe Keith Mosumane I grew up in the rural community of Bergnek in Limpopo, in the Northern part of South Africa. There is no employment back home, and so I now live and work in Johannesburg with my wife and kids. My mother lives back home at Bergnek. After the loss of my son, Keith Jr., in 2008 God blessed me with three more kids, my daughter Bontle, who is now 11, my son Karabo, who is 9 years old, and Lebogang who is the youngest at 4. My kids are the heartbeat of my life. If you'd like to read more about my story, you can read about it here.
Why I chose to help change circumstances for women and children
The loss of my son gave me a burning desire to change the circumstances for women and children in the community of Bergnek. In 2011 I co-founded a number of community development initiatives that were aimed at empowering and supporting woman, youth and the children of Bergnek. We are doing this through sustainable business ventures, that focus on Education, Food Security, Water & Sanitation, and Infrastructure and Leadership development within the community. The community has a population of +- 4500 people and its located 40km (21 miles) outside Polokwane (which is the nearest large town). The community has no clinic, although there is a Mobile clinic that comes twice a month.
"Health is one of the fundamental rights of every human being and access to health care systems is necessary to fulfill this right. There is a close relationship between poverty, ill-health and limitations in access to health services. It is widely recognized that poverty extends beyond deprivation of income and material assets, Poverty is also connected to lack of opportunity to lead a healthy lifestyle. In this respect, health services, along with food, water, sanitation, knowledge and education, can be considered necessary conditions for good health. In order to alleviate poverty and contribute to better lives for the under privileged in our society it is necessary to address this complexity and focus on the interconnections between the many elements of poverty and health."
- Keith Mosumane, Bergnek Community Projects -
Poverty is rampant across South Africa
Despite the relative wealth of South Africa compared to other countries in the region, poverty is still rampant for a large majority of the population, and access to basic health care is still out of reach. The rural areas, like our community of Bergnek, are under-served and historically most neglected. People don't choose to be born into these circumstances, they simply are and often they are then forgotten. The only time the government officials thinks of us, is during elections when they need votes. It's during these election campaigns, that our youth are sold an entitlement mentality for government to do everything for them. This in turn becomes a problem in our society where people become dependent on the government to do everything for them. This has stifled small business and the dreams of the young people.
My goals and dreams
My goal is to help improve the lives of people in my community and break the cycle of poverty. My ultimate dream is to help build a community healthcare center in remembrance of my lost son.
I realize that these are very difficult financial times, but I would greatly appreciate any donation that you would consider giving, no matter how small.
Please contact me and share your thoughts with me through the comments and sign up for our newsletter.
I hope you and your family stay safe and healthy. Wash your hands, practice social distancing, and remember to wear your mask. I'll be writing more next week
Until then ................
Keabetswe Keith Mosumane
#TakeAction
There are multiple ways for you to help and support girls in the program and we are counting on you and the people you know to take action.
Share your Excitement!


Please forward this project report to 2 friends or begin your own fundraising page for the cause here on GlobalGiving.
We are grateful for your ongoing support and for all you, as donors, have already done to create positive change in the Bergnek community, and especially for those of you who give to the GirlStuffPeriod project every month. Thank you for your contributions, your messages and for sharing the work we do with the wonderful people of Bergnek. We appreciate you and the people of Bergnek most certainly do too.
Don't give up on the communities we serve, we certainly won't either!