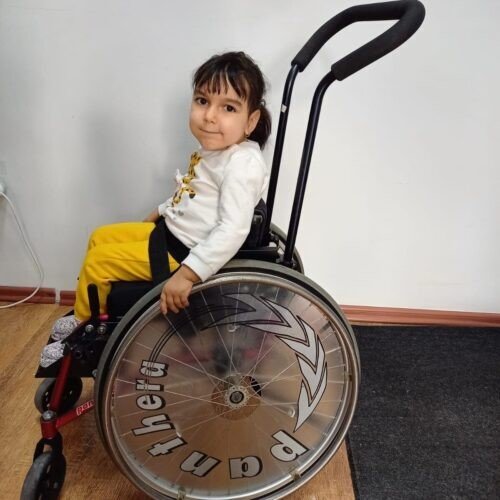 Hello dear friend,
I hope my message find you well. I am writing to let you know that we are closing the Wheelchair Fund 2020 project and starting a new season of Spinning the Wheels of Change for wheelchair user independence in Romania.
In 2020 and beginning of 2021, with you help we gave back freedom of movement to 41 children and adults using wheelchairs, through GlobalGiving, of 705 wheelchairs donated through the Wheelchair Fund. Moreover, The Wheels of Change Project 2020 was supported on GlobalGiving by 15 friends of Motivation, some of you recurring and others new. Thank you for your trust and thank you, on behalf of the children and adults we gave back mobility through appropriate wheelchairs!
Miruna is 4 years old and she lives in Galati County with her parents. She is very sweet and delicate and she likes drawing. When she was only 10 months old she was diagnosed with spinal muscular atrophy. Miruna`s parents got in touch with the Motivation team in Galati, to find out about appropriate mobility equipment for Miruna, and gabe her a lightweight wheelchair that Miruna can handle on her own, as well as a tricycle appropriate for her needs. Read more about Miruna`s story of independent mobility.
Let`s keep the momentum going for more lives changed for the better through the Motivation Romania Wheelchair Fund!
In 2020, individual donors and companies in Romania and abroad made extremely generous gifts to the Wheelchair Fund. These will enable Motivation Romania to give back freedom of movement to 1,033 wheelchair users in 2021.
Renew your donations in 2021 and enable Motivation to continue donating wheelchairs to children and adults with mobility disabilities in Romania!Transform your donation into a monthly gift to the Wheelchair Fund, and invite your friends and family to join you! Continue to roll with Motivation Romania on this journey.
Follow Motivation Romania`s facebook page for photos and news from our programs.
Thank you!
Links: