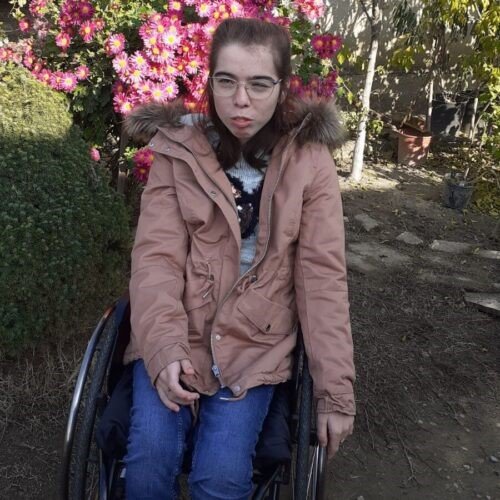 Hello dear friend,
As the new year begins, we are looking at 2021 with renewed hope that, with the help of the vaccine, we will all be able to take back some of the normality that we lost during 2020. I hope that you are well and that the long-awaited health and freedom of movement will come to you soon!
It is my hope that the vaccine developed last year will give back freedom of movement to all of us that lived for the past year under the threat of the Covid-19 virus. So, too, many wheelchair users in Romania, who have difficulties obtaining an appropriate wheelchair, hope to regain their freedom of movement with the help of personalized wheelchairs donated by Motivation Romania through the Wheelchair Fund.
The Wheels of Change 2020, Motivation`s most recent project on GlobalGiving, helped us reach out to you and other Motivation friends in 2020. During the year, we raised 3,068$ with your help. By October 1st, 2020, we donated 18 wheelchairs, funded from donations starting in the winter 2019 fundraiser through September 2020. I hope the stories we sent in the meanwhile, of some of the children and adults that regained their freedom of movement, illustrated the great contribution your donations make in the lives of others.
Since my last message, in October 2020 alone, donors gave 1,984$ to the wheelchair fund. New friends joined our cause and enabled Motivation to help 16 other wheelchair users through appropriate mobility equipment.
Narcisa was diagnosed with cerebral palsy at birth and this is why she needs a wheelchair to move around. We've known Narcisa since she was 5 years old. Narcisa`s mother motivates her daughter to lead an active life. Together, they attended many of our activities – trainings on independent living, active rehabilitation camps, adapted sports events. Both of them understand the importance of an appropriate wheelchair.
Narcisa is 16 now. She is optimistic and cheerful; she enjoys listening to music and watching cooking shows. She needs a light mobility equipment, to help her stay active and to have a correct seating position. Read more about Narcisa and how our team helped her be active in her teenage years.
Narcisa is one of the 34 children and adults with mobility disabilities you and other donors helped through the Wheels of Change 2020 by the end of October. Thank you, on their behalf, for your generosity!
The wheels will continue to spin towards more lives changed for the better in the following months! Each year, at least 1,000 children and adults with mobility disabilities in Romania wait for our help.
Transform your donation into a monthly gift to the Wheelchair Fund, and invite your friends and family to join you! Keep rolling with Motivation Romania on this journey.
Thank you!
Anca from #TeamMotivation
Links: