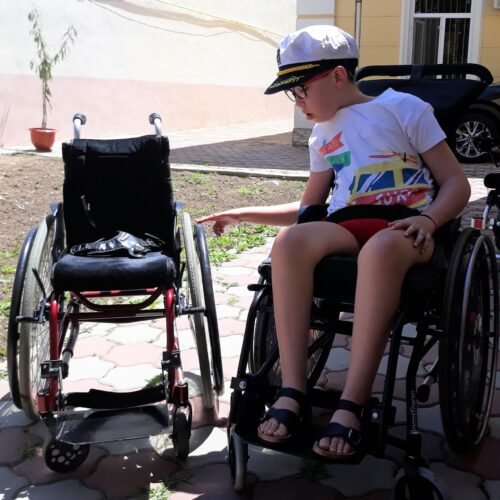 Hello, dear friend!
I hope that you and your family are navigating these difficult times with strength and patience.
At Motivation, we are all well! Due to the self-imposed limitations on our activity, we only had two cases of Covid-19 infections among our staff, but our colleagues are now safe and healthy. The 25 young adults with disabilities living in our group homes, as well as the staff who care for them, are also well. Everyone got used to wearing masks and taking the other necessary precautions for our health and for the health of those around us.
Since my last update, I am happy to report that we donated 8 more wheelchairs, for a total of 18 wheelchair users supported. With your help, we gave back freedom of movement to children like Andrei, Antonia, Alex Nicholas, Darius or Irinuca, and to other adults with mobility disabilities in Romania. You and the other Wheelchair Fund donors and sponsors enabled Motivation to help 344 children and adults with mobility disabilities through appropriate wheelchair donations by the end of August 2020.
Andrei is one of the children in Romania who regained their mobility through the Wheelchair Fund. At 9 years old, with the support of the Motivation team from Galati, he received a Panthera wheelchair to replace his old mobility equipment, which had become too small and inappropriate for his needs. Andrei's mother says that, in the absence of an adequate wheelchair, her son would not have been able to go to school, enjoy relaxing activities or explore his abilities. `In our life experience, the wheelchair has meant and still means what creating aircraft has meant in history for those who wanted to fly, what building ships has meant for those who wanted to explore seas and oceans: the broadening of the meanings of life, reaching the human potential and opening up to the unknown promise of our ideals.`
This is what the power of many can achieve! Together, you and the other donors to our 2019 appeal gave back freedom of movement to 18 children like Andrei, Antonia, Alex Nicholas, Darius or Irinuca, and to adults with disabilities in Romania. Thank you, on their behalf, for making this possible!
Do you wonder if we could achieve more, together? I am certain we can. Hundreds of children and adults with disabilities in Romania still need your help to receive appropriate wheelchairs from Motivation.
If you are wondering `How could I, from such a distance, help other wheelchair users in Romania?`, the answer is: EASY!
We would be honored to have you as one of our first Ambassadors of the Wheelchair Fund. All you have to do is encourage your colleagues, friends and family to give as little as 10USD to the Wheelchair Fund, and thus give back hope in a life of fulfillment through appropriate wheelchairs for Romanian children and adults with disabilities!
If you are up to this challenge, please write me at a.beudean@motivation.ro and I would be happy to guide you through the process.
Please subscribe to our newsletter and follow Motivation Romania`s facebook page for photos and news from our programs.
Keep healthy and safe!
Anca
Links: