Project Report

| Jun 3, 2020
Update on The Romanian Wheelchair Fund 2020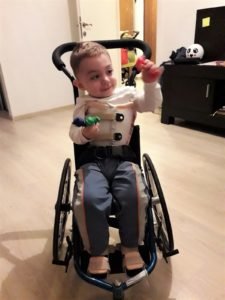 Hello,
Thank you for being a friend of wheelchair users in Romania, as a donor to the Wheelchair Fund initiated by Motivation Romania Foundation.
I hope my message finds you well, despite of the difficult times brought upon all of us by the Covid-19 pandemic. At Motivation all is well. We are happy to report that all our team members remain healthy, as do all 25 young adults with medium and severe disabilities living in Motivation`s group homes since 2003.
Starting in March, when Covid-19 related restrictions were put in place in Romania, we stopped or slowed down wheelchair user services in order to ensure safety of our staff and beneficiaries. In the meanwhile, the IMPACT Romania program for young adults with disabilities transferred from state-run institutions to Motivation`s group homes went into complete isolation – our staff spent two weeks in a row, in shifts, together with our young adults. Now, it feels like a second spring – we are cautious yet a bit more relaxed, enjoying our health and a little more freedom of movement than in the past few months. I hope this is the case for you as well!
So, without further ado, let me bring you up to date with the project you supported through your December 2019 donation on GlobalGiving:
Through the 2019 end of year appeal, we raised 2,823 USD on GlobalGiving. These funds cover the purchase, adaptation and delivery of 18 wheelchairs out of the 100 we aim to donate with your help this year.
In the past months, we were able to provide 10 personalized wheelchairs through GlobalGiving, to users aged 2 – 80 from five counties in Romania. In response to the risks and rules imposed in Romania due to the pandemic, Motivation limited home visits for wheelchair assessment, provision and training. We wanted to minimize the risk of unwillingly spreading the virus, and thereby harming our beneficiaries and their families, or our staff from the regional teams. We limited wheelchair donations to urgent cases or those where assessments had already been completed. We temporarily adapted assessment procedures to allow for distance self-measurements, and intensified discussions with beneficiaries in these cases to make sure their wheelchair fit their personal needs.
Alexandru Nicholas is one of those who received a wheelchair with your help. At the age of 2 and a half (now three), when most children start to walk on their own, Nicholas received an extra-light Panthera wheelchair which will help him navigate the world on his own. Alex is full of energy and his wheelchair allows him to play more, explore and try new activities. He goes out with his mother to the park and plays, does puzzles, even dares to help his mother clean the house, which he sees as some sort of a game. He enjoys so much his new freedom of movement that he moves around in his wheelchair even while learning to count.
Alex's mother frequently sends us pictures with her son and keeps us up to date with his successes. Their optimism and joy of living keep them going and make us happy for being able to once again change lives for the better.
Thank you once again for making these results possible. Your donation helped give back hope and mobility to wheelchair users in Romania. However, 82 children and adults still need your help to receive appropriate wheelchairs from Motivation. So, if the current situation allows it, please invite your friends and family to join Motivation by donating to our 2020 appeal, to help these people regain their independence in 2020.
Help Motivation change more lives for the better in 2020!
I want to end with another piece of good news from our programs: in response to the pandemic, Motivation Romania starts a new emergency response intervention this June. For the following six months, we will use donations made in Romania via text messages to send health protection packages to at least 27 wheelchair users in difficult situations due to geographical isolation, financial distress or other causes. These packages will include reusable facial masks, disposable gloves, hand and surface disinfectants to use for their health management issues or to clean their wheelchair, etc. We hope these products will help users remain safe in the coming months, whether or not the pandemic intensifies again.
Please follow Motivation Romania`s facebook page for photos and news from our programs.
Keep healthy and safe!
Links: