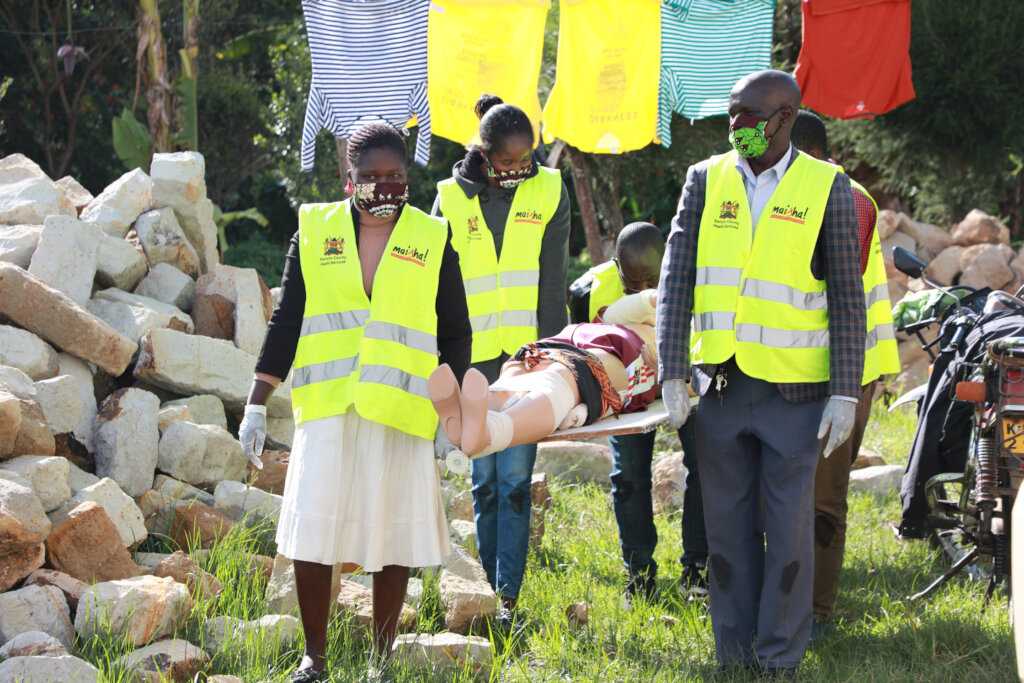 Thank you so much for your support of this project protecting the lives of mothers and babies in Kericho county and making sure they both survive and thrive through to their early years to celebrate their 5th birthday.
COVID-19 continues to impact on the lives of the communities we work with and while many parts of the world are putting the pandemic behind them, it is far from over in Kenya. Our emergency response continues and we are supporting the community with soap, water, information on preventing transmission and on the vaccination rollout. Right now 25.8% of adults in Kericho County are fully vaccinated and we are supporting the logistics involved e.g. supplying fridges, vaccine cooler boxes, PPE, transport, in getting the vaccine to the people. Everyday health facilities are looking for more supplies of masks, gloves, gowns, hand-sanitiser to enable them to stay open and safely deliver health services to the community. We continue to support the community through the pandemic alongside keeping all our regular programmes going.
Part of our strategy in keeping mothers and babies safe through pregnancy and childbirth involves training for Community Health Volunteers. We have outlined in previous reports the training they receive to track a mother through her pregnancy, delivery of the baby and outreach clinics for the new mother and baby and childhood vaccination programme. Another training we deliver is a Remote Emergency Care (REC) course which focuses on immediate and urgent care in remote settings. The Community Health Volunteers learn first response skills as well as stabilisation and transfer of patients to a health facility. Specific focus is included on how to safely carry and transport a pregnant woman especially if she is already in labour. Kericho county is a largely rural area with many parts inaccessible by road and if a mum is in difficulty then she has to be carried to a road where a vehicle can transport her to hospital. During this year, 80 Community Health Volunteers will take part in REC trainings as part of their training programme.
Throughout March, events are taking place under the banner #BreakTheBias to mark International Women's Day on March 8th. The events are spread across the month to reach as many people as possible in smaller groups to comply with restrictions. The programme for each group is the same - women and men gather with staff and local volunteers to talk, listen, discuss and learn. They talk about women as role models and celebrate their achievements, they learn about our programme on sexual, reproductive health and rights and through icebreakers and practical demonstrations get talking about menstrual health and other issues that are generally taboo. They hear about the Alternative Rite of Passage courses for girls to eliminate Female Genital Mutilation (FGM); they have a brief introduction to our programme in income generation and are welcome to sign up for business training courses. Throughout the day, all participants are encouraged to get vaccinated against COVID-19 and the messages of COVID-19 prevention and awareness are reinforced. The biggest take-away of the day is the sense of togetherness, sharing, opening up, being heard - March is a powerful month for empowerment through these engagements!
None of this is possible without the support of individuals like yourself and we thank you on behalf of all the girls, women and babies your donations are supporting across Kericho county, Kenya.