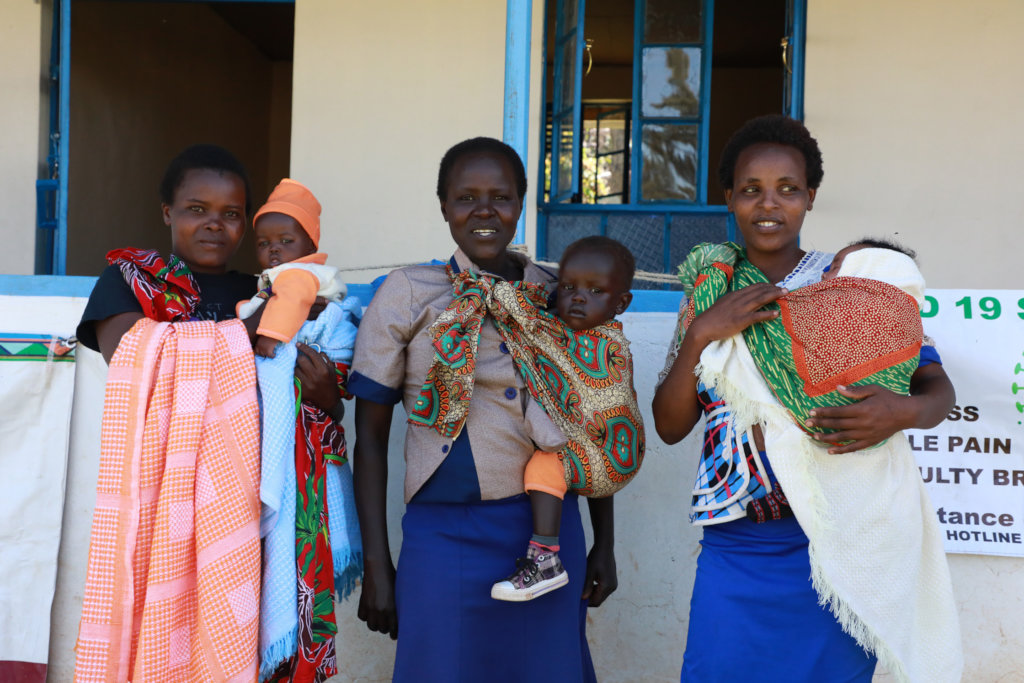 We are delighted to bring you this update which focuses on an outreach clinic held on June 8th on Magire hill in Kipkelion west – this place is literally at the top of a mountain approx. 2,200mt up a very steep climb. The team involved in the outreach included 4 of our staff team, the local community health volunteers, Kennedy, a Public Health Officer and Damaris, a Nurse from the Ministry of Health. They brought with them vaccinations carried in specialised cooler boxes, baby weighing scales, examination couch, paperwork to keep record of the people they would see that day.
There were 58 mothers and babies at the clinic and babies ranging in age from newborn to toddlers. Depending on where their homes are the women walked with their babies between 15 and 50 minutes to get there. By comparasion, without the outreach clinic coming to them, their nearest health facilities are Songonyet dispensary and Makyolok dispensary both a 7km walk which in the mountainous terrain could take over 2 hours there and 2 hours back. Some of the women at the clinic had delivered their babies at home which is reflective of the challenge it is to travel on foot while in labour to reach a hospital.
Our health co-ordinator Carolyne Chepnetich was at the outreach and noted that the mothers were very young, Three of them were teenagers and this is reflective of an increase in teenage pregnancies as a result of the COVID-19 pandemic. There is an increase in gender based violence and rising poverty levels are leading girls into transactional sex for money to support their families with food and even to purchase sanitary pads for themselves.
Carolyne shared her view - "the biggest threat to mothers and babies currently in Kericho county is access to information, basic maternal health services is still a challenge as result of distance to facilities, poor infrastructure, poverty, literacy level. Most local facilities operate only during the day (shortage of staff) and in a case where a mother goes into labour she has to deliver at home if she can't get to the next facility." She says "current threats as per the Ministry of Health are maternal complications such as pre-eclampsia, Sepsis, obstructed labour and respiratory distress for babies".
The outreach on this day provided immunisations, vitamin A supplementation, deworming tablets and monitoring of weight and development according to age. Mothers were also sensitised on COVID-19 - its prevention, the importance of handwashing, mask wearing etc. Outreach clinics are also the place to spot mothers who are unwell and refer them for further investigation or treatment – at this clinic thankfully there was no need for referrals. While the mothers waited they chatted and shared stories all of which build confidence and support for one another.
Speaking about the day, Carolyne says the Community Health Volunteers and the mothers were so appreciative of the outreach as it saved them from travelling long distance in an area where the terrain is poor and with no means of transport. They were also happy that the outreach became an eye opener to the ministry of health to see the need for a facility in that area – the building is complete and waiting to be put into operation for some time now.
The next outreach clinic for this area was set for 13/07/2021.