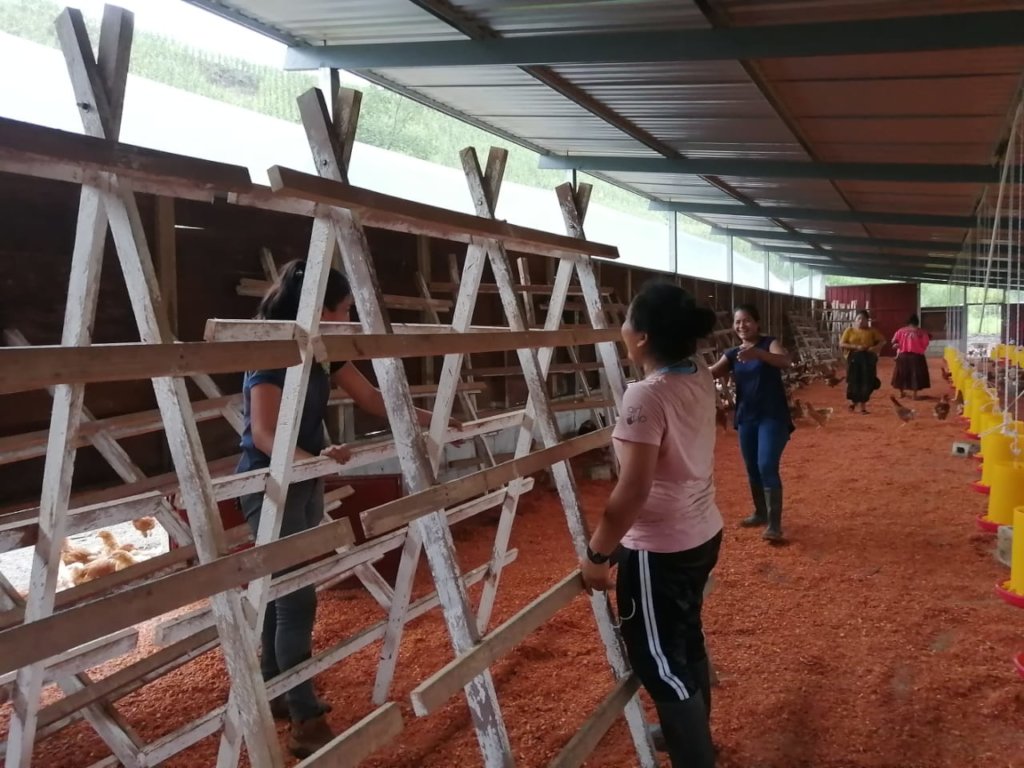 ¡Hola! Que alegría nos es compartirles los avances que hemos logrado en el centro, el cual ya no es un sueño sino una realidad y por lo mismo ahora la llamamos casa productiva. Entre 29 mentoras de Chisec (Alta Verapaz, Guatemala) hemos trabajado para que todo funcione acorde a los planos y nos complace poder enseñarles fotos de todo el progreso que hemos logrado. La casa productiva servirá como un centro para producir, aprender y trabajar.
Producimos huevos de gallinas los cuales comercializaremos en los siguientes meses.
Aprendemos acerca de agricultura regenerativa ya que también estamos sembrando y generando planes productivos en torno a la agricultura. Aprendemos como alcanzar a mujeres y niñas con habilidades para la vida, conocimientos y practicas en la agricultura. Aprendemos como conectar a niñas en Chisec con la tierra y sus derechos a una vida digna.
Trabajamos en la casa productiva que representa un avance importante en la historia de Abriendo Oportunidades®. Esto debido a que es la primera vez que un grupo de mujeres jóvenes participantes del programa inician sus propias labores productivas para generar sus propios medios de vida. Así mismo, porque apoyaran la expansión del programa Abriendo Oportunidades® para alcanzar a más niñas y más comunidades.
Pero sobre todo, agradecemos el apoyo de todas las personas que nos han permitido alcanzar estos logros y llegar tan lejos.
-------------------------------------------------------------------------------------------------------------------------------------------------
Hello! We feel happy to share with you the progress we have achieved in the center, which is no longer a dream but a reality, therefore we have named it productive house. We are a group of 29 mentors from Chisec (Alta Verapaz, Guatemala) that have worked for all of it to work accordingly to the planification and we can gladly show you pictures of the progress we have achieved. The productive house will serve as a center to produce, learn and work.
Produce chicken eggs that will be commercialized in the coming months.
Learn about regenerative agriculture since we are also SEMBRANDO and generating productive plans. We learn how to reach young women and girls with skills, knowledge and farming practices We learn how to connect girls in Chisec, land, and their rights to decent livelihoods to their productive house.
We work in the productive housewhichrepresents a landmark achievement in the history of Abriendo Oportunidades®, given that it is the first time that a group of young indigenous women that participated in the program initiate their own productive activities that will sustain their livelihoods and support the expansion of the Abriendo Oportunidades program to reach new girls and new communities.