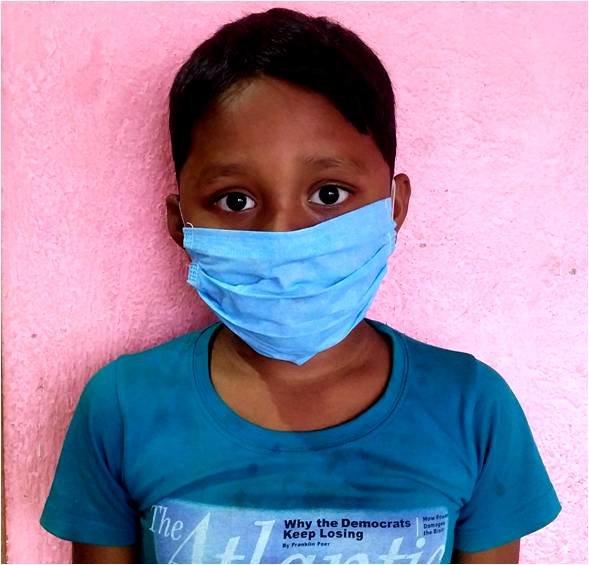 Ever since the Covid -19 started all the pupil of the Model School – 'Kishalaya Sishu Siksha Niketan (KSSN)' are waiting to get their school open again. We are also looking ahead to the day when without any apprehension we'll be able to resume all school activities, classes, games, prayers etc. and hear the melodious sounds of the children together.
The children with whom we are still keeping touch through the Distance Classes, Home Visits etc. sometimes becoming little morose and then again get cheered for waiting to see the day ahead when their school will resume again and they will met all their friends and teachers.
Such a child is Indrajit* Pramanik.
Indrajit* Pramanik is a student of 3rd standard in our Model School- Kishalaya Sishu Siksha Niketan (KSSN). He is distinguished among the community for his humble and pleasant personality.
Though hails from remote Nandakumarpur village Indrajit* belong to a family where education is given high regard for. His father is a Part Time Teacher in closely located 'Nandakumarpur High School'. Though a family in remote Sunderbans thus studies are considered as for immense interest. Indrajit thus got admitted to the Model School – 'Kishalaya Sishu Siksha Niketan (KSSN)' at the tender age of 4 Years at the preparatory class - Sishu Sreni 1
Being a fast learner Indrajit * quickly acquired competency in Social sciences and Mathematics. Mathematics is now his most favourite subject.
In the last annual examination that was organized during December, 2020 he secured more than 78% marks as aggregate.
He has a keenness for drawing and has been drawing since his very initial Days in the school. He wants to be a Teacher when grows up.
* Name of person changed for maintaining safety and privacy.