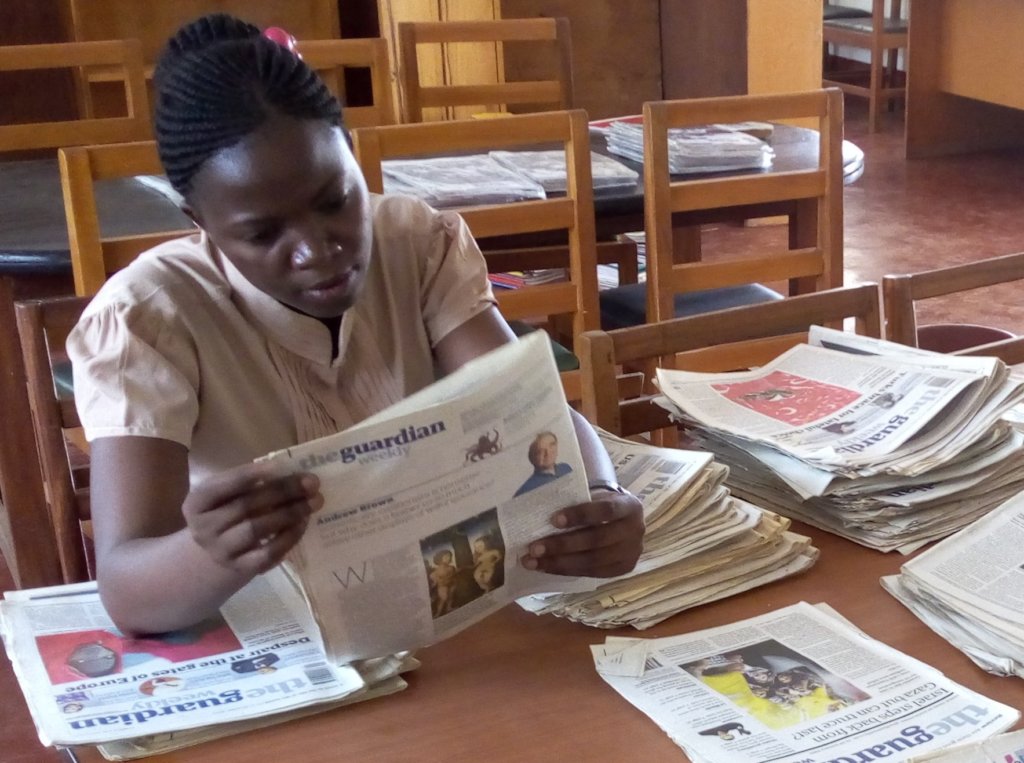 This report on our project "Support Disadvantaged Student Interns in Uganda", which covers the period January to March 2019, is our third project progress report.
Our Successes in the Reporting Period
Research Resource Centre Established: A major component of our project is to enable our mentees to acquire the requisite knowledge and skills for doing research, policy analysis and advocacy for better public service delivery. We are delighted to report that we have made progress in establishing, within our Lira Learning Centre, our social enterprise, the Professor Fred Opio Ekong Research Resource Centre. Professor Opio Ekong (RIP) was among the founder members of CPAR Uganda and at the time of his untimely death, due to a fatal road accident, he was the Vice Chair of the CPAR Uganda Board of Directors.
Prof. Opio Ekong, at the time of his death, was also the Vice Chancellor (VC) of All Saints University Lango (ASUL). Rev. Jacky Milton Otto Olima, the Chaplain ASUL, in his eulogy is quoted by the New Vision as having said: "We have lost a great man with all his knowledge whose heart was pro-poor; who spoke for the poor and I think that is why he decided to accept being VC at ASUL instead of leading a lavish life elsewhere." It is right and fitting that our research resource centre is named after him and is established in his honour and in his memory. Our research resource centre is intended to be a centre for cultivating pro-poor leaders and the epicentre for evidence-based advocacy for pro-poor policies and delivery of services.
By the end of the reporting period, we had allocated the space for the centre – conversion of a 150-seater training hall; the basic furniture – tables, chairs, shelves; and two computers. We also do have some starting reading material, including periodicals, books, reports, etc that have been donated to us and that we have accumulated over the years.
Selection of Student Interns: Discussions are in advanced stages for CPAR Uganda to enter into a memorandum of understanding and therefore partnership with the Regional Universities Forum for Capacity Building in Agriculture (RUFORUM), a consortium of 60 universities in 25 countries in Africa. RUFORUM has already vetted, identified and is supporting the kind of disadvantaged students in Uganda that are also CPAR Uganda's target beneficiaries for our project. Entering into partnership with RUFORUM ensures that CPAR Uganda will not need to do rigorous verification in search of the most deserving disadvantaged students to benefit from its project, but rather we will work synergistically with ROFORUM and we will select our mentees from among the students already verified by RUFORUM as among the disadvantaged.
Students Mentored: During the course of May 2019, working in collaboration with RUFORUM, CPAR Uganda shall select our first five students for whom donations have been made and funds received. Our first cycle of mentees is expected to begin their mentorship and internship with us in July 2019, in conjunction with the calendar of tertiary institutions – July to August are the months during which tertiary students are expected to do their practical field experience.
If we raise additional funds during the next report period (April to June 2019), and we hope so, CPAR Uganda will accordingly adjust upward the numbers of our first cycle of mentees.
Raised Funds: As of 7th April 2019 an additional six donations totalling to US$ 60 were made towards our project, bringing the total donations received for our project to US$ 3,397 from 63 donations. The six donations were from three of our donors who have committed to make recurrent monthly donations to our project; a major endorsement of our project.
We did not actively participate in online fundraising campaigns, because we had hoped to come up with options that would reduce the cost of giving. The cost of making a donation - for our Ugandan donors is high due to the fact that online banking has not yet caught on in Uganda. We had begun discussions with the biggest telecom provider in Uganda, MTN Uganda. Sadly, our efforts were interrupted by activities largely considered politically motivated – the expelling from our country of top MTN Uganda officials, including the Chief Executive Officer (CEO). The CEO had indicated to us the a possible solution in which mobile money donations to us would not have to go through all the following stages: Uganda donors make mobile money donations; our agent picks up the cash from an MTN service centre; deposits it on our bank account; we buy GlobalGiving gifts cards and which we send to our donors to then complete the donation.
Funds Received: GlobalGiving did not disburse funds to us during this reporting period. This is because we did not raise the required minimum disbursement amount. The two disbursements of funds from GlobalGiving totalling to UGX 10,028,646 (ten million twenty eight thousand six hundred forty six shillings), the equivalent of raised funds minus GlobalGiving fundraising administrative costs that we received during the previous periods are sufficient for us to mentor five students.
GlobalGiving Membership: We continued to enjoy the "exceptional invite" given to us by the GlobalGiving Foundation to be among their permanent partners. We continued to be permanently featured on the GlobalGiving website, and had access to online fundraising tools. Our Managing Director, Ms. Norah Owaraga, our project team leader, continued to be actively engaged with the GlobalGiving team and her fellow project leaders of thousands of initiatives from around the world that are in partnership with GlobalGiving; earning our organisation "Super Star Status". Through engaging with GlobalGiving we are learning a lot about how to better our organisation; how to more effectively do online fundraising; and how to better utilise funds raised for maximum impact for the greater good of the communities that we serve, the reason for which our organisation was founded.
Our Minimum Plans for the next Reporting Period
Nurture Culture of Saving to Give: We encountered several of our fellow Ugandans who believed in our cause and ideally wanted to support it financially, but who found themselves in situations that they were juggling multiple financial commitments and requirements expected of them and were thus unable at the time we asked them to support our project financials. It dawned on us that to a great degree we, as Ugandans, have not fully embraced the culture of actually planning to give, as in save for the purpose of giving. Ten of us – individual Ugandan donors to our project – have bought into the idea of developing and piloting a model, a vehicle if you will, or perhaps network of Ugandan professionals who are committed to the idea of saving for giving. The name "Giving Hearts" has been suggested for the team of ten. This idea remains valid, but we have not yet found time to meet in order to work out the modalities of how it will work. We will do our very best during the next reporting period to activate it.
Fundraising: There seems to be movements towards normalisation of relationships between MTN Uganda and the Government of Uganda and we hope to resume discussions with MTN Uganda, with the view of reducing the cost of giving for our Uganda donors. This is in the meantime as we hope that GlobalGiving can work out a mechanism with one of the major telecom companies in Uganda that will facilitate our donors to make direct mobile money donations to GlobalGiving. We will also continue to actively encourage our Uganda donors to utilise the current online banking facilities that are available in Uganda.
We will participate in GlobalGiving fundraising campaigns, starting with the Little x Little campaign, scheduled for the second week of April.
Research Resource Centre Establishment: We will recruit a Librarian who will help us in the establishment and running of our centre. The advert will go out next week and hopefully, by the end of May we will have recruited our Librarian. We will also actively seek out partnerships or collaborations with knowledge generators / distributors to donate to our centre or allow us free access to reading material – physical copies or online, for the benefit of our mentees as well as other knowledge seekers.
Links:
Attachments: