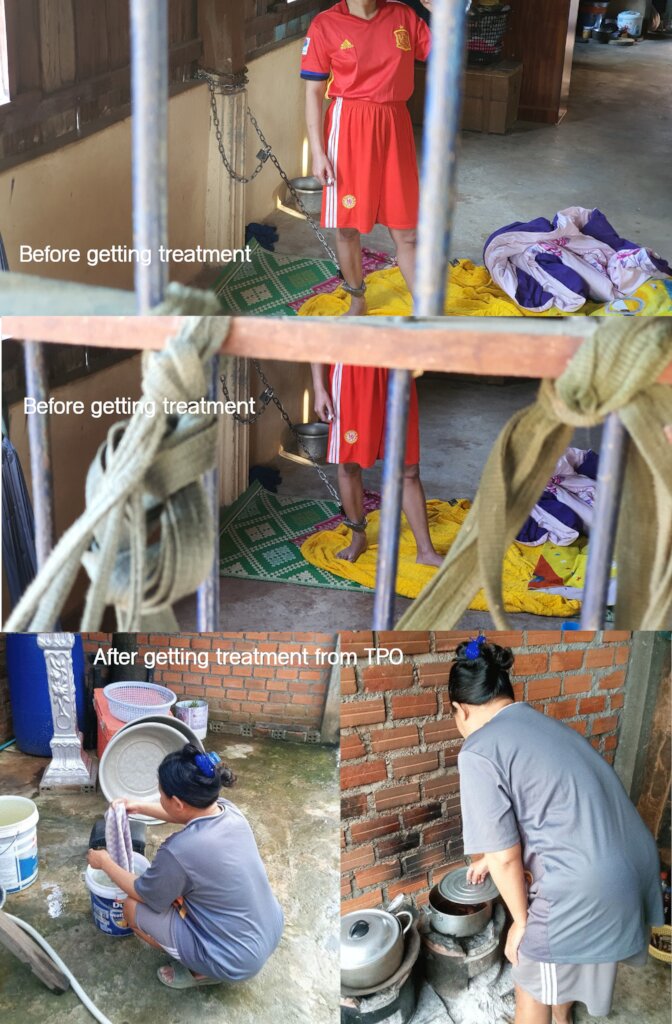 A 34-year-old woman was under serious mental health disorder. Her family chained her for 09 months because of her aggressive and interrupting behavior. Her family contacted TPO to request treatment for her. When our team arrived at her house, the patient ignored, still talking alone, constantly seemingly angry and arguing with others. The caregivers mentioned emotionally that they decided to lock up or chain her unintentionally, it's very suffered and difficult when they saw patient's leg was chained to the pillars of the house. They concerned about neighbors' reaction to her signs and symptoms and felt ashamed. They can't tolerant to her aggressive and disturbed behavior. The family added that it's extremely tired, exhausted, and difficult in taking care a family member who has mental illness with aggressive and disturbed behavior. Moreover, most of family members faced mental health problems too.
The patient has been married for 10 years with one child. Due to her family is poor, she decided to go for employment in Thailand as a construction laborer. She had been mentally ill since she was in Thailand. Her husband brought to the Thai-Cambodian border and dropped her alone there and then he left. Her life was abandoned, and homeless until her family knew and take her back home.
Meanwhile, her mother bought medicine from private following to a neighbor who has a similar mental illness to treat her, but she did not recover. Her condition worsened, aggressively shouting. Her mother believed in traditional healers and took her to those for treatment, but still did not recover.
He often tried running away to where he used to live in Thailand. At that time, she ran and traveled to Thailand, where he used to work. For one week after her arrival, she was referred to hospitalize. After being hospitalized and receiving free treatment for two months, her condition improved and she was discharged. Meanwhile, she has no money, her life is homeless in Thailand. She met Cambodian laborers who is compassionate; they gave her money to buy food and travelling to the Cambodian border. When she arrived home, her illness began to worsen. She sang songs, talked alone, remained silent, restless, no sleep, can't communicate, poor insight, aggressive ... her relatives decided to chain her. Her parents had no money for her treatment. They felt hopeless in treatment and didn't expect to get treatment from anyone and hopeless to recover.
After three months of treatment by TPO psychiatrist, her condition improved and the family decided to release her. Now her family felt released and longer tired of taking care of her. She could cook, wash clothes, and clean the house. The family is very excited and enthusiastic after being recovered and unchained. They said they have never expect about her recovery and it would be amazing and wonderful for her family to have a specialist visit their house where is rural area and provide treatment for free of charge. Her family is deeply grateful to TPO and generous individuals who donate to rescue her daughter's life because they have heavy burdens on their shoulders and now they feel released and have time to earn for supporting family.