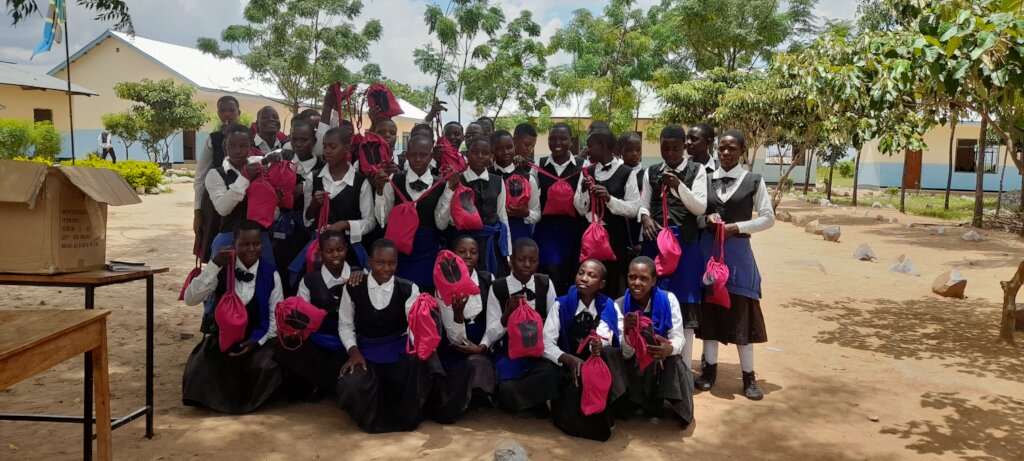 Happy New Year to our Dear Supporters!!!
We are all settling in well to the 2023 year and we are thankful for the last year.
Menstrual health is a human rights issue that affects all aspects of a person's life and well-being. It involves health services, positive social norms regarding menstruation and gender, and effective advocacy and policies. "We have witnessed a decrease in absenteeism among girls in our school, your program has a positive impact on girls' studies", These are among the testimonies we have received from different schools that Femme International has managed to train her students on menstrual health management subject.
Many girls especially are not well informed about menstruation, and the information shared by their trusted sources which are their parents and caretakers neither adequate nor timely. Nor have witnessed many girls, especially those from the low bound cannot access menstrual health products, which increases challenges to the daily lives of girls. However, through the Twaweza program, Femme International has managed to train and distribute menstrual products and painkillers to different schools that we have been working with.
The activities mentioned above fall into two objectives
Increase awareness and understanding regarding menstruation among girls and boys in secondary schools.
To increase understanding of the quality, accessibility, and acceptability of menstrual products.
To decrease stigma, norms and bad social-cultural practices regarding menstruation.
We have been focusing on working with young girls and boys aged 13 to 19 years who are in secondary schools, but also our education has expanded to community members through community meetings where adult men and women meet. Twaweza has increased the ability for women and young girls to make informed decisions regarding their lives and bodies. In this quarter we have been working with different organizations and governments to ensure women and girls have access to justice including gender-based violence relating to menstrual health.
Twaweza workshop in schools.
Twaweza workshops are designed to be interactive and engaging, with facilitators tasked with ensuring that knowledge is not only disseminated but accurately perceived and understood by the students. Facilitators use group discussion, interactive information sharing through question and answers, demonstration, experience sharing, and different kinds of energizers and ice-breakers throughout each session. In this quarter Twaweza workshop included boys and girls in forms two and three, the age range of 14-20. Both boys and girls attended sessions where our facilitators delivered comprehensive education about menstrual, sexual, and reproductive health. The total number of students who participated in the workshop was 203 (105, 98M).
Community engagement in menstrual health management.
Community is our key target and for us to be able to get well connected and increase the understanding of what we do; involving the people such as schools administration, teachers, local government, and community leaders. In this quarter we managed to conduct different training regarding menstrual health management for community members. Our objective was to raise awareness among community members on menstrual health well-being, by addressing the inequalities in accessing menstrual products with the aim of achieving sustainable improvement in girls' menstrual health. In this meeting, we managed to reach 259 (197F, 62M).
Project highlights
School dropouts has decreased among girls, and the excitement among girls feeling free when is school has been the best feedback we keep receiving
The involvement of boys and men in the subject has a great impact in bringing the awareness and reducing the shame and stigma around menstruation
Menstrual health is a human right
Statement from High commissioner for human rights " Menstrual health is an integral part of sexual and reproductive health and rights. It is an important determinant for the realization of all human rights of women and girls in all their diversity, the achievement of gender equality, and the Sustainable Development Goals"
To reach these goals, it is critical that policymakers, practitioners, and other relevant actors adopt a comprehensive, multi-sectoral and full life cycle approach to menstrual health, grounded in human rights.
Let's test our knowldge: How does menstruation affect equality?
Thank you once again for your immense support and love, till next time and happy kickoff to 2023!!!!