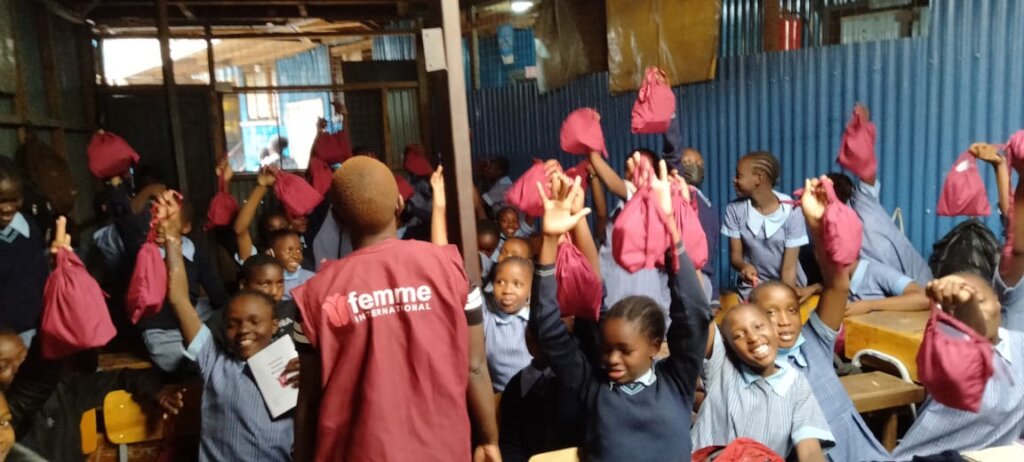 GlobalGiving Quarterly Report
Introduction
The first quarter of the 2022 is already done and we at Femme are ready than ever before to keep on thriving and breaking every single menstrual taboo insight!
Sad reality is that, in these modern times of globalization there is still a struggle to offer a dignified menstrual life to every menstruators and the fundamental reason for this is because of the sheer shame and stigma attached to menstruation. The only way to tackle the negativity and myth surrounding menstruation and ending period parity, is by raising the voices through giving access to education and access to sustainable menstrual products, playing open by normalizing and celebrating periods. Over the past decades Femme International has succeded to encourage those who are shy to talk openly, participate and celebrating menstruation as a normal biogical process of their bodies.
The past two years the pandemic somehow forced many of us to lay low, however with your help we are very confident of being able to reach out and encourage many other youngsters (males and females) to talk openly about periods, more male partners to be extra supportive of their female counterparts,non m,enstruators getting more involved and the society to allow menstruators of all ages to live a free and well dignified life.
Thank you for your endless support of our mission to break the menstrual stigma and taboo and to Access menstrual products in East Africa!!
Femme Schools Club Program continuation
Access to adequate information on sexual reproductive health, menstruation and its management has been a great challenge which affecting menstruators and guardian/parents. To this day not many parents are comfortable talking about menstruation and reproductive health to their young boys and girls. The upcoming generation is the one that is thirsty for knowledge on Sexual reproductive health education and menstruation and that is why Femme continue working on changing this by making the conversation open and normal to all menstruators and non-menstruators and giving access to required education as this information is essential to all groups. The learning is not all about the information but also the use of inclusive language such as menstrual products instead of feminine hygiene/sanitary products, menstruators instead of women/girls when addressing issues related to menstruations.
To reach the upcoming generation, We believe schools club is an essential platform to create an open and free conversation without disregarding the other sex or group about Menstruation and Sexual Reproductive Health. When these young people i.e. boys and girls understands how their bodies works, then they are able to make safe and heathy decision for themselves in terms of safe relationships, sex, peer to peer education menstrual products choices, language and becoming menstruation and sexual health education ambassadors in their homes and communities.
SCHOOL CLUBS
In Tanzania we have two schools, Kiusa Secondary School and Jamuhuri Secondary Schools; students (both boys and girls) did a peer to peer education where they explained to their peers on how beneficial the club is and how it has helped them in learning things such as menstrual health education, personal hygiene education, Sexual Violence, Reproductive System for female and male which in so many communities is a taboo to mention. Through the school club program they felt comfortable and confident staying in school without having any fear especially during menstruation. We were able to reach 97 students at Kiusa Sec School; 55 females and 42 males while in Jamhuri we reached 65 students; 40 females and 25 males which makes the total number of reached students to be 162 in both schools. The schools' administration has also shown a great interest and recognized the importance of the program and we now have the full support of these schools. The program was introduced to 15 teachers,5 being male and 10 females as they had interest in learning more on these topics and stay as Femme ambassadors in teaching the other incoming new students.
In Kenya one primary school Mathare community Outreach participates in the school club program, the program included 55 students aged between 12-15 years, 35 being girls and 20 being boys. The education and discussion consisted of Female and male anatomy, adolescent age and changes of body, menstruation and why it is important to include boys in the menstrual education, healthy relationship between boys and girls, parents and children, personal hygiene, different menstrual products that exists and how to use and manage them,premenstrual syndrome management to avoid missing school and all fun activities and how boys can be involved in the change to end period parity.
Through these clubs we hope to reduce myths and stigma associated with menstruation and improve the overall well-being of these students.
We are hoping going forward, if our resources and funds will allow; it is the great hope for Femme to be able to start distribution of the femme kits to the students as They have shown a great need of menstrual and hygiene products, through talking to them some parents have expressed being unable to afford buying the products every month and mostly in Kenya where for the past 6 months commodities prices has been rising rapidly.
MHM WORKSHOP
In Kenya we also formed a partnership with Call for Africa on MHM workshop in Kahawa west. Need assessment was done with 38 girls and some of the feedback from need assessment were:
With the large number 94.7% stated that menstrual blood comes from vagina. This meant that they had knowledge on menstruation

31.6% stated that it's normal to have irregular menstrual cycles as a teenager while 63.2% stated it's not normal and 5.2% didn't answer.

76.5% stated that safe days is the effective way of preventing pregnancy while 23.5% stated that it is not an effective way.

51.4% stated that during their period their concentration at school worsened,40% stated their concentration was the same as usual and 8.6% their concentration was better.

44.4% stated that during their period their confidence worsened,36.1% stated their confidence was the same and 19.4% their confidence was better.

50% feels like menstruation is a problem in your everyday life.16.7% sometimes is a problem while 33.3% is not a problem.
Total of 66 direct beneficiaries aged between 12-18 and 20 indirect beneficiaries (caregivers) aged between 25-45 participated in the MHM workshop. From the need assessment we understood that most girls had knowledge on menstruation so we opted for a discussion and question and answer as a way of teaching, The topics that we sensitized on were: regular and irregular periods, safe days, PMS management, the importance of including and teaching boys about menstruation, Internal and external female reproductive system, UTI and the existing products to manage menstruation especially the sustainable ones, it was interesting since the caregivers learned from students and students also learned from caregivers.
It was unfortunate that Only the 60 direct beneficiaries received Femme Kits due to lack of more kits but promised to deliver to them Menstual cups alone since periods dont wait then deliver the rest once our situation is stable.
Commemoration of the International Women's Day
In the week of the Commemoration of the International Women's day Femme international in collaboration with Rians in Mwanza region our new location; hosted a Women Gala conversation about menstrual health, family and economy and how a woman can play a huge role in all the three themes. It was another way of bringing women together and not only in a "We feeling" but in a sense of helping women to learn from each other and how to grow together. Femme International is more committed in working with different partners to ensure women's welfare especially in menstrual health management are met.
As in Kilimanjaro region we joined hands with our partners; the local government and other 13 local organizations in commemoration of the international women's day and Femme International had an honor to showcase our work and take place to going further celebrating women day and how important it is to talk about how completely menstruation is a normal biological process and needs to be acknowledged and accepted. Through a number of educational events, we aim to keep tackling the suppressions and discrimination attached to menstruation by breaking the silence trough making open conversation and breaking the taboos; while simultaneously spreading the awareness about sustainable menstruation.