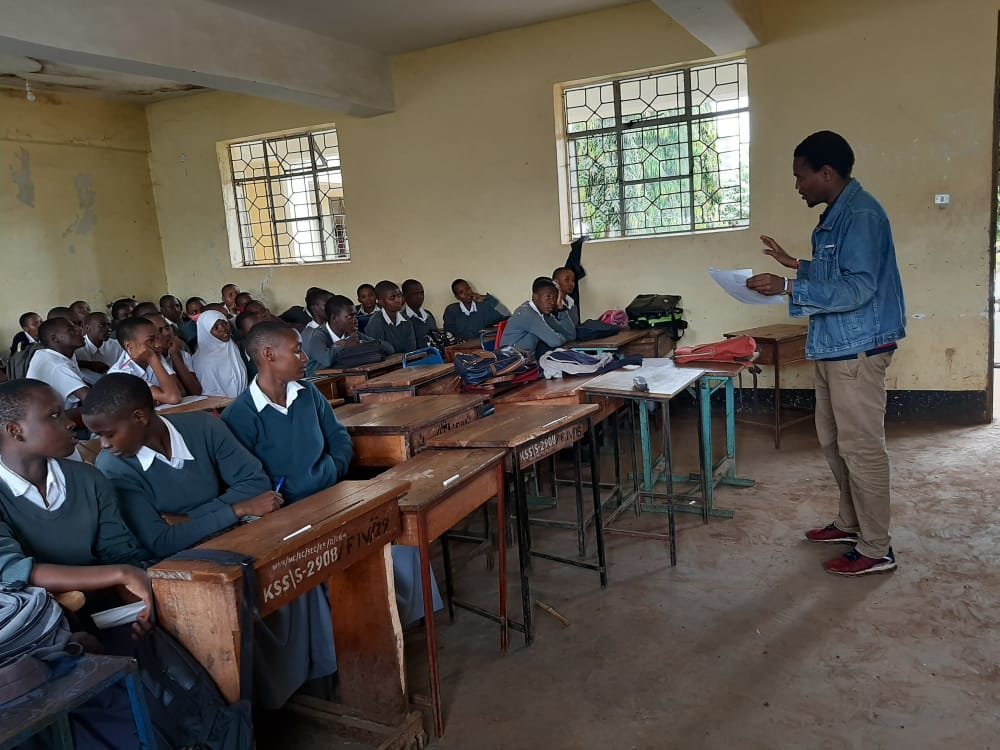 Menstrual Health Management education continues to be our priority here in East Africa. The pandemic largely affected, and continues to affect tourism, the source of livelihood for many communities in Kilimanjaro and Arusha, where our headquarters are based! This has consequently impaired other mutually beneficial sectors like agriculture, transport, and many have lost their purchasing power. In Kenya, our Mathare Slum home base also suffers pandemic losses. Women living there survived mainly through various house/home management jobs which are now restricted due to Covid-19 regulations and fears. Many are left home earning little to no income. Overall, the pandemic continues to exacerbate the economic circumstance of many parents, guardians or financial providers who must not only cater to their children's basic needs, pads included!
Our work has been even more trying in the pandemic times; we had to learn to pivot (Did you know we now have a social enterprise - Twende is currently being Piloted in Tanzania), and mainly just try to sustain our mental health (S.O.S!) in this past years' global shift. However, Periods don't stop for pandemics, and neither will we!. Our teams across Kenya and Tanzania continue working tirelessly to provide even more access for better menstrual health education and distributing high-quality menstrual products to our beneficiaries. This quarter, we worked with students in secondary and primary schools, out-of-school girls, young and teen mothers, women, and even more men!
Your support motivates and continues to help us grow and reach even more beneficiaries, thank you! Here is what we have been up to!
TWAWEZA MENSTRUAL HEALTH WORKSHOPS
This past quarter we reached 240 girls from 2 regions in Tanzania and 350 women and girls in Kenya. This makes a total of 590 women and girls who benefitted from access to menstrual health information and reusable menstrual products. In addition, we were able to train 36 teachers from two schools in the Kilimanjaro region who will continue supporting students in their schools with adequate information, increasing our overall impact.
Femme International collects baseline data on key indicators before project implementation. The baseline exercise was conducted with240 students in the Kilimanjaro region from two secondary schools with 210 students and one primary school in Arusha with 30 pupils. In Kenya, we conducted 9 need assessments with a total of 100 girls aged between 11-17 and 50 women aged between 26-45.
Our Data showed that Out of all 210 girls and women in Tanzania 66% have little knowledge of menstrual health, while 44% have not enough information about menstrual management; 25% thought it was an injury, 19% thought it was a curse
Out of 350 girls and women in Kenya, 76.9% stated that they have clean washroom facilities at schools to change their products but the facilities have no bins to dispose of menstrual products; and the facilities have limited privacy.
Access to medical facilities was a challenge because of the reduced movement during lockdown and fear especially for something not considered a life-threat or illness; PERIOD PAIN.
The baseline has been used as a road map in workshops training the students, as the facilitator will know where to put emphasis when teaching, the students/pupils and have a preliminary understanding also which product suits them better.
School clubs
Sexual health, reproductive rights, and menstruation is the most important subject that students/pupils need to have a clear understanding of before and during puberty period. Recently and especially at the time of Covid 19 lockdown, teenage pregnancy has increased in most of the regions in Tanzania and Kenya with Nairobi, Kilifi, and Kakamega topping up in the list, teenage pregnant girls aged 15-19years https://www.un.org/africarenewal/magazine/february-2021/breaking-silence-led-surge-teenage-pregnancies.Among the reasons that lead to an increase of the problem is the lack of access to education and knowledge on SRHE from the guardians or parents, as most of them do not spend time talking about the subject openly and most girls and boys shy away from talking about the issue. Femme International has started the school club program where the students have free space to ask questions about sexual reproductive health and menstruation in general. Through this program, 350 beneficiaries from two schools were reached, 200 girls and women (89M, 121F) and 150 pupils (71M, 79F).
From the school clubs program, the facilitators gathered information based on question and answer, one on one sessions that included the students using family planning methods without enough information, and in Kenya, the most used method was emergency pill (P2). Most of them only fear getting pregnant and not sexually transmitted diseases as they have very little knowledge of sexually transmitted diseases.
Highlights of the project
We have continued facilitating our workshops in schools and women community groups in both Kenya and Tanzania, in Kenya, we concentrate on guardians, parents, and out-of-school girls.
Working with Disability group known as Wote kwa Wote in Dandora slum of Nairobi that we look forward to expanding in other slums and counties in Kenya, we have a discussion of starting a sustainable menstrual products campaign for women and girls with disabilities in Nairobi
Collaborating with other organizations in education and awareness on Menstrual Health Management
Parents, teachers, and community leaders are keen to know how they can benefit from Menstrual Health Management education directly. During the community reach out there been questions asked like how would