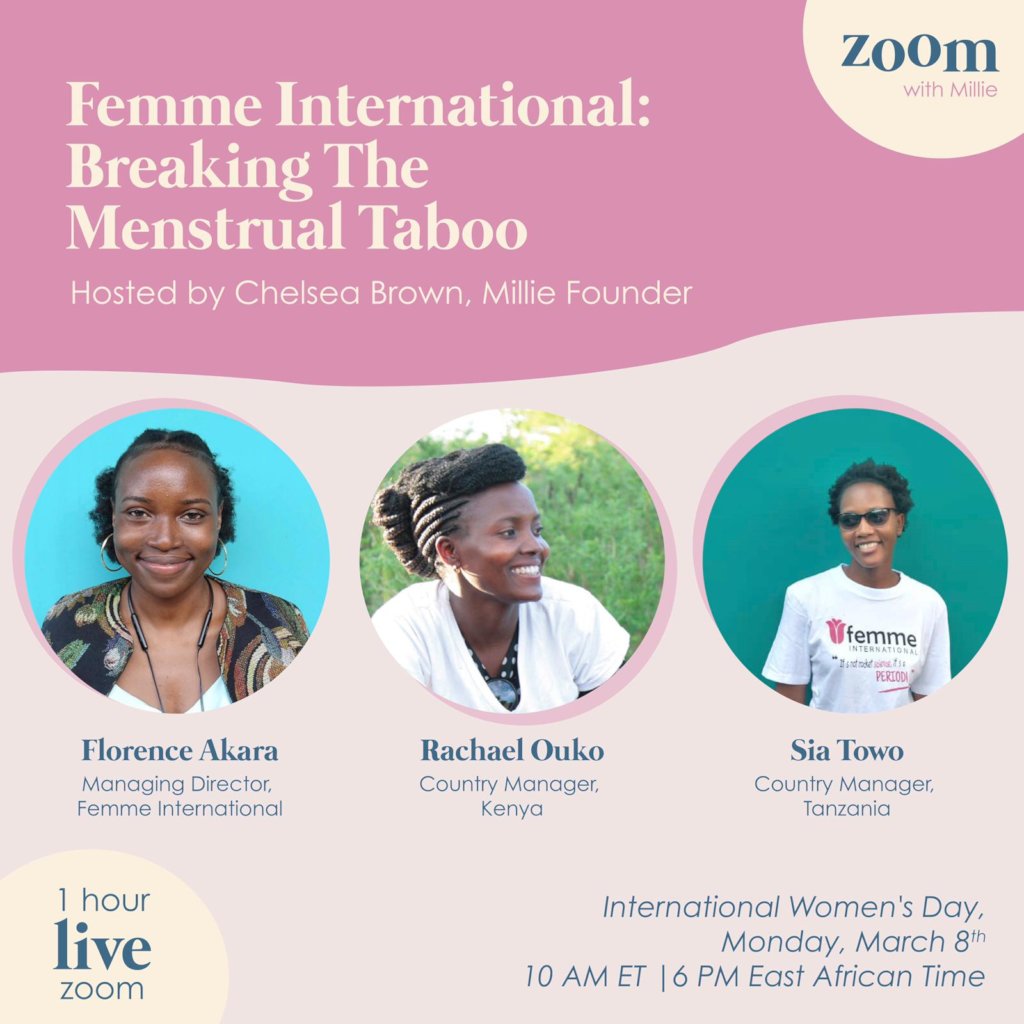 Hi friends!
We are settling in well to the new year, but just like everyone else, in recovery mode from, 2020 and the eruption of COVID-19! which affected our activities at Femme International. We mainly work with communities, schools, and due to lockdown it was not easy to implement activities as the schools were closed, people were scared, and finally, the financial issue!. Our programming and operations are still highly reliant on your donations, and with the challenges the globe was facing during the pandemic, it was not our best donation year, (don't worry, we totally understand!).
To learn more about how we've been keeping this March 8th, International women's day, Join us on a live webinar featuring our Managing Director, Florence Akara; Rachael Ouko, and Sia Towo, our Country Managers, Kenya, and Tanzania, respectively.
Periods, however, don't stop for pandemics, and we won't either! We have continued our work, facilitating workshops using our Technical Brief for post-pandemic workshops which we developed in May, last year, as well as strictly complying with directives from the Ministry of Health about social distancing, wearing masks, and washing/sanitizing hands. Programming in Tanzania was not much affected by lock-down or government regulations; a catch 22 for our team in Tanzania, because it allowed our programming to proceed with little/slight interruption. We assure you that our team is keeping safe, at all times! Check out our stylish branded masks! Psssttt... You can also buy one, to support us! Message us on info@femmeinternational.org, if you are interested.
In Kenya, however, since COVID-19! started, and lock-down was enforced, the challenges of managing menstruation, and accessing menstrual products, have been even more evident. We were able to reach participants in workshops implemented through our technical brief, and provide them with access to menstrual and sexual reproductive health education, as well as distributed our handy Femme Kits which contain a sustainable menstrual product option that would reduce the need for the repeated month by month costs, and movement, that menstruators normally have to endure. In addition to learning from our participants about how they manage their periods during the pandemic, we also learned the following:
Single-use disposable menstrual products, particularly during the pandemic are not easily accessible, and more specifically that they are unaffordable options in this time where priorities for everyone shifted drastically. The food vs menstruation dilemma menstruators in East Africa continues being severely affected during this time.
Access to medical facilities was a challenge because of the reduced movement during the lockdown, especially for something not considered a life-threat or illness; PERIOD PAIN!.
Perhaps the toughest challenge for most menstruators was the inaccessibility of water, and soap, especially for those living in the slums; which usually only have a few water points that are privately owned, and require a facility fee (daily or monthly cost). In addition, most of the wash facilities lack containers to dispose of disposable menstrual products and are connected to nearby rivers for easy drainage causing even more pollution. The facilities also limit the menstruator's privacy.
Twaweza Menstrual Health Workshops
This past quarter, we reached 200 girls in Kenya, and 405 girls in Tanzania, direct programme beneficiaries who received full education and menstrual kits. We also reached a total of 265 indirect beneficiaries in both countries (not including print, radio, and social media audiences). If you do not yet follow us on social media, now is the chance to do it! Instagram, Twitter, Facebook, Linkedin.
We managed to reach 3 regions in Tanzania and 5 in Kenya. Communities, local leaders, and students of Kariobangi, Majengo, Korogocho, and Mathare slums in Kenya, were visited by our team and received MH education. In Tanzania, we taught in seven primary schools in the Kilimanjaro, Arusha, and Dare-salaam region; including, Mshikamano, Mzimuni, Marurani, Maweni, Majimoto, Agape, and Tuangoma that were partially funded by third party sponsors, and partners.
These menstrual health workshops consisted of participants of diverse religious backgrounds, allowing us to explore very many local cultures and ideas from different perspectives regarding the usage of menstrual cups, and maintaining the cleanliness of the external parts of the female reproductive system.
Topics covered include the reproductive system, and its function, this is hosted in interactive sessions led by our facilitators, The participants learn about menstruation, and its related PMS and its management. In addition, we also demonstrate how to wear, and manage a sustainable menstrual cup, and pads, which is engaging for all participants.
We also talk about menstrual stigma, debunk myths and taboos by offering factual and practical information. We challenge the participants to be open and unafraid to explore innovative products that could possibly ease their burden of menstruation.The lack of understanding of what virginity is, is the biggest barrier, a complex issue that is covered in our comprehensive MH curriculum.
Here is what our beneficiaries say/think:
We conducted a follow-up session to see how the girls were managing their periods after the workshop if they had any challenges and what had improved and we found out that:
35.1% of the girls think it is important to teach boys about menstruation while 64.9% think it is NOT important to teach boys about it.
72.5% think it is important to teach girls and boys about sex education, while 27.6% think it is NOT important to teach.
84.2% feel comfortable using Afripads, while 15.8% do NOT feel comfortable.
73.8% use Afripads regularly
13.1% do NOT use Afripads while 13.1% use Afripads sometimes.
Training of Trainers (T.o.T)
As part of amplifying our impact, and agenda to increase even more awareness, and reach new communities with our Twaweza programming, we hosted T.o.T workshops for 10 teachers in Arusha, Tanzania. This was the first official cohort of our T.o.T services and was funded by our friends from Made with Hope. The trainees are now certified to host Twaweza style workshops, with little need for dependence on our team facilitators.
Project Highlights
Many girls got the confidence to try and demonstrate the instruction of how to wear a menstrual cup and the washable pads. Participants wanted to share their personal stories, one participant said: " I used to have a friend who used to make her own menstrual product using pieces of clothes because she couldn't afford to buy disposable pads".
Best of all, the participants demonstrated that they felt free in the safe spaces we created, openly shared, and were very curious about menstruation. They displayed newfound confidence and eagerly asked questions, such as;
What can one do when they can not access a toilet when their pad is already full?
Is tissue good to use when menstruating? How long should menstruation last?
What is the white fluid that comes out of the vagina?
Can the washable pad move while wearing it?
Are you supposed to throw the pad after using it?
When removing the menstrual cup, is there blood around the cup?
Test Your Knowledge: How good is your menstrual health and product knowledge, can you answer these questions?
That's it friends! Till next time, from all of us at Femme, stay safe!