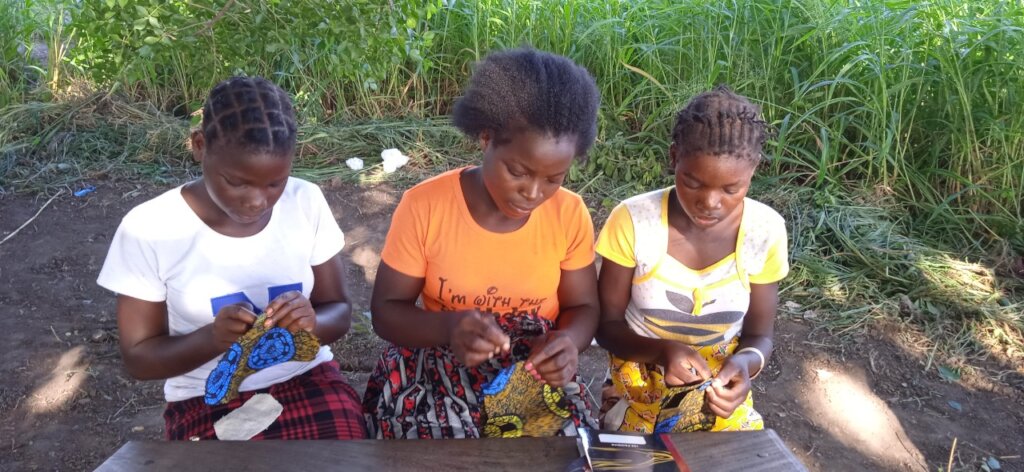 Improving girls' menstrual health requires both access to sanitary pads and increased knowledge and awareness – for girls, as well as for their parents and peers - with regards to sexual and reproductive health.
For the past 3 months we have realized, in partnership with UNICEF, awareness trainings on a variety of topics in 5 schools of Gorongosa District. Among these trainings, one focused on menstrual health and hygiene, and was linked to a practical activity aimed at sewing reusable sanitary pads, reaching a total of 75 girls and 25 mothers. In collaboration with the District Service for Women, Health and Welfare, Helpcode team developed a participatory methodology where mothers and girls shared their knowledge as well as doubts with regards to menstruation, thus also contributing to deconstruct myths and discriminatory social norms linked to this.
During the trainings, mothers discussed how they were taught to manage menstruation by their mothers and other women of the family when they were adolescent, and compared it to the information available nowadays, and provided suggestions and recommendations to girls with regards to personal care and hygiene, as well as on how to dress in order to feel more comfortable. One mother for example highlighted how in the past they were taught that a woman, when she is menstruating, could nor cook nor take a bath in the same facility or river as others, and discussed how these imposed limitations have been overcome nowadays, at least in most areas.
This exchange of information was complemented by a more in-depth set of information provided by the technical officer of the District Services for Women and Health; as well as by a practical workshop to produce (and properly wash) reusable sanitary pads.
The training participants were, most of all, surprised that menstruation could be the topic of a training as, particularly in rural areas, this is generally considered a "secret thing" not to be discussed in public. Some girls felt embarrassed at the beginning, but ended up actively participating in the training and planning to share the information received with their girlfriends. Mothers felt that discussing this topic in group contributes to a more open relationships with their daughters and also to understand what are girls' main concerns.
There is indeed a pressing need to hold more trainings on this subject, and also to find a way to involve men and boys in this activity, as they can contribute to a substantial change in behaviour and in dispelling myths with regards to menstruation: but for this we need your help!