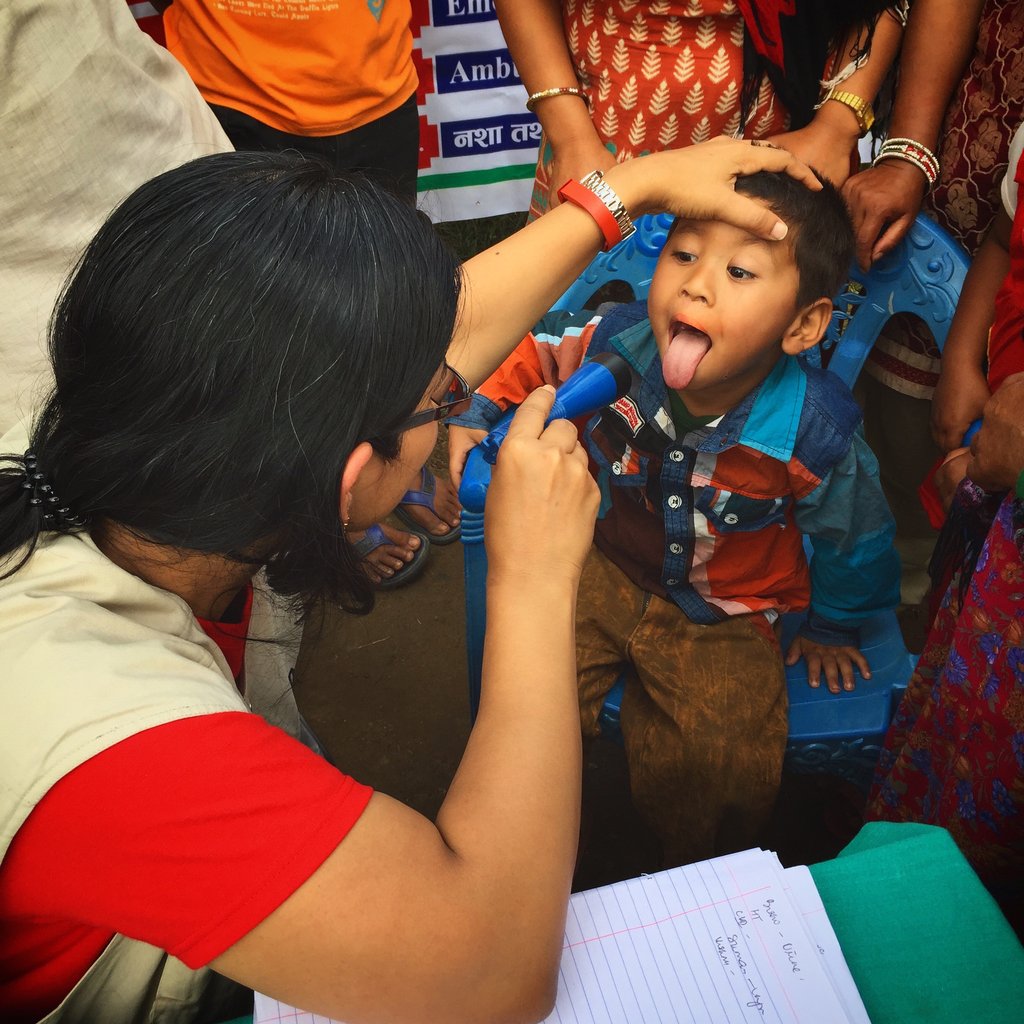 AmeriCares teams have traveled by truck, helicopter and foot to reach remote, highly affected areas in the Dhading and Sindhupalchowk Districts. They have met with multiple partners and are coordinating our response activities with the World Health Organization/Ministry of Health and Population Health Cluster in Kathmandu as well as the District Health Offices in Dhading and Sindhupalchowk.
Within 48 hours of the earthquake, an AmeriCares India team was on the ground in Nepal distributing medicines and supplies to local health institutions and providing medical care to the injured. In the two months since the earthquake struck, AmeriCares has shipped or hand carried more than $21.4 million in medicines and supplies, which are being distributed to 21 local and international partners. AmeriCares personnel and AmeriCares-supported medical teams have treated nearly 2,700 patients and have provided aid in some of the hardest-hit districts.
To illustrate the personal nature of care AmeriCares has undertaken in response to this catastrophe, we'd like to share the story of Nishma, a woman from Ladap, Nepal who happened to be nearly 8 months pregnant at the time of the quake. On May 26th, Nishma, with her due date approaching, hiked one-and-a-half miles from her village to seek care. After finally reaching one of the few functioning health care centers, doctors diagnosed her with pre-eclampsia (which if untreated can lead to seizures, organ damage or loss of consciousness) and advised her to seek medical attention at the medical center in the district capital, Dhading Besi. Worried about the cost of care and the continuing aftershocks, Nishma took her preliminary medicines and returned home instead, where she was found unconscious in her village 2 days later.
AmeriCares organized a medical evacuation helicopter to pick up Nishma and fly her and a doctor and nurse to Kathmandu where they were able to help Nishma deliver a healthy seven-pound baby boy! AmeriCares covered the cost of evacuation and care at Kathmandu Medical College. We are also supporting Nishma, the baby and the father for three months including food, clothing, care for the baby and transportation back to Dhading Besi where she and the family will stay with relatives through the monsoon season.
It is success stories like these, among many others, that reflect the effort, compassion, and generosity of donors to AmeriCares and through Global Giving. As we continue our intermediate and long-term work in Nepal, we are constantly evaluating sustainable approaches for how to help the area recover. Thank you again for your support, we could not do this without you!