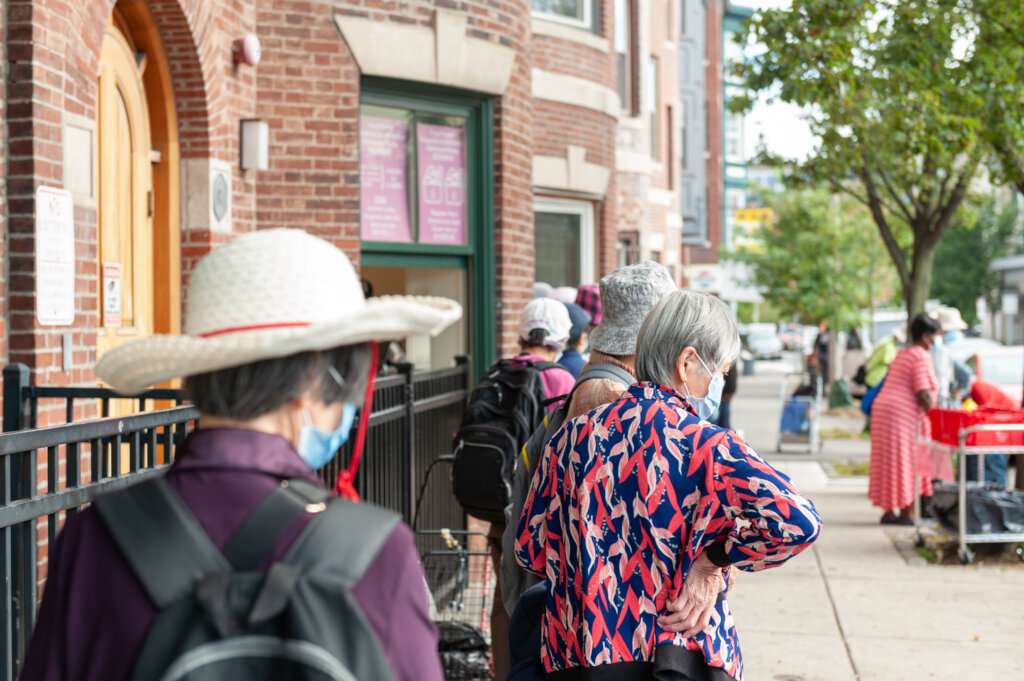 We are grateful for your support through GlobalGiving for the Food Programs at Rosie's Place. For the past two years, we developed creative solutions so that guests did not lose access to the services that help them meet their basic needs. Thank you for your partnership and generosity to assist our critical work with poor and homeless women.
Rosie's Place is now heading into a year of growth in anticipation and in response to the well documented growing needs in our community—a late impact of the pandemic and an immediate consequence of inflation and the rising cost of food. Food insecurity in Greater Boston has risen significantly over the past few years and we are feeding more women and their children than ever before. Rosie's Place is also seeing greater numbers of homeless women with untreated mental health and substance issues, and more women and their families are facing eviction with no alternatives in sight.
Organizational Purpose and Goals
Rosie's Place—the nation's first emergency shelter for women—is an organization like no other. Founder Kip Tiernan saw women disguising themselves as men in order to access meals and shelter. To this she said, "We can do better!" She envisioned a safe, warm, and welcoming place where women, no matter their history or circumstances, could simply walk in the door and receive help. Forty-eight years later, this simple, but bold vision still guides our work. Our aim is to reduce barriers to services and improve access to help. Our low/no threshold service model means that obstacles many women face when seeking help are removed--such as income verification, identification, and more. A guest does not need to prove that she needs help, and our programs are designed to meet her wherever she is at and with whatever help she is interested in.
And because we know there is no one-size-fits-all solution to poverty or homelessness, we never prescribe solutions. We do not take guests through a specific curriculum or service path. Rather,we listen and partner with our guests, working together to connect them with the resources they need to make new starts. We've adopted this service model because when life changes are self-directed they are more likely to lead to positive long-term outcomes.
Over 12,000 poor and homeless women will come to Rosie's Place this year. Each guest will have access to the continuum of services described below, so that she can address her basic needs and improve her housing, health and wellbeing, safety and self-esteem.
The Food Program: Nourishment for Poor and Homeless Women & their Children
The Dining Room is the heart of Rosie's Place, where thousands of women come for healthy meals, friendship, and community. The kitchen prepares wholesome, nutritious, and culturally inclusive meals 365 day a year, served in a cheerful environment. In FY22, the Dining Room served almost 62,000 meals – a 23% increase from the previous year.
Women are welcome to visit our Food Pantry weekly, Monday to Friday, to receive groceries, including fresh food, household goods, toiletries, at-home covid tests, masks, and other items. The increased demand on our Food Programs reflects the growing food insecurity in Greater Boston. In response to this dramatic upswing, our Food Pantry has now tripled its pre-pandemic capacity. In FY22, the Food Pantry served 6,061 guests with 63,965 visits.
Many guests could not get by without the help from our food programs, and our work would not be possible without friends like you. Rosie's Place relies solely on the generous support of individuals, foundations and corporations and does not accept any city, state or federal funding. Thank you for your friendship and part in making our work possible.
1 "Food prices overall rose 10.4 percent in June from a year earlier…Rent for a house or an apartment also costs
significantly more…" See Smialek, J. "Inflation Soared in June, Pinching Consumers and Challenging Policymakers," The
New York Times. July 13, 2022. Available at https://www.nytimes.com/2022/07/13/business/economy/ inflation-juneinterest-
rates.html.
2 In Massachusetts, an estimated 1.8 million adults (32% of the population) experienced food insecurity during 2021. See
The Greater Boston Food Bank, "Opportunities to Improve Food Equity and Access in Massachusetts." 2021-2022 Report.
Released June 6, 2022. Available at http://www.gbfb.org/wp-content/uploads/2022/06/GBFB_Food-
Access_Report22_V08c_singles.pdf.
Links: