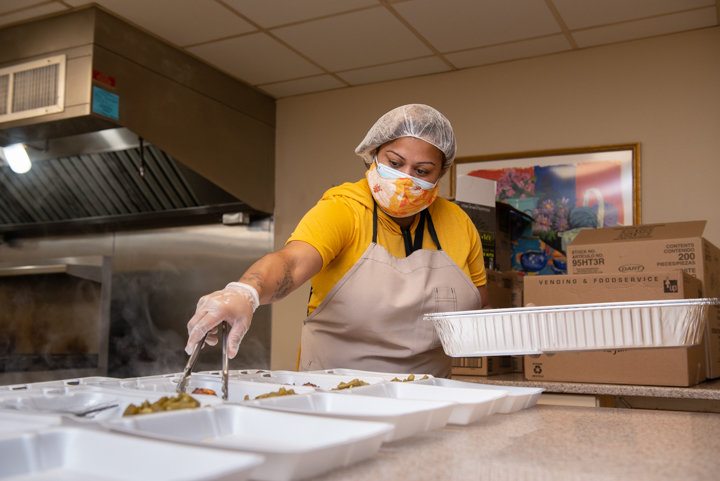 Thanks to friends like you, the doors of Rosie's Place have remained open throughout the pandemic, and our critical Food Programs continue to be a lifeline for poor and homeless women and their children—those made most vulnerable and those who have experienced the greatest impact of the health crisis over the past year.
As our food expenses soared to address urgent needs, your generous support of our Food Programs, through GlobalGiving, helped Rosie's Place remain a safety net for women and families who are struggling with food insecurity. We are grateful for your care and compassion for our guests and your partnership in our work.
Food Programs
Our practice of making delicious and healthy meals for our guests, served with unconditional love, has continued throughout the pandemic—now with additional safety precautions in place. We serve over 160 wholesome meals and snacks each day, which are available for our guests to enjoy in the dining room or take to-go.
Our Food Pantry service model has changed, now providing groceries to women weekly rather than monthly. We have more than doubled the Pantry's daily capacity. With 250 women receiving groceries each day, we are serving more households than ever before.
We have also relocated the Pantry from a tent outside in our parking lot to our Women's Education Center, where women are able to register for and receive groceries through the building's waist-high windows. Overall, we are providing far greater food access, in a safe, dignified, and time efficient manner.
Dining Room:

Pre-COVID:
3 meals served on weekdays and 2 meals served on weekends (69,919 meals July 2019-March 15, 2020)
Meals served to housed and homeless women
On average 150-200 guests served
Post-COVID:
Meals served all day
Meals prepared to have onsite or to-go
One guest per table, reduced dining room capacity to 40 guests
170 meals served to homeless women per day
Enhanced cleaning procedures in between guests dining, and mandatory handwashing before meals
Food Pantry:

Pre-COVID:
520 women served weekly in choice-based pantry where guests could select fresh and non-perishable grocery items
Visits limited to once per month
Post-COVID
1,250 women served weekly with pre-made grocery bags containing fresh and non-perishable food items
More frequent visits permitted
Program situated outdoors