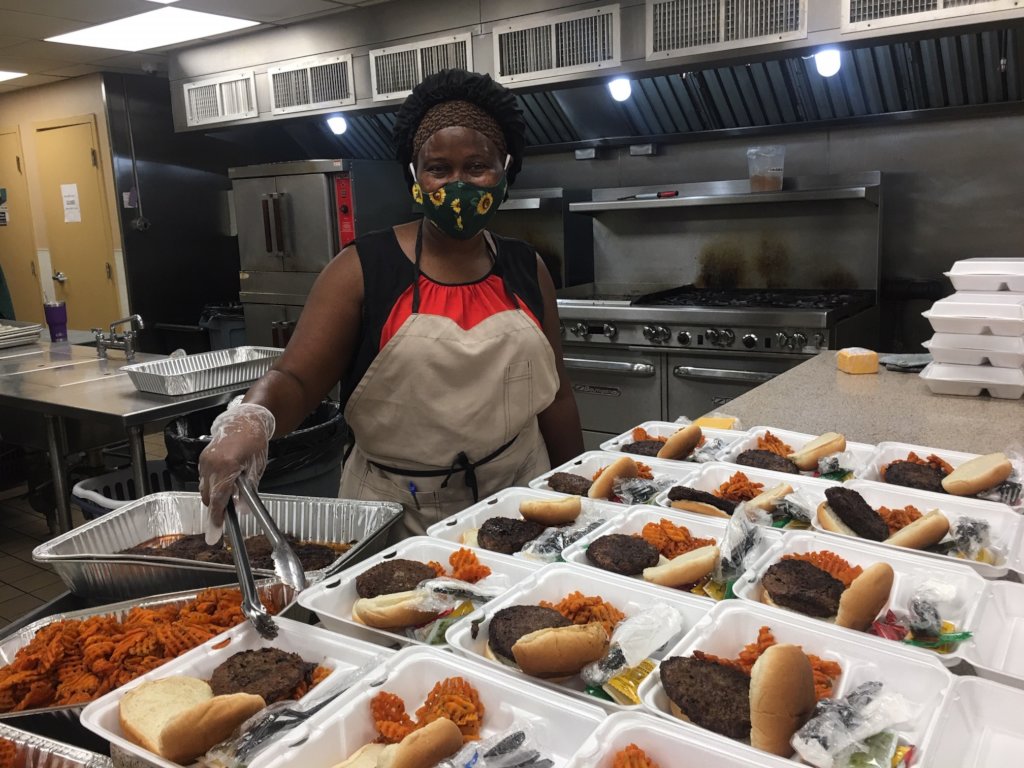 Report on Food Programs for Fall, 2020
We at Rosie's Place are so grateful for your support of our critical Food Programs for poor and homeless women and their children, through GlobalGiving.
Serving Smiles in Our Dining Room:
At Rosie's Place, we know that access to nutritious food is vital to the health and well-being of the women we serve. And now, with the risk of contracting COVID-19 especially high among vulnerable, homeless women, it is even more important that our doors are open every day with hearty, healthy meals for our guests.
Yet it's more than the food that draws women to our Dining Room–it's the spirit of community and unconditional love that they find here. To engage women spending the day with us, we play music and show movies. We provide art supplies and books to take away. We offer yoga sessions and organize bingo games. And, as always, our staff is here for guests with friendly conversation and support. We strive to provide sustenance not just for the body, but also for the soul.
Domingas Colston, our Food Program Shift Coordinator, is one member of our team whose good cheer helps make our Dining Room a place of welcome, respite and peace.
Whether she's working to prepare meals or talking with guests as they enjoy those meals, Domingas is almost always smiling or about to make you smile.
Domingas came to Boston from Angola more than 20 years ago, looking for new opportunities. Once here, she –remarkably–taught herself English and found work in an organization that serves homeless people. Lucky for us, this passion to help others led her to Rosie's Place in 2016. She told me:
I chose the work I did because it's important to me that I feel my job has value. When I came to America, I was all alone. Many people helped me get my feet on the ground. I got so much. I want to give back.
While social distancing has changed the look of our Dining Room, the food still tastes great and the warm spirit remains. Domingas and her teammates make sure of it.
Now, more than ever, the connection we provide to our community of caring is critical for our guests. Because of your generosity, they know they can turn to and count on Rosie's Place when so much else in their lives is uncertain. Thank you for helping us to continue nourishing our guests–in both body and soul.
Rosie's Place Guests:
All of our guests are poor. Some of our guests are homeless, while many others work and live in housing but simply can't make ends meet. We serve women as young as 18 and as old as 80, from as close as across the street and as far away as Lynn, Brockton and New Bedford. We estimate that about one-third of our guests have children. The guests of Rosie's Place represent a wide variety of ethnic groups, with most being African American, Hispanic, Haitian, or white. We serve a smaller number of Asian and Native American women. Some of our guests are living with HIV/AIDS or other medical conditions. Others have hidden disabilities such as addiction or mental illnesses that prevent them from effectively using mainstream services.
As Hunger Grows, So Do Our Efforts:
Our guests have always struggled with hunger. Before the onset of the coronavirus pandemic, 9% of Massachusetts households experienced food insecurity; currently that figure has soared to a staggering 38% of residents. Right now, our food programs are more important than ever to women who are desperately trying to get by.
Homeless women come to Rosie's Place tired and hungry, so we ensure that they have access to food all day long: healthy snacks, fruit, boxed lunches and hot dinners, available to eat in our Dining Room or to-go. As the number of women who find respite and support with us increases, so does the need, with our staff currently serving approximately 170 meals daily.
And more women than ever are seeking groceries they can bring home. Many of our guests are out of work and, with additional family members sheltering with them, food budgets are stretched to the limit. Because of you, Rosie's Place can provide fresh meat, dairy, fruits, vegetables and non-perishable staples to approximately 250 women each day to help feed the more than 650 members of their households. This is more than double the number of households served pre-pandemic. Week by week, we have seen the need for this program continue to grow. In turn, we have secured new food vendors to increase our inventory. As this health crisis continues, we anticipate that the need for food will only increase. Rosie's Place will continue striving to meet this critical need for the thousands of poor women and their children who are relying on us.
We are heartened by your past kindness and hopeful that we can count on your continued support.