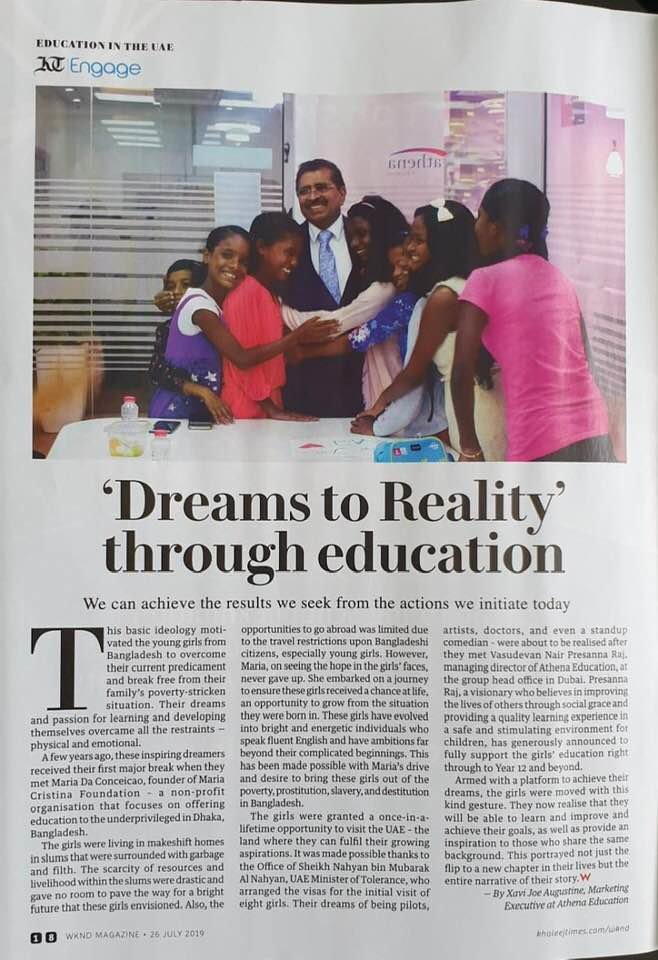 Paperwork, lawyers, more paperwork, attestations, rejections, stress, arguments, accusations (of human trafficking), sweat, tears, perseverance, tolerance; those are just some of the things we had to go through to get the young girls to the UAE for their summer break. The red tape and difficult people and departments in Bangladesh, just to enable them to leave their country, is really unbelievable.
But we did it! and the girls had an amazing time. Thank you to the many people who made it amazing for them. I have honestly never, ever seen them so happy and excited as I did for the month that they were here in the UAE.
The only time they weren't happy is anytime somebody mentioned going home to Dhaka. Then they cried.
So, you can imagine my joy, when they were offered scholarships by Athena school. This was really astonishing news, I was over the moon and so was everybody who had met them. The girls were literally crying with shock and happiness, it was beyond belief for them.
But unfortunately it is not to be. I am heartbroken.
... and I know that the girls and their families are even more heartbroken than me. They feel that their dreams have literally been crushed and it makes me so sad.
We did manage to do this in 2010, with the help from some people in very high up places, we brought seven 12 year old students to the UAE with exceptional case student visas, to study until they were 18. It was something that had never been done before.
The same people tried their very best to help us again for these girls; but, unfortunately times have changed, formalities, laws and procedures have changed and become much, much tighter and it's just not possible, even at the highest level, despite trying every way.
People who know me know that I have a never-give-up attitude and I will never give up on these girls. But I trust my superiors and when they tell that its not possible, I know that this door is closed.
But just because one door is closed, it doesn't mean that there aren't other doors out there. They may not be able to study in the UAE this time around, but we will find them the opportunities, in other countries. We have to. There is always to way, especially when it comes to helping those in need.
I know that I am biased, but these girls are special. Anyone who has met them will agree. We have educated them since they were babies, they are outgoing, ambitious and full of potential - they deserve better opportunities, opportunities - and we will find them!