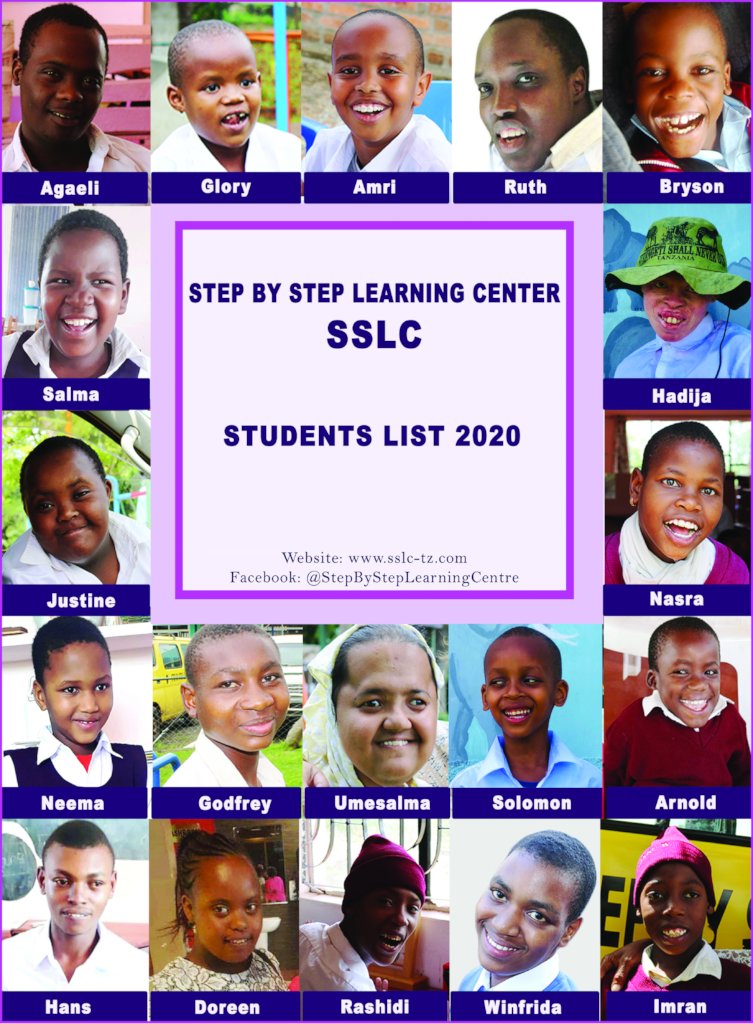 Step by Step Learning Center's vision is to grow our capacity to provide a safe and stimulating learning and working environment for special needs students for as long as they need such support, so that they can progressively learn age and gender-appropriate life skills and work skills, in order to achieve a degree of independence and dignity. Our focus thie year is to expand SSLC's financial support base in order to start and establish an Adult Program around students who have grown into young adults through the junior program. In the Junior Program we focus on intensive therapy, functional literacy and life skills training. In the Adult Program, students gain job skills by learning on the job in the Income Generating Projects (IGPs): Beadwork, Gardening, Livestock rearing of Chicken. goats, fish and bees.
Three unexpected risks greatly affected this semester. Usually we are sure of clogging at least 12 weeks from January to the first week of April when in all the past years the heavy rains begin. We hoped to close on the Thursday before Good Friday.
Arusha city sewage Construction Company dug huge canals passing just outside the school gate along the main road leading to SSLC. They threw piles of dirt on the road making it impassable to cars and the school bus. After laying the sewage pipes, they left huge receptor holes gaping dangerously. Even as we parked the school buses 300 meters away and moved our routine walk to school first thing in the morning, we wondered we would maintain the walking when the rains came.
We have known about climate change but not as certainly as this year. The rains that should have subsided after Christmas 2019, just kept on pouring until by end of January, we could only walk the 300 meters to school on dry days. As more rains came, it filled the pipes with water. The receptors oozed excess water and dug deep gullies onto our road. We bought umbrellas and boots (thanks to a donation from a Volunteer's family). We managed to walk on and off for some weeks but when a deluge came in February, we had to close school. We moved the classes for the few students, whose roads to their homes were still passable and could make it to school, to another Volunteer's house. During that time, we raised some money and got a contractor to dig canals on either side of our road to drain off water so we could walk again to school. Attempts to involve the local government and our neighbors were frustrating and amounted to not much. We poured gravel onto a narrow corridor on the road to form a path for us to keep walking to school. School resumed and on some days we were able to walk the 300 meters without boots.
It looked like we were on schedule to carry on until April 9th and then have a break for Easter after a very eventful semester. But, on 15th March while the school bus was making the round home, they were stuck in traffic because the police had stopped traffic and cordoned off a house where the first COVID -19 case in Arusha was living! The following day, the government closed all educational institutions from kindergarten to universities for 30 days. Both Volunteers wereevacuated to their respective countries on the recommendation of their organizations. At this time of fear, stress and uncertainty caused by the deadly corona virus, it was advized to be with family and friends who can help if medical care is required. This was the shortest, most eventful semester ever, lasting 10 weeks only.
We had planned and budgeted to start raising the first batch of 350 broiler chicks in our new large chicken house. We postponed that project and decided to divert that money to buy 180 kilograms of maize and 50 of beans. We distributed them to students and staff to cushion especially our very low salaried staff and unemployed single parents during these days we are supposed to stay and work from home. We hope and pray the world will stop the virus soon.
Our dream of expanding our financial base looked possible when we qualified for GlobalGiving Accelarator March 2020 and kicked off well. But as COVID-19 reared its head, we almost despaired as many collegues dropped off the challenge as it was almost inappropriate to ask people for money during this time of great stress, sorrow and uncertainty. Thanks to you our very generous Donors, we qualified to permanently be on GlobalGiving platform. With this additional funding, and commitment from many of you to support us long term, we will be able to maintain a high quality program for our young students and employment for our young adults. We cannot thank you enough.