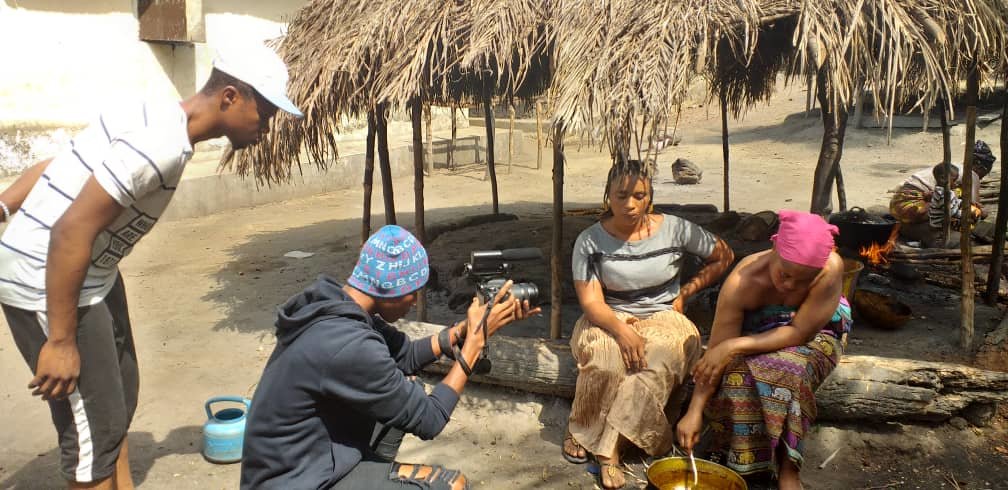 Success! Our Students are making documentaries around Sierra Leone!
Our project is now changing many lives for the better. The Marc Bolan School of Music and Film , based in Makeni, Sierra Leone, West Africa, is teaching and inspiring our students to not only learn and develop their own skills, understanding and insights, but also to reach out beyond Makeni into other communities in the country. Through our ongoing lessons in music (singing, Instruments, choir, arrangement, recording and performance) and film (writing, scripting, planning, filming, directing and editing), as well as art classes and dancing, we are giving our students the ability and confidence to visit other villages and communities in Sierra Leone and touch and inspire their lives. This morning we received pictures of our students filming a documentary about the conditions of life for women in many parts of the country, and the fascinating pictures on this site show how keenly our directors, sound engineers and cameramen are working with women to find out more about their conditions and concerns. This serious project will serve to inform and guide the policies of decision-makers in the country as to how to resource the help these women and their communities' need. Our aim is to create a school which will empower these young people to build a strong and vibrantly creative community at the heart of the Sierra Leone, inspiring all to fuller and more fulfilling lives, giving them a sense of agency and purpose. So, as well as already having filmed in Ghana and Guinea, we are focusing on the detail of everyday life here in Sierra Leone, and helping to improve it for many.
As well as the above, our students continue to develop their understanding and knowledge of music and performance, with our growing number of instruments and practise areas facilitating a very regular, high-standard of learning. Our students record in studios in Sierra Leone and have performed on many radio programmes, reaching out to a national audience. Our dancers now have a solid, professionally built dance floor at the centre of our compound, where their individual and collective movements and actions can be properly trained, guided and practised. And our visiting Art Teachers are truly world-class.
MORE GREAT NEWS TO INSPIRE YOU TO GIVE!!!
Just a few days ago, our inspirational Guiding Star, the late, truly great Marc Bolan and his band T.REX, were inducted to The Rock and Roll Hall of Fame! This great accolade, as well as many, many others, is a testament to Marc Bolan's great talent and brilliant music. Over forty years after Marc Bolan and his band T.REX first hit the world with his powerful and beautiful music it is still being played around the world on countless radio stations, TV networks, films, adverts and endless numbers of other formats. We are so incredibly proud that his dedication and inspiring talent has proved itself to be timeless, spanning the globe. A few hours after the announcement of the induction one of the many messages we received from around the world came from national Radio Columbia, asking to speak to Gloria. Not only did she tell the DJ all about her time with T.REX but also about the jewel in his powerfully vibrant legacy, The Marc Bolan School of Music and Film. We shall continue to work, we shall continue to graft, we shall reach out to gift the young people of Sierra Leone his energy and self-belief.
In addition to these wonderful events we are expanding our international links to supporters around the world ! As well as our friends in Salt Lake City, Utah, we now have twinned with The Darwen School of Music, based in Blackburn, UK. Its founder Paul Davis will be greeted by a very happy and large number of our students, ranging from four to eighteen years, and take part in the ground-breaking ceremony for our new building, the state-of the-art, world class school building designed by BOLANS Architects of London, UK. Together with Co-Founder Mark Bateson, Paul Davis will discuss and share plans and visions for our school with our Founder and President, Gloria Jones, Director Bai Koroma and Head teacher Mohamed Murrah, as well as other dedicated teachers and instructors. We are more than ready to build on our achievements. We are already reaching out to communities beyond Makeni with our dedication, talent and care. Please help us build our beautiful school and change the lives of so many young people in one of the very poorest countries in the world.. We need £100,000 to cover materials and building. Please help us reach this sum for such a truly valuable and important enterprise. We need you! We work very hard with little, and we need you!
Jed Dmochowski
Director, Light of Love Foundation UK
Charity Number 1164256