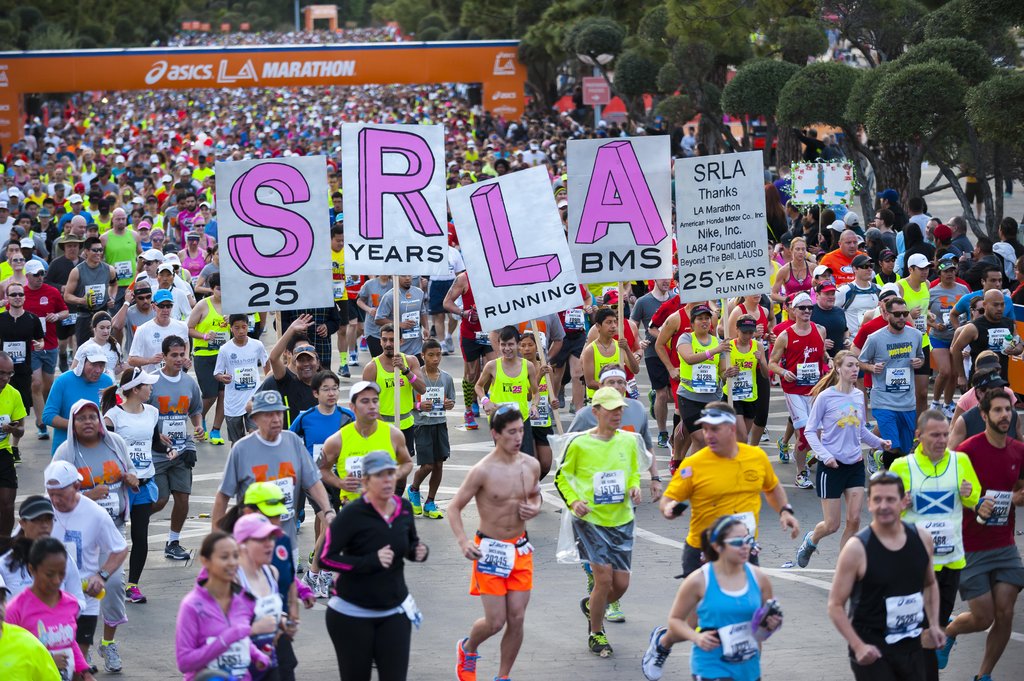 Our students did it again! We had 3,360 runners at the starting line of the ASICS LA Marathon, and 99% of them completed the full 26.2-mile course! Our students began training last August and put in many miles and hours of effort alongside their volunteer teacher/leaders. Their six-month learning experience with Students Run LA (SRLA) has strengthened their bodies, their minds and their characters in a way that will last well beyond the Marathon.
For 25 years and with 54,000 students, SRLA has provided one program: A teacher (the "SRLA Leader") volunteering to train with his or her middle or high school students for 26 weeks, to prepare for a marathon. While the students and Leaders run, they talk. Students discuss issues they face; Leaders listen and encourage them. Students feel more connected to school, and their attendance improves. Students stay out of trouble, and they graduate and make plans for college.
Through participating in SRLA, students self-discover a healthy life style: They grow to enjoy running; they eat differently; they choose not to use hazardous substances; they realize that running reduces stress; and they take these lessons home to their families. Making these behavior changes on their own, rather than being told to, makes them more lasting.
Finally, SRLA produces marathoners…individuals with the strength, stamina and mental fortitude to run 26.2 miles in one undertaking. Helping thousands of Los Angeles youth attain these qualities, SRLA enables them to overcome the other difficulties they face in their lives, and move onto paths towards success.
SRLA is celebrating this 25th anniversary season with a Gala Celebration on Thursday, May 8th, at the InterContinental Hotel in Century City, Los Angeles, California. Join us to celebrate 25 years of empowerment, achievement and character development. Enter to win a Honda CR-V, generously donated by HONDA to support SRLA. For more details or to buy Opportunity Drawing tickets, call the SRLA Office at 818-654-3360.