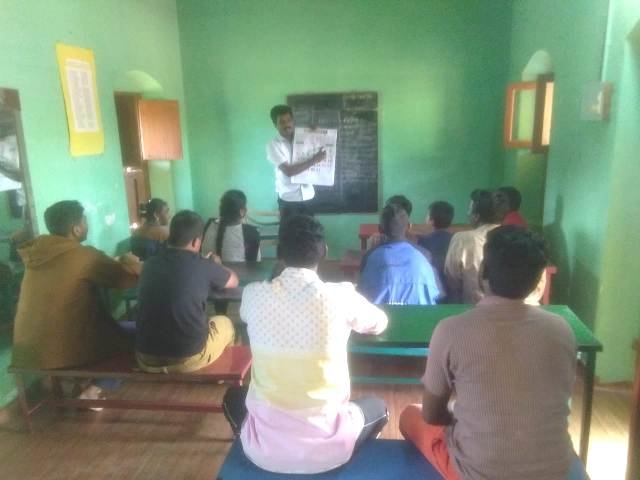 Rural Area Development Trust run by
Manjari Special School for Mentally challenged children Theni District of Tamilnadu
Background of the programme
This Day Care Centre was started in the year 2005 at Uthamapalayam, Theni District. This centre provides therapeutic support to children who are physically and mentally challenged. This day care centre consists of 29 children. Physiotherapy and special education are regularly given to the children. Physiotherapists help children with disabilities to develop their functional ability and life style changes. Our Service is in the form of exercise, education, consultation, or the recommendation of adaptive devices.
Special Education
(Pre – Primary, Primary and Secondary)
In special education for mentally challenged children teaching by special educators. Teachers are completed special bachelor degree or Diploma in special education giving to the mentally challenged children. Based on the children IQ we decided in three classes like Pre – primary, primary and secondary from the age of 5 – 16.
The teaching learning method is followed by NIMH, Banglore. After the assessing the children about their knowledge in money concept, vegetable, fruits teaching through the flash cards, objects with some other new techniques.
2. Physiotherapy
In this Manjari Special school we have a full equipped therapy centre. Every day around 16 children getting therapy from qualified physiotherapist. Most of the children have improved physically and mentally by high degree of therapy treatments. This will improves their physical condition sitting, walking, and other physical works independently survive in their life.
3. Social inclusion
Every Saturday we are giving training to the students how to behavior them self's in public places, like marriage function, travelling in buses, relationship with peer groups, neighborhood and their relation also. We bring the children to bus station, banks, post office, railway station and panchayat office our staff explain with all those public places involving our day to day lives. It's very important sessions for the special children in their education.