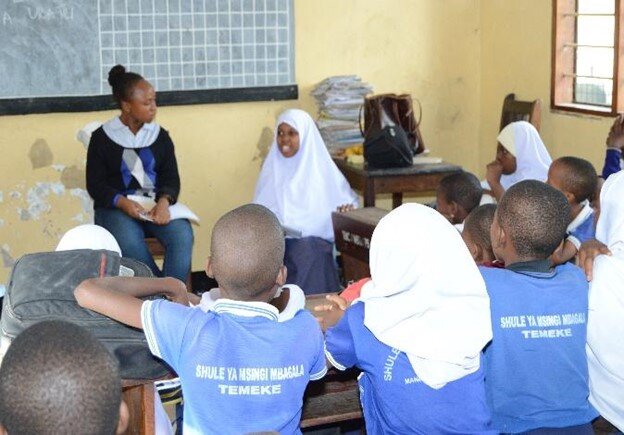 Using students' art work, Virtue Stamps are posted in each school that participates in Bright Club. These stamps ensure that all students have the opportunity to learn about virtues and how to practice them in their daily life.
Bright Club members now use virtues in their daily interactions in their communities as well. In long breaks, facilitators encouraged students to practice virtues daily and share the lessons they learned from Bright Club with their friends and family.
Here are stories from members of Bright Clubs (the schools' virtues program) sharing how The Virtues Project has helped them to build resilience and self-protection from Violence.
SWAUMU'S STORY ON UNITY AND LOVE: how Swaumu was able to use her understanding and practice of the virtues of unity and love to mediate a fight between her friends and strengthen their friendship and cooperation in their plays and in school.
One day, as I was going home from school, I found my friends fighting over a game. I ran in between them and I told them that we need to be united. They stopped fighting and they looked at me like they didn't understand the same language we use every day, so I had to repeat again. "Yes, I said Unity." One of my friends who was standing on the side cheering the fight asked, "What is unity?" Then I told them, "Unity is to love each other and cooperate so that you can be united and be able to study and play games together without fighting." I took the game they were fighting for and together we picked numbers to take turn playing it. I felt happy because they heard me, and they did not fight again and I got to play with them as well. From that day we didn't fight again and we still go to school, study and play together.
NAHYA'S STORY ON CARING AND HELPFULNESS: how Nahya, driven by his understanding and commitment to practicing the virtue of caring and helpfulness, was able to be so courageous to stand against bullies in their home street who were abusing a child with disability.
One day my mom told me to go to a shop. When I was leaving my home, I saw my friend, James, crying. He was surrounded by other bigger kids from our street pushing his head and saying bad words to him because he has a disability and can't walk or run like them. I was sad and I went to them and told them that, we need to care for all people and help people with disability. Some of them laughed at me and one of them held my shirt and said he will beat me if I don't go away. I was afraid but I couldn't leave James there so I started screaming, calling James' mama for help. The bullies got scared and ran away. I took James home and went to the shop, even though I was scared what will happen when the bullies find me. But I was happy I could help my friend James.
Way forward:
This project is beginning to invest more into parents and caregivers' engagement in exploring positive parenting and virtues project practice. This will be a major step toward strengthening children resilience and safety at home.
Over this past few months, we had planned to establish 5 parenting clubs, creating forums for parents and caregivers to learn and exchange about positive parenting practices, but we couldn't get the financial support required to start the clubs.
Instead, we have recently started engaging with caregivers in nearby daycare centers, orphanages and parents in our efforts to start at least 1 or 2 parenting clubs. We are also raising resources to establish and sustain more parenting clubs in the communities we have been engaging for years in order to enhance the positive impact that the children experience in their schools.