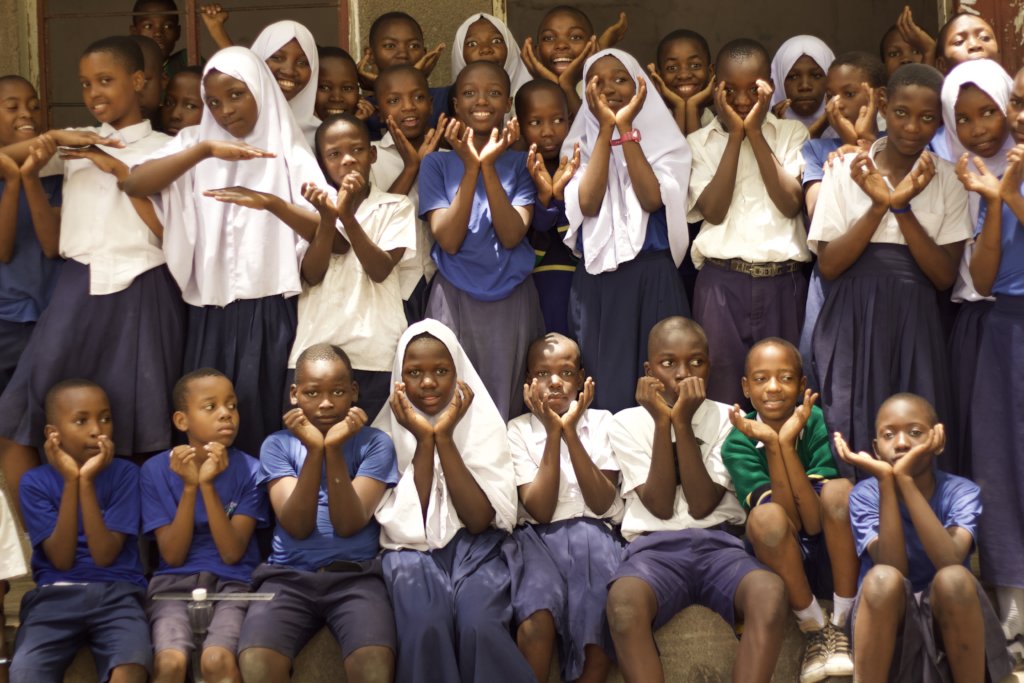 Bright Jamii Initiative (BJI) with the support of Virtues Project International Association (VPIA), has been promoting character development by implementing The Virtues Project model in a number of schools in Tanzania, in line with the National Plan of Action to end Violence Against Women and Children 2017/2022. With VPIA support, BJI has been able to use The Virtues Project model to contribute to creating safer schools and enabling children to develop life skills necessary for their welfare.
Following is a report on BJI activites over the past few months. As our year will soon be coming to a close, this is a time of reporting, reflecting and planning with teachers and education authorities:
Sixteen club sessions were facilitated in this quarter, reaching 177 students in three schools. Students learned about their rights and associated virtues they could call on for self-protection and the protection of others. Focus on reporting acts of violence and claiming their rights to keep themselves and others safe was done through a study and development of artistic presentations that culminated in a comic book about child rights and breaking the silence on acts of violence.
In September, the Bright Club at Mtoni Primary School reached 2320 fellow students, including Students with Disability, through an Inquisitive Arts performance at school. Club members presented drawings that showed domestic violence to children and also their rights to leisure, play and education. The presenters were able to connect with their audience who then shared those feelings of connection. Some expressed experiencing an "aha moment" with the content and some recognized these situations in their lives.
In August & September, BJI facilitated teacher Virtues Project refresher sessions at two primary schools, aimed at strengthening safe school environments using The Virtues Project model. There were 42 participants including head teachers and guidance and counseling staff. The sessions covered identifying a child who is experiencing violence, creating conducive environments for children to report acts of violence, offering counseling to child victims of violence, and using virtues to reduce corporal punishment.
As a result of these sessions, teachers requested to have more training on The Virtues Project with a focus on restorative justice, alternatives to punishment, and the legal framework surrounding corporal punishment in Tanzania, the Education Act 2002. The next session will be held at the end of November, and our hope is that three schools will participate.
Insufficient funding has been a roadblock to ensure engagement and harmonious functioning of the Comprehensive Child Protection Tripartite (students, teachers and parents). BJI put more effort into engaging students and teachers, but engagement of the parents is critical for comprehensive child protection to ensure children are also safe at home.
The use of inquisitive arts as an approach and tool of teaching, which is also adopted by the students as their way to create awareness among their fellow students on child rights and child participation in ending violence against children, has helped children to develop the virtues necessary to break the silence against violence leading to more cases being reported at school and the positive transformation of character among children who attend the Bright Club programs. A transformation so impressive that the teachers are more willing to participate in the training to learn more about character development and The Virtues Project model!
Children experience violence at home as well and that affects their ability to study and keeps the cycle of violence going. Therefore, BJI with the support from VPIA, plans to raise more funds to be able to engage parents and focus on a few pilot areas documenting results that can be used for advocacy and positively influencing the legal framework in Tanzania to eliminate corporal punishment.
Thank you for your support and generosity. You are making a difference in the work we are able to do and the lives of those we serve, students, teachers and parents.