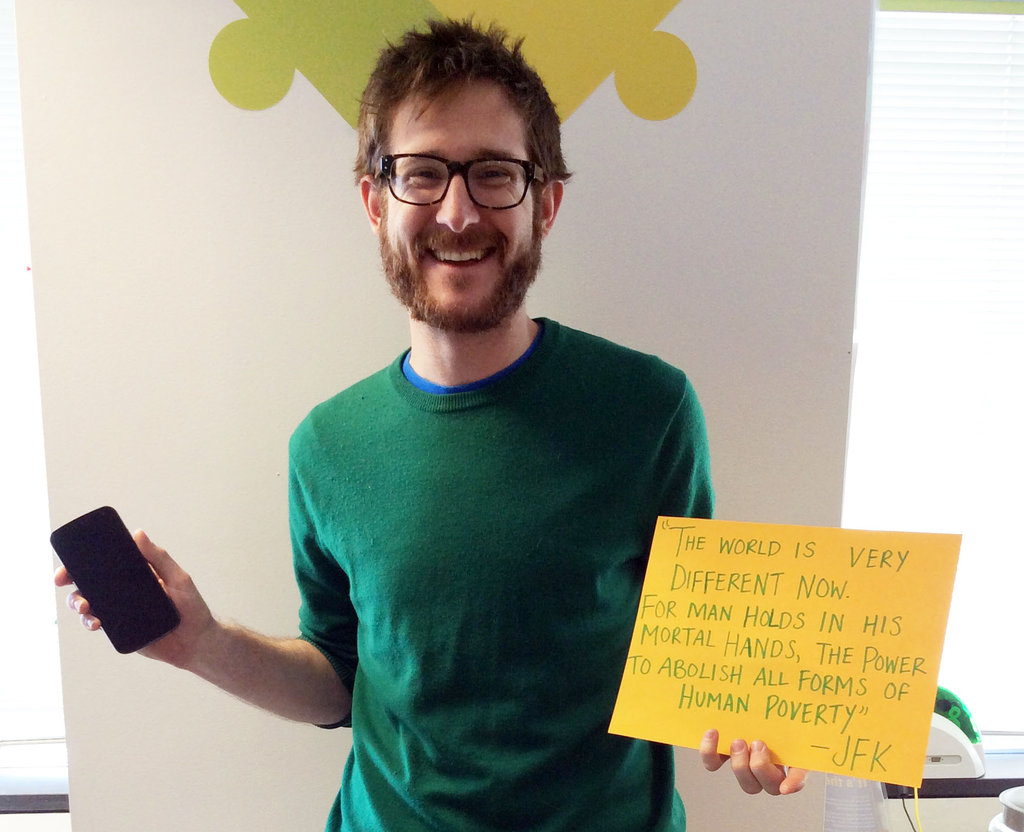 Dear friends of GlobalGiving,
Thank you for your generous donation to help make GlobalGiving mobile! As you probably know, one of our core values is, "Listen, Act, Learn. Repeat.". We've been listening to what donors and nonprofit leaders say about their experience using GlobalGiving from their phones, and we're well aware of the research by peers and experts that says it's time for us to adapt! So thanks to you, we've been hard at work improving both the donor and project leader experience accessing GlobalGiving from mobile devices.
Now you can view projects and make donations easily from your smartphone or tablet. Initially, one donor described his experience as, "Very troublesome. It took me 5 attempts to make the contribution. If it had not been for my desire to help the person raising the money, I would not have persisted. You need to make this application work flawlessly on mobile devices." You can bet we heard this feedback, and thanks to your gift we've been able to act. Our Product Team has launched a mobile-friendly checkout process and mobile-friendly project pages for our site!
Try it out for yourself! You'll now have a smoother experience donating to a project without sacrificing any of the security you've come to expect on GlobalGiving. Here's what Nick Violi, one of our Software Engineers for Good, has to say about these improvements:
"GlobalGiving is all about leveraging the power of technology to connect donors and doers through our online platform, so it only makes sense to extend this goal by simplifying the process on our new handheld devices.
To accomplish this, first, I narrowed the width of the content to one more at home on a mobile interface, a reduction of about 65%. Next, I had to determine which information was most crucial and try to fit that information on the smaller canvas, all while making sure the text was big enough to read and the controls were touchscreen-friendly. Finally, I tried to lay out the information in a logical way so it maintained the intuitive, inviting design of its desktop ancestor.
While there's still much more to do, these first steps applied to the checkout flow and project pages are a huge improvement, and make the GlobalGiving experience almost as much of a pleasure on a mobile device as it is on your desktop or laptop."
Project Leaders can now update supporters without even accessing a computer. The mobile re-design is not just about the donor experience, but also our nonprofit project leaders' interactions on the platform. We're starting to experiment with making GlobalGiving mobile-friendly in the field, for the benefit of project leaders who can't regularly access a computer. The first step is complete: it's now possible for project leaders to submit project reports simply by sending an email! The email automatically converts into a project report that's submitted to GlobalGiving for approval.
Finally, you better believe we're testing to see how we can improve our mobile pages! The "Learn" part of "Listen, Act, Learn. Repeat." means testing and measuring our work! So we're keeping a close eye on the data surrounding our donation rates and user bounce rates to gauge effectiveness and help us decide whether to persevere in the same direction or to pivot and try something new.
We're off to a good start, but the work isn't complete! What's next for mobile GlobalGiving? We're still raising funds in order to streamline the rest of the mobile experience, making our homepage as well as our search features mobile-friendly. We'll continue to refine the site so that more mobile users will complete their transactions, eventually getting more dollars to the doers in an even more efficient way.
All the best,
Shannon Cassidy and the GlobalGiving Product Team