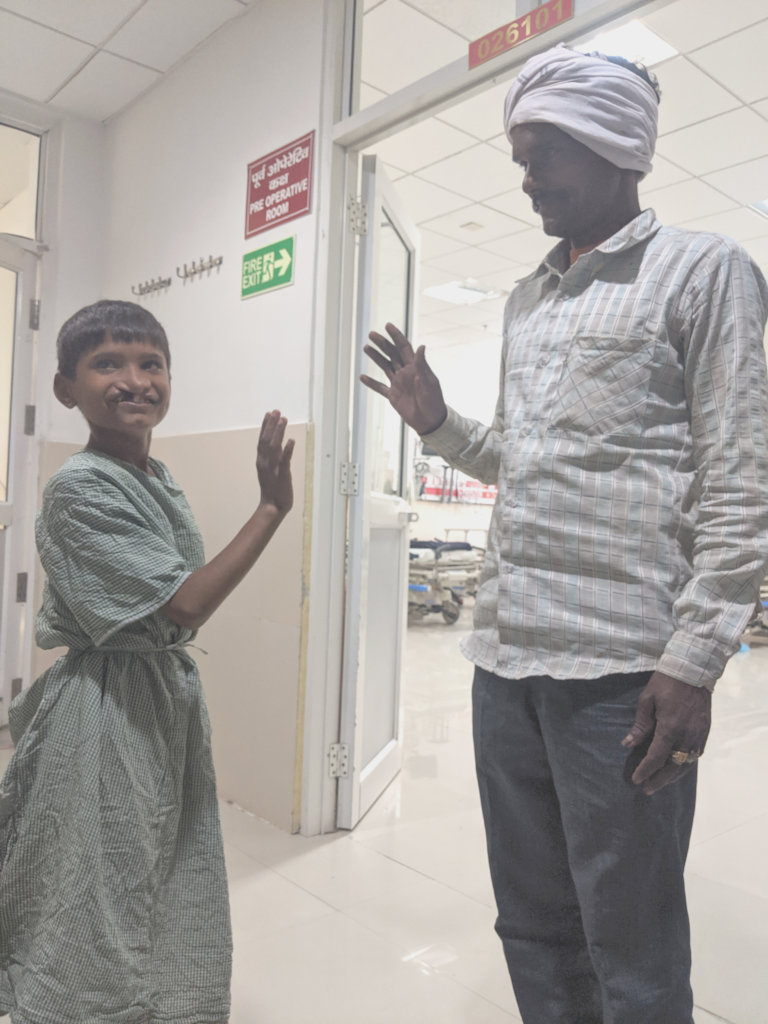 Rahul is a sprightly and naughty 11-year-old boy like any boy his age. He is pampered by everyone at home, especially his sisters and his father. Even though he is very naughty his father never scolds him. But, his world is confined within the four walls of his house because of his cleft lip and palate. When he steps out of his house he is ridiculed and mocked.
School is a challenge for him. He is often not allowed to answer in class because his cleft palate renders his speech nasal and incomprehensible. In the playground his classmates bully him and call him a failure because he's 11 and in class II. But, Rahul does not give up trying to make friends even though he often returns home with bruises and tears. He asks his father why he is so different. His father's eyes would well up with tears and he prayed for a miracle that would change his child's life.
Rahul's father, Kiran, is a daily-wage labourer who makes less than $60 USD a month. He wants his children to achieve everything that he could not. He sends all his children to school so that they can have better opportunities. He was worried that Rahul would not be able to adjust in school with his condition so he deferred sending him to school until he was older.
He did not know that Rahul's condition can be corrected through surgery; even if he knew, affording it was beyond his wildest dreams. It seemed like divine intervention to Kiran when the local Rashtriya Bal Swasthya Karyakaram (RBSK) informed him about Mission Smile's free cleft surgery mission.
Kiran immediately brought his son to our camp. Rahul was screened and found fit for surgery. Before going into surgery the scared but also excited Rahul quipped, "Next week when I go back to school no one will recognize me. I can't wait to see my face after this…I will look so handsome!"
When Rahul came out of the OT, his father was overjoyed seeing his face. Gone was the gash between his lips that made his son different from the other kids. He was happy that his little darling could now eat properly and become a strong and healthy boy. He also believes that things will change for his precious son after the surgery. This miracle would not have happened without your generosity and support, and Rahul and his father thanks everyone who came forward to change his life.