Project Report

| Jun 7, 2019
We're Going Extra Miles to Get Ummera's Smile!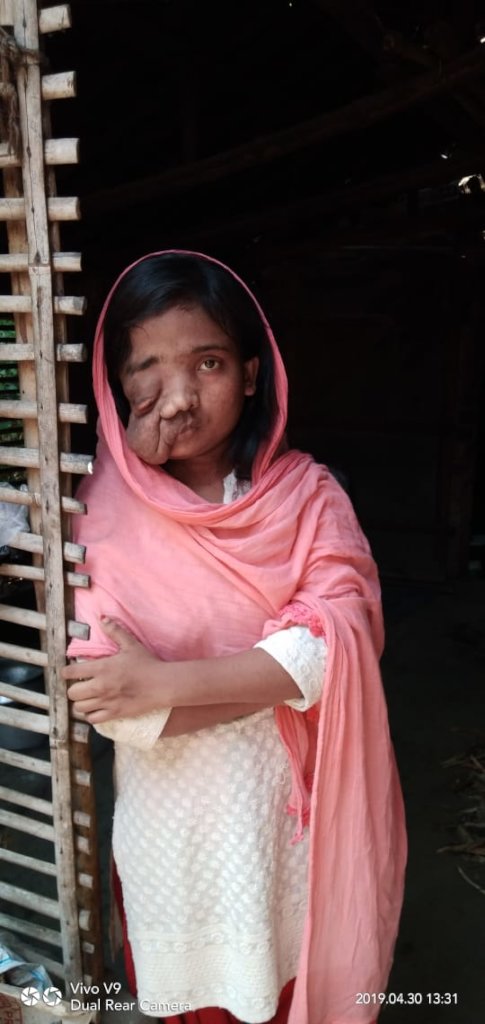 Dear Smile Givers
When life closes a door, it usually opens a window! Ummera's story has inspired us to go extra miles! Her case is one of the most challenging cases of facial deformities we ever witnessed!
It's not just a cleft lip or palate occurring in a child, which we're usually accustomed dealing with, but a congenital facial deformity which has kept deteriorating with age, as if slowly choking the life out of the unfortunate teenage girl! Yet the resolute teenager is putting up a brave fight. We too are determined to join Ummera in her fight to reclaim a normal life, no matter what it takes!
Ummera is a teenage girl from a poor family of rural West Bengal. During our visit to her home, she started narrating her hardships. She said that since birth, she had a minor facial deformity. Her family took her to the hospital for medical examination. The doctor advised a surgical procedure. But due to lack of funds, the unfortunate family could not afford her treatment cost at that time. The result was grave for the child!
Her condition started worsening with the passing years. The facial deformity started deteriorating with the development of a lump of tissue covering one side of her face entirely, including her one eye! Ummera had tremendous pain in that eye. Her deformity was not just external, but internally too it had spread to larynx and pharynx, causing immense pain to the teenage girl. But her pain didn't just end with that!
Apart from her physical trauma, Ummera is a victim of mental trauma as well caused as a result of ill-treatment and social ostracisation by the school teacher, classmates and even close members of the community. She was being looked upon as someone cursed and born with bad luck. Such was the notion among her peers that mere socializing with her will carry forward her bad luck to them! Thus, away went her dream of studying at school! Depressed and fate struck, Ummera kept herself confined to household chores. Her misery and hardship are beyond words!
Owing to the financial crisis at home, in spite of all her pain, the teenage girl nowadays works as a domestic help to support her family. Both her parents were in tears while narrating their daughter's struggle during all these years! They were tired having run from pillar to post for financial help for their daughter's treatment but didn't receive a single positive response till date. Dejected and hopeless they surrendered their daughter's future to destiny!
Destiny, however, had own plans! Somehow we came to know about Ummera and we went to her home and met her parents. Seeing her and hearing about her ordeal, we ourselves could feel the excruciating pain of the teenager and decided at that moment to support her irrespective of what it costs us.
Ummera's aggravated condition of the facial deformity was is proof enough to suggest that she needs multiple surgical procedures. Naturally, the cost to be incurred would be much more than a regular cleft surgery but we're determined to gift Ummera a new life!
So going beyond our usual pledge we have embarked on a mission to bring smiles to Ummera & her family! Presently, she had undergone her first surgery and is doing well. We will be closely monitoring her and bringing you updates related to her surgery and transformation. Pray for her speedy recovery. Support us and stay connected for more updates.
Thank you for your genrous that gives us the courage to take on difficult cases. We appeal to you to become our regular donor.
Thank you for making a difference in Ummera's Life.