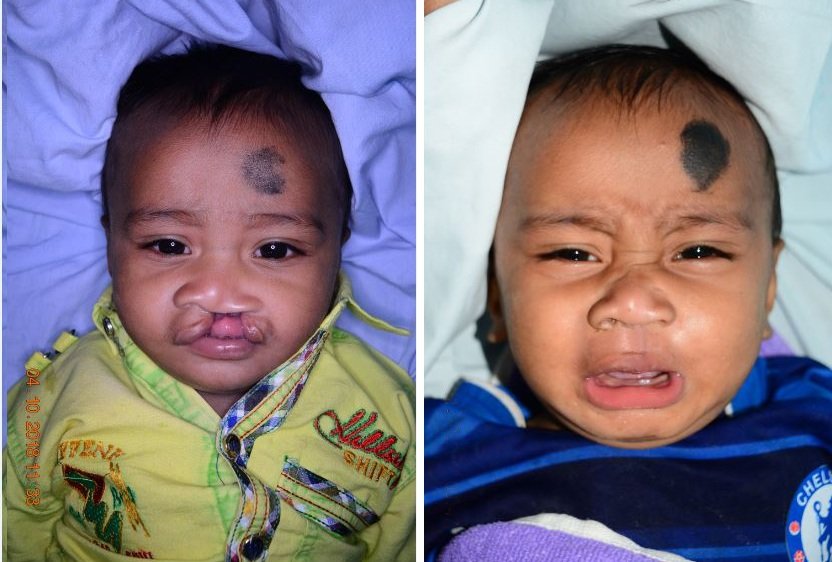 Dear Smile Giver
Superstitions associated with Cleft, makes life difficult not only for a child born with Cleft but also for his/her parents. Aman's story is a perfect example of this.
Aman's family belongs to a community in Assam where people are extremely conscious about spirituality. When Aman was born with a cleft lip deformity, his petrified mother had no clue on how their community would react seeing their son's facial deformity. Moreover, the apprehensive parents feared rejection from their community.
Aman's parents were counselled by local hospital staff. The counsellor made them understand that cleft could be easily corrected with rectification surgery followed by post-operative care. The parents were asked to take their kid to Mission Smile's Guwahati Comprehensive Cleft Care Centre (GC4) for medical evaluation.
At GC4, on examination it was found that Aman was underweight and thus he was not surgically fit for the surgery. He was enrolled to our nutrition program. After the first session of nutrition counselling, his worried parents felt relaxed. Aman responded positively to the nutrition program within 2 months of his induction and gained weight and was found suited for surgery. Consequently, Aman received his surgery and his smile was restored.
For his parents, it was no less than a sheer miracle to see their son's cleft lips repaired. They went back home with little Aman smiling at us, as if to say "Thank you."
We are grateful for your generous support owards the surgery of Cleft Children.
Mission Smile provides Comprehensive Cleft Care treatment and free cleft surgeries to children and young adults from underprivileged backgrounds across India. Help us in gifting smiles to the needy and support us in achieving a Cleft Free India.
Gratefully Yours,
Anupam SarkarSenior Manager Partnerships & CommunicationsMission SmileCell: +91 9007883789Email: anupam.sarkar@missionsmile.org