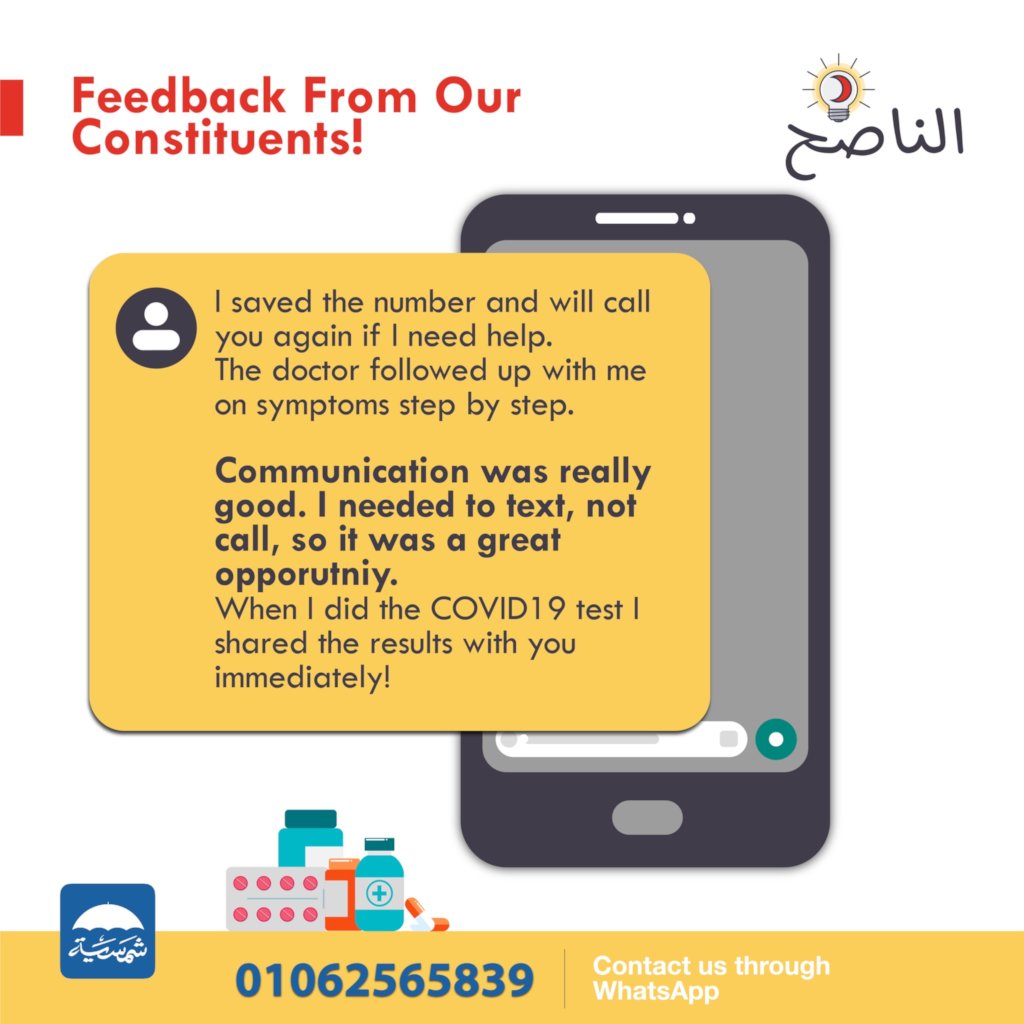 In light of the recent Corona crisis, many citizens are exposed to the risk of contracting the virus, whether through contact with an infected person or by the appearance of symptoms on the patient directly. In the absence of the necessary medical advice and/or the lack of financial ability to bear the costs of tests and treatment, people are forced to deal with the situation in the most random manners. It increases the risk to the patient and every individual they come in contact with.
For this reason, we are providing medical advice services for Covid-19, through which we give the necessary advice and support for all inquiries related to how to deal with symptoms, in addition to directing patients to the places which provide the service they deserve based on the social and educational status of the case.
Within that framework, we came to know Delilah, a student in the fourth year in the Faculty of Nursing, at one of Cairo's oldest universities. Delilah felt symptoms similar to those of Corona virus after contact with one of the positive cases of COVID and contacted us to seek medical advice on how to deal with the symptoms, and immediately after recording the case data and providing medical advice to her, she was also guided through the process of gathering the needed paperwork in order to get enrolled in the university's health insurance and provided her with the necessary procedures to get her insurance ID. After getting her coverage, she was able to get the necessary tests, including x-rays and a medical swab (PCR), and she was indeed diagnosed with Coronavirus. The story didn't stop here, the necessary medicines were dispensed for her, completely free of charge.
Through your support to our project, we enabled this young nurse to save more than 2,000 pounds that could have been spent in private clinics, laboratories and pharmacies. This story is one of many, who were spared the horrors of confusion and debts and got access to proper, accessible and affordable healthcare services.
In April alone, we have managed to help 26 cases with inquiries about the COVID-19 vaccinations and registered more than half of them to receive the vaccine because they were not able to do it on their own. That is aside from our regular intake of cases that need help navigating healthcare coverage schemes. You can always depend on us to make the most out of your valuable donations and offer varied services to Egyptian healthcare seekers who need them most!
You still have a chance to double the impact of your donation, the European Development Bank decided to support us by creating a fundraiser and matching all the money we raise with the same amount. Donate now to double the impact through this fundraiser: https://www.globalgiving.org/fundraisers/38012/