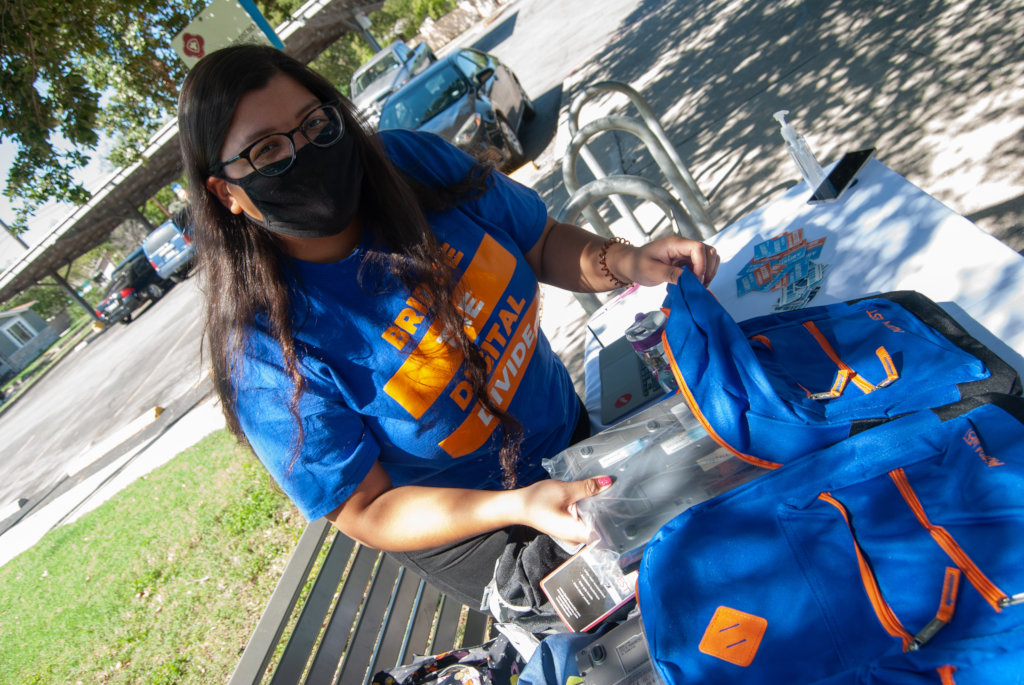 From refugee camps in Bangladesh to laundromats in Oakland, we seek to provide equal access to information, education, and cultural resources for communities historically subject to systemic discrimination.
Announcing the launch of our new website:
After much anticipation, we are excited to share with you our newly designed website. Check it out to learn more about our current projects and team.
ConnectED Technology Kits: San Antonio
Over the past few months, LWB US has collaborated with community organizations to source and distribute over 100 of our ConnectED Kits. Each kit is equipped with a laptop, mobile hotspot (upon request), and resource packet with educational and community resources.
To better understand the impact of our ConnectED Kit program on the San Antonio community, we have spent the last few weeks surveying and interviewing participants. Through the roll out of this community survey, we have spoken with over 45 ConnectED Kit recipients.
ConnectED Technology Kits: Baltimore
So far, Libraries Without Borders US has provided nearly 100 Baltimore households with a ConnectED Kit. We have worked tirelessly to meet community members where they are, delivering kits through curbside pickups or outside Enoch Pratt Free Library branch locations. We have also distributed these kits at community events, including one on September 12th that we hosted with the Volo Kids Foundation, an organization that promotes community wellness through teaching and sports leagues that are open to all.
We are continuing to improve this program by collecting feedback from our kit recipients. Since September, we have been working with the Enoch Pratt Free Library to survey recipients and learn about their experiences with the tech as well as understand what other resources they might benefit from.
Curious about our ConnectED distribution events? Watch this Q&A with Azure, our Baltimore Project Coordinator, as she answers all your questions about ConnectED.
Wash and Learn Initiative (WALI) updates
Since the outbreak of COVID-19, we have had to pause much of the programming and resources of our Wash and Learn Initiative (WALI) laundromats. Now, we are beginning to assess the reopening strategy of these WALI laundromats.
Our priority in reopening WALI is to protect the health and safety of patrons. To assess the needs and comfort levels of each community, we are circulating our Laundromat Reopening Survey in San Antonio and Baltimore to guide how we safely reintroduce WALI resources and programming into laundromats. We are committed to ensuring community members are connected to critical information while maintaining COVID-19 safety guidelines.
Learn more about WALI's inception by checking out Deputy Director Katherine Trujillo's recent presentation at the Association of Bookmobile and Outreach Services (ABOS) conference here.
Community spaces in Loíza, Puerto Rico
LWB US brought socially-distanced pop-up libraries filled with hotspots and laptops for virtual learning to the Sector La 23 y Las Gardenias community center (a community center in Loiza, Puerto Rico). Additionally, we are thrilled to announce that we have expanded our ConnectED Kit program to Loíza. With the support of our funders and partners, including Sony, Link Puerto Rico, Camera Mundi, and Comunitaria Sector 23 y las Gardenias, LWB US has now connected over a dozen survey respondents to ConnectED Kits.
To learn more about and our work in Puerto Rico, check out one of our latest blog posts.

Unfortunately, over 100 families in the neighborhood are still in need of computers and the internet, especially considering the virtual nature of this school year. Donate today to help us provide ConnectED Kits to these families.
IdeasCube Program in Chihuahua, Mexico
To address the growing need for connectivity to the internet, we are working with the Ministry of Culture in Chihuahua and the state's network of libraries to provide remote and hard-to-reach communities with offline access to educational resources. By leveraging the capacity of the IdeasCube, we will provide residents of 21 isolated communities across Chihuahua with up-to-date information and educational resources.

Listen in as our Deputy Director & Director of Education/Quality Katherine Trujillo and our Operations and Finance Coordinator Alejandra González Vargas discuss libraries during and after the COVID-19 pandemic on the fourth installment of the Encuentro Estatal de Bibliotecas conference.
Stay Updated on the News:
Where do we go from here?
For the estimated 40 million people across the United States lacking access to broadband internet, quarantine restrictions and the threat of COVID-19 effectively prevent them from working remotely, attending online school, using telehealth services, and even from searching for job opportunities online.
The effects of COVID-19 will not disappear overnight, and we need your support to efficiently and sustainably advance the informational, literacy, and digital needs of our constituents. We are confident that with your continued generosity we can further expand our impact.