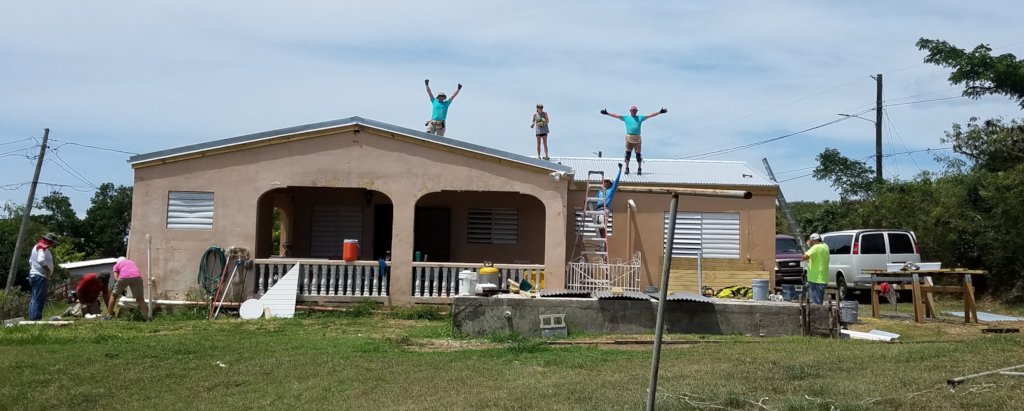 Global Giving Report for Lutheran Disaster Response, St Croix, US Vigin Islands
Reporting Period: July 2019 - September 2019
Volunteer rebuilding work continued through the summer of 2019. With no other program on St Croix proving free construction labor during this time we received constant new requests for assistance. Our queue of houses to repair swelled to over 100. We continue to concentrate on senior citizens and persons with disabilities who have no other opton than to remain living in their storm damaged homes.
Those whose dwellings posed a safety or health risk due to mold are our highest priority homeowners. One of our clients, an elderly lady, slept under a pop up tent in her bedroom so she wouldnt get wet every time it rained. Another senior citizen had been without elecricity or running water for almost two years. A third house had large openings where windows and doors used to be.
During the months of July to September 2019, we worked on 15 houses. We completed 12 of those projects with 3 stll under construction at the end of September. With one exception each house required roofing repairs. Work ranged from a complete roof replacement to five substantial roof replacements to six roof repairs to two houses we re-tarped with a promise to return and complete permanent repairs. The non-roofing home required electrical work and door and window repair.
During these three months, we hosted 6 groups of volunteers from United Methodist Volunteers in Mission (UMVIM). In total, one hundred and seven volunteers participated in the UMVIM groups. These volunteers work for a minimum of two weeks with some staying for a month or returning for the 2nd and 3rd time to build. The teams include people with construction skills who can tackle difficult rebuilding projects. Combined they gave us 8,053 hours of service.
During July We also hosted a Beam/Suntory/Cruzan Rum group of 34 volunteers who spent a half day painting one of our volunteer housing sites.
Our work with volunteer builders continues. We have recruited volunteers and teams for the remainder of 2019 and we are filling 2020 team slots as well.
Use of Funds: GlobalGiving funds are used to buy building materials. Most of the homeowners we help do not have enough funds to even pay for their materials. We use the GlobalGiving funds to supplement what the homeowner is able to contribute and even pay for all the costs of repair when necessary. During this period, we used 79% ($78,762 of $100,000) of our Global Giving grant.